Confidence and vibrancy capture the spirit of a continent at the latest London edition of the 1-54 Contemporary African Art Fair.
---
Amid London's cultural frenzy as art and film weeks come and go, the 11th 1-54 Contemporary African Art Fair punctuates the city with a sense of hope and dynamism at the iconic Somerset House. Its impact is no surprise – this is a well-established showcase that this year boasts a star-studded lineup of 62 international exhibitors, of which one third are from the African continent and 14 are at the London edition for the first time. Over 170 artists are featured this year, presenting a dazzling array of works that span painting, sculpture, mixed media, installation and textiles.
"London is where we started, it's special to all of us," says Touria El Glaoui, 1-54's founder. "We're at a particular moment now when people are paying real attention to what's happening at the fair." Throughout the chaotic hallways of Somerset House lies an acknowledgement of the venue's importance. "It's a place to play for us, there's extra room here that we don't have in our other editions in New York and Marrakech," El Glaoui continues. "This additional space means that we can give the artists extra projects, like the textile works in each stairwell and the courtyard commission."
One of the most noticeable pieces emerges from the stones of the Edmond J Safra Fountain Court: Amine El Gotaibi's Illuminate the Light (2023) consists of 12 bronze-toned geometric structures with mirrored interiors and golden light. The most ambitious work from El Gotaibi – who is the first Moroccan artist to be featured in Somerset House's courtyard – is presented in collaboration with MCC Gallery in Marrakech and inspired by the individually unique shape of pomegranate seeds. Representing the diversity and abundance of the African continent and reflecting the myriad shapes found inside pomegranates, the golden-orange light and mirrored interiors challenge the West's frequent stereotypes of the "Dark Continent", all while inviting the viewer to sit, contemplate and look at their reflection illuminated by the continent's diversity and creativity.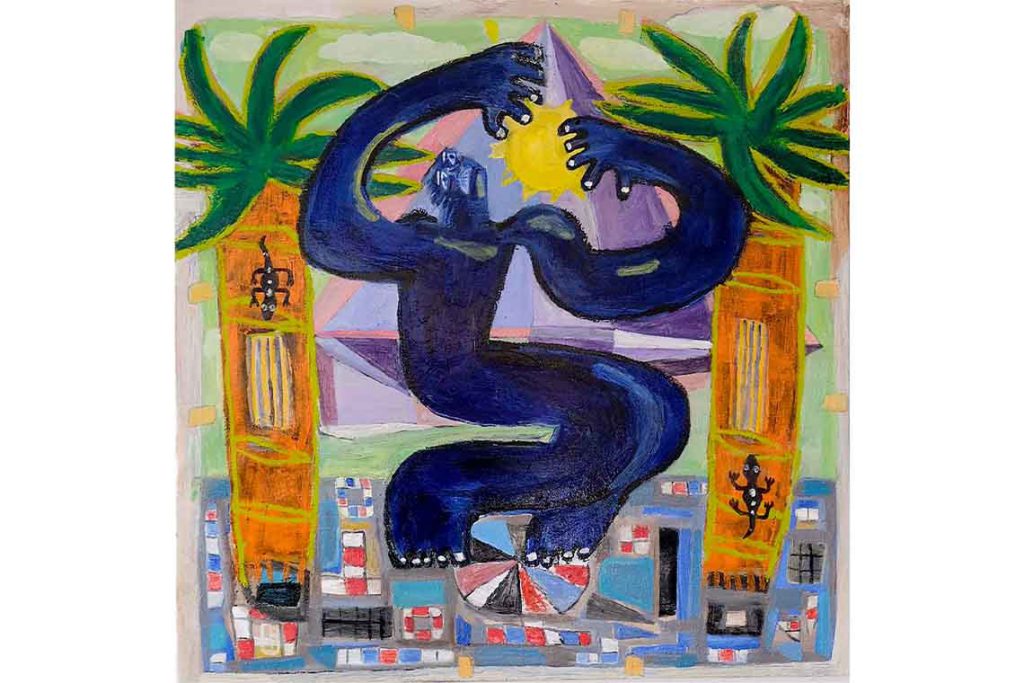 Textiles and stitched patterns are significant across several galleries. Stitched and mixed textiles illuminate the complex reality of contemporary Africanness, highlighting physical pain, repair and healing. Malian artist Ibrahim Ballo (Galerie Carole Kvasnevski) presents figural silhouettes punctured with woven stitches; Gallery Nosco shows flesh-like assemblages of textile and cloth; Moroccan artist Ahmed Hajoubi (So Art Gallery) displays oceanic chaos in a porthole-shaped textile conglomerate; and South African artist Michaela Younge (albertz benda) highlights the complexity of daily South African life in All the fabrics but not a stitch to wear (2023).
The most impressive – and sobering – textile work is Theresa Weber's Cycles of Unmasking (2023), a site-specific commission for Somerset House's Stamp Stairwell. Using colours inspired by nature, Weber has gathered fabric, rope and ornaments into a rhizomatic structure, braiding and weaving them together to form storey's-high tendrils hung from the stairwell's ceiling. A response to building's colonial history and imperial architecture, the piece soars as one climbs the stairs, a reminder of the West's troubled legacy in Africa.
Another special project brought to fruition by the 1-54 team is a collaboration with Mr Eazi, the wildly popular Nigerian singer and songwriter. An intimate tour with the pioneer of Banku music reveals how he's "lucky to be discovering art through African art and African artists". Mr Eazi has put together The Evil Genius – also the name of his forthcoming album – a cooperation between 13 African artists, each responding to a different track on his 16-track album. Diving into love, betrayal, loneliness, politics and family, each piece features various aesthetics and techniques, a symbol of the fusion Mr Eazi sees between African art and music. Conveying how "art is beside this album" and that "music should take you to a place that's not real life," this project is not only the singer's first exploration into the world of African art – it also represents one of the first occasions when Africa's booming music industry has worked intimately with some of the continent's fine art creators.
More broadly, many galleries are showcasing works that blend past and present, traditional techniques with contemporary interpretations. Egyptian artist Huda Lutfi (Richard Saltoun Gallery) presents six works under Untitled (Healing Devices), all reinterpretations of traditional miniature paintings. Gold leaf on paper with abstracted, and at times reversed, Arabic script is paired with colourful and abstract geometric figures in an ode to the exquisite miniatures that dominated artistic practice centuries ago.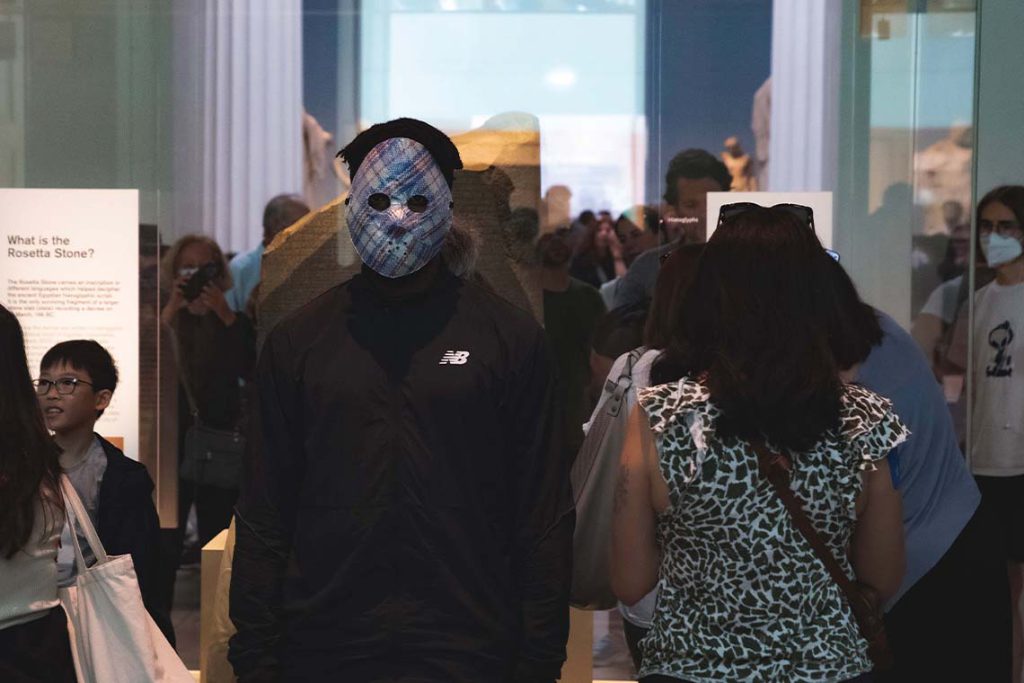 Another fusion of past and present is aided by technological intervention in LOOTY's Return Rashid! (2023). Executing what the LOOTY team describe as a "daring digital heist" at the British Museum, the team – which functions at the intersection of art and technology – recorded detailed scans of the Rosetta Stone, originally known as the Hajar Rashid. These scans were first transported, physically and digitally, back to the Rosetta Stone's original home in Rashid, Egypt, before making their way to London. One of the world's first "digitally repatriated" pieces, LOOTY allows technology to intervene politically and aesthetically in London's most storied institutions.
While often a visual and aural cacophony as one navigates the labyrinths of Somerset House, 1-54's latest London edition resonates with contemporary African artists who are breaking boundaries and pushing narratives forward about their continent. Themes of reflections, the body and the self jump out from many of the spaces, a testament to the silent interconnectedness of the works on show. Emerging from Somerset House's saturated rooms, one leaves with feelings of hope fuelled by the tactile and tangible energy generated within.
1-54 Contemporary African Art Fair London runs until 15 October 2023