For the fifth iteration of the Audemars Piguet Art Commission, Phoebe Hui was selected by independent curator Ying Kwok, recently appointed senior curator (digital and heritage) at Hong Kong's Tai Kwun Centre for Heritage and Arts, to collaborate and develop a brand-new large-scale artwork. It is the first commission by the brand to be exhibited in Asia.
Words by Katherine Volk
---
For most of us, the Moon is always there when we look up at night. A bright object orbiting us in space, a dependable and familiar face – but one that we perhaps take for granted. In her new Audemars Piguet Art Commission, The Moon is Leaving Us, Hong Kong-based artist Phoebe Hui questions our relationship to Earth's natural satellite and, by merging science, art and humanity, she encourages us to look at our place in the universe. She also highlights the Moon's role in our hearts and minds, and its power as a symbol for imagination and exploration.
It was a stroll to dinner, during her time at the Audemar Piguet headquarters in Switzerland, that inspired Hui's inquisitive journey. A short walk through nature up a snowy mountain at night was an experience far removed for someone born and living in the concrete jungle of Hong Kong. She found the experience awe-inspiring, explaining in her artist's statement how "one of the Audemars Piguet Contemporary curators told me that many people gather outside when the full Moon is present at night… Since then, my imagination has often returned to the Moon, as I feel that our complex emotional ties with it are yet to be fully explored and reflected on."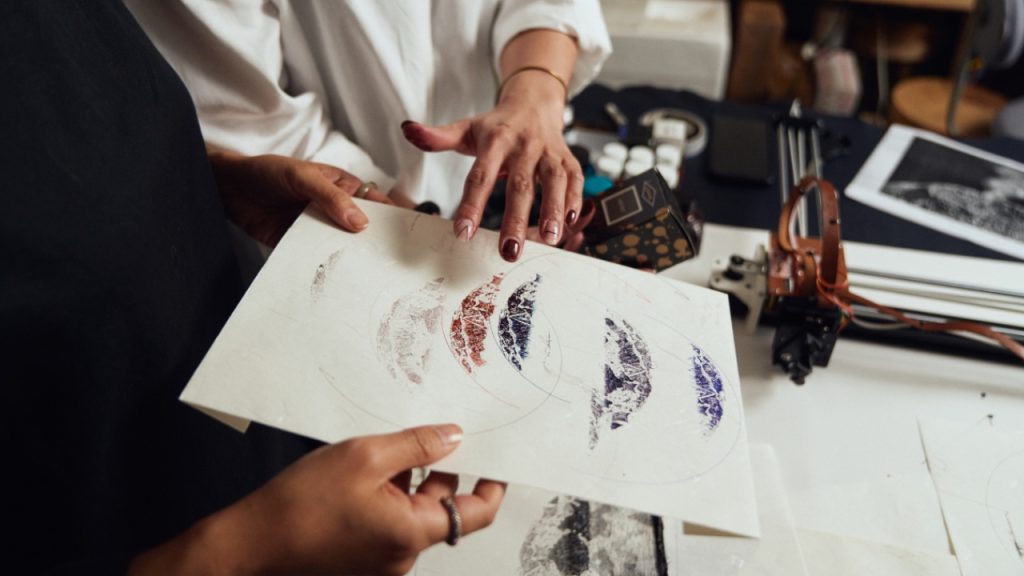 The work created for the Audemars Piguet Art Commission takes its title from studies that reveal the Moon is drifting away from Earth by a few centimeters every year. Concluding over a year of research, Hul's project is a journey of understanding and an opportunity to reflect on our relationship to the lunar body and what it might mean to us now that we are aware that it is slowly leaving us. Its potential departure triggers within us a contemplation of our role within the cosmos and of something so familiar and seemingly ordinary, yet still so distant and mysterious.
Working with curator Ying Kwok on an open brief for the commission, Hui brought her heavily researched-based practice into collaboration with practitioners from different fields, including scientists and astronauts, to explore the Moon and the universe more generally. In a continuation of a human fascination unbroken for thousands of years, she traced studies of the Moon back to the 17th century, when scientists such as Galileo and Johannes Hevelius built telescopes to get a closer look at the Moon and enquiring minds drew Moon maps to illustrate their findings. Hui also examined the significant role that the visual representation of the Moon maps has played in our understanding of the universe and how we explore it.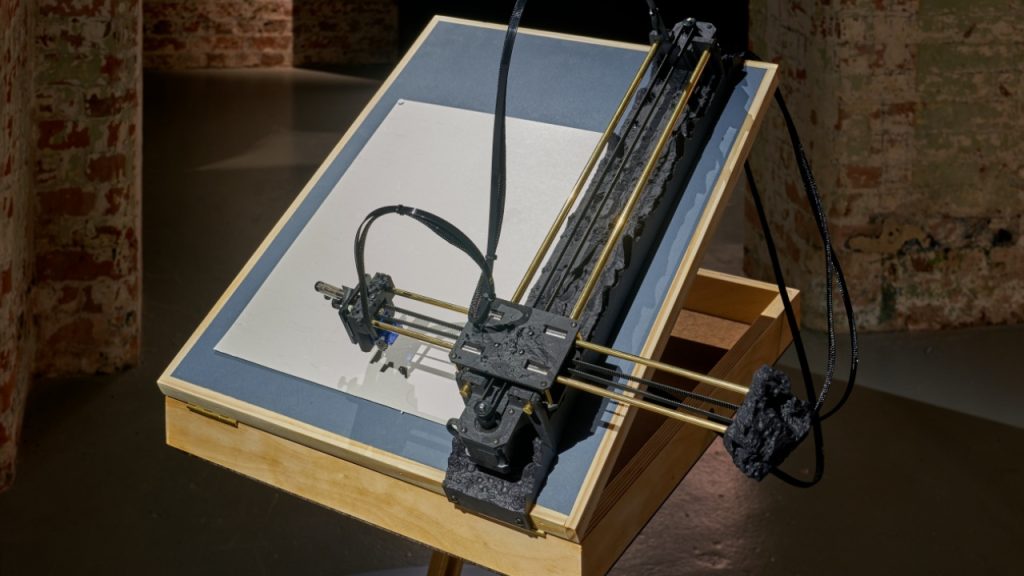 Known for her DIY kinetic sculptures and robotic instruments, Hui mixes a human element with contemporary science in her work, in what – according to Ying-isa poetic expression from an artist to her surroundings, using technology as a medium and approach." The Moon is Leaving Us takes the form of a large-scale installation composed of two works, Selenite and Selena, shown at Hong Kong's Tal Kwun Centre for Heritage and Arts. Pairing historical astronomical drawings with modern scientific imaging, Selenite is a robot with 48 moving screens that present images of the Moon's craters. Rotating polariser optical filters overlay each monitor, emulating the fragmented nature of data collection and the use of scientific instruments. Selena is a custom-built drawing machine programmed to produce Moon drawings of both the visible and invisible sides of the Moon using NASA's open-source data combined with 17th-century representations. "At the beginning, it was my curiosity of how things work" said Hul. "Selena was developed from one of my hobby projects of trying to build my own printer" Merging these aspects of science with her craftsmanship, Hui illuminates how technology influences our perception of the world.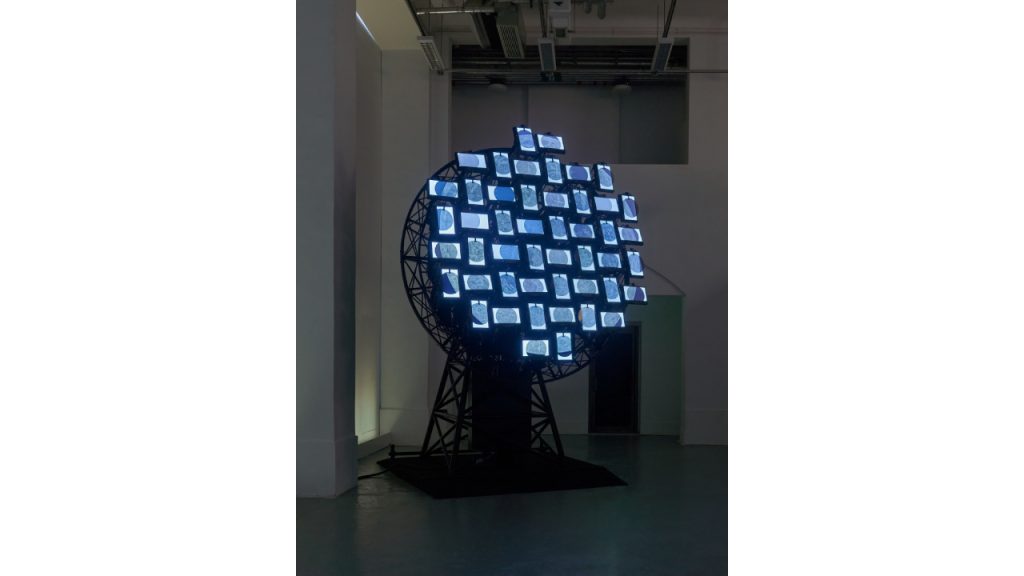 The Moon holds a special place in our lives, inspiring culture, exploration and a sense of common humanity, and Hui's multifaceted inquiry speaks to us on different levels. Even though there is nothing we can do to prevent the Moon from moving away from Earth, she encourages us to try and extend our understanding of our environment and embrace the unknown. "We are experiencing a difficult time in the world now," she commented. "Dealing with situations we can't change, like the Moon leaving us, but we need to face these challenges and resolve how best to react. These works respond to these questions, and when the audience leaves, they'll hopefully get some comfort from what they've encountered."
The Moon is Leaving Us will run at Tai Kwun Centre for Heritage and Arts, Hong Kong until 23 May