The Riyadh-based artist has been seen at multiple major events in the Kingdom this past year. From the inaugural Diriyah Contemporary Art Biennale to an artist residency in AlUla, he continues to encourage imagination and challenge rigid narratives.
---
I briefly met Muhannad Shono for the first time in March last year, during the inaugural Noor Riyadh. He was standing on the balcony that overlooked his work, The Mind Ship Exodus, installed in the JAX district in Ad-Diriyah. The installation took up the entire warehouse space. Mounds of shredded steel wires and mesh created an otherworldly landscape as red hues were projected onto the surface. The large-scale, site-specific work was created purposely for Noor Riyadh and brings together past, present and future by looking critically at social narratives to reignite our ways of thinking. Several months later, I came across Shono's work again, first in Jeddah for BIENALSUR, and once again at JAX for the Diriyah Contemporary Art Biennale, the Kingdom's inaugural homegrown biennale.
Much of Shono's work merges mythology, social teachings and cultural narratives across time and space to question how and what we know or blindly follow. "As a species, we are fascinated with the idea of narratives," he said in a Zoom call we had back in October. "If we all agree on a story, there is no conflict. But how do we read a narrative? Is it open for interpretation? Is it fluid in its meaning or is it rigid and literal? When things become rigid and overly defined, they become impossible to move or overcome. They become barriers that prevent us from speaking to each other."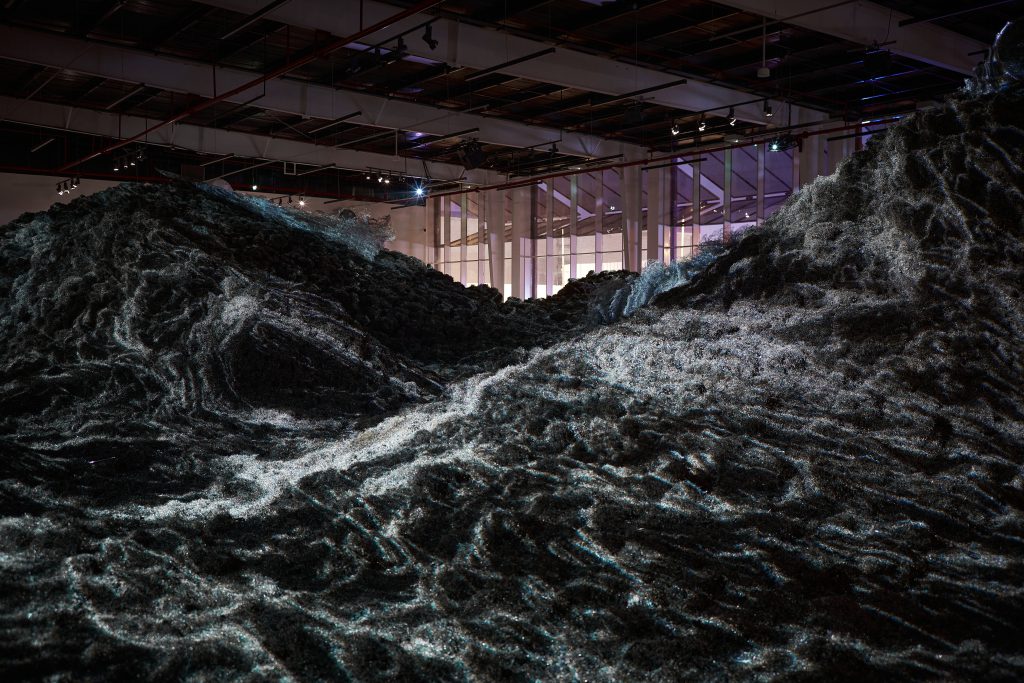 As the title might suggest, Mind Ship Exodus is a departure that challenges a narrow or intolerant way of thinking as a journey that navigates the unknown. "I'm interested in how society assembles around ideas or stories in large groups and how that then moves or transforms, as with the individual in a sea of men," discussed Shono. Through his work, he references ways of knowing that go beyond our mind, and through tales such as The Epic of Gilgamesh and texts such as the Bible's Old Testament, he links emotions, thoughts and environments, which allow for new connections beyond the boundaries of the set narrative.
Back in March 2021, on a visit to Shono's Riyadh-based studio, I found it bustling with energy and creative activity (as well as with his rescued puppy and cats) as he hosted other artists. Some were helping with his installations, others were creating their own work and yet more were just passing through. "It's important to counterbalance other groups that may gather and have destructive intentions by coming together to have more creative purpose," he shared. "When I was growing up, I would draw characters and stories. I would show it to a teacher and he would tell me to sever the neck from the body with a line because only God could create." He discussed how this became a pivotal moment and an influence in his work, clearly seen in The Last Garden of Khidr, as well as highlighting the importance of sharing experiences. "I chose to use the line to create. So, in a collective space where you help other people with your experiences, you also learn from their experiences. These kinds of milestone moments are important and rewarding".
It is these formative occurrences that form a critical base in Shono's work. In 2020 he participated in the first Desert X AlUla, at one of the oldest cities in Saudi Arabia, home to ancient civilisations and a valley of natural sites with dramatic rock formations and expansive sand dunes. When discussing his major sculptural installation, The Last Path, Shono told me that "What a lot of people don't realise is that The Last Path was actually a sculptural sketch. It is reacting to the site but it invites people to discover it for themselves. Those who chose to follow the path to the end were rewarded with a secret spot where you couldn't hear anything and had no network reception." He went on to talk about the treasure of being alone: "It is something a lot of us avoid. It is this idea that a singular pipe, or idea, can create an impact, an experience to create your own narrative. It's a sculptural storyline". The Last Path was made from 65,000 recyclable PVC pipes, twisting across the desert landscape, with misguided comments from viewers wondering if it's about oil and being Saudi. But for Shono such stereotypes become a part of the story and another opportunity to transform misdirected thinking. "A good stereotype is a conversation starter. It's human nature and it's how we create a narrative," he explains. "Then it's up to the person who is the victim of this assumption to tell their story. That's how you learn something. Stereotypes don't scare me or hinder me, it's just the first page of the story."
The black PVC pipes represent something deeper in Shono's work, a dark colour reminiscent of censorship bars. From a young age, when Shono would pick up a comic book, pages would be torn, completely ripped out or inked with black marker, a familiar sight to many of us in the region. "I know it was an intrusion on the original, but I perceived it as a collaboration between the censor and the comic book creator," he remarks. "What I was picking up from the shelf was a unique version and I had to imagine what was missing under the ink or stolen from the pages." For Shono, the act of censorship enriched his imagination and is now a recurring thread in his work. "The flowing ink, the black voids and the black lines, are all packed with narrative and potential. It is a symbol of resilience that you cannot decapitate the creative mind."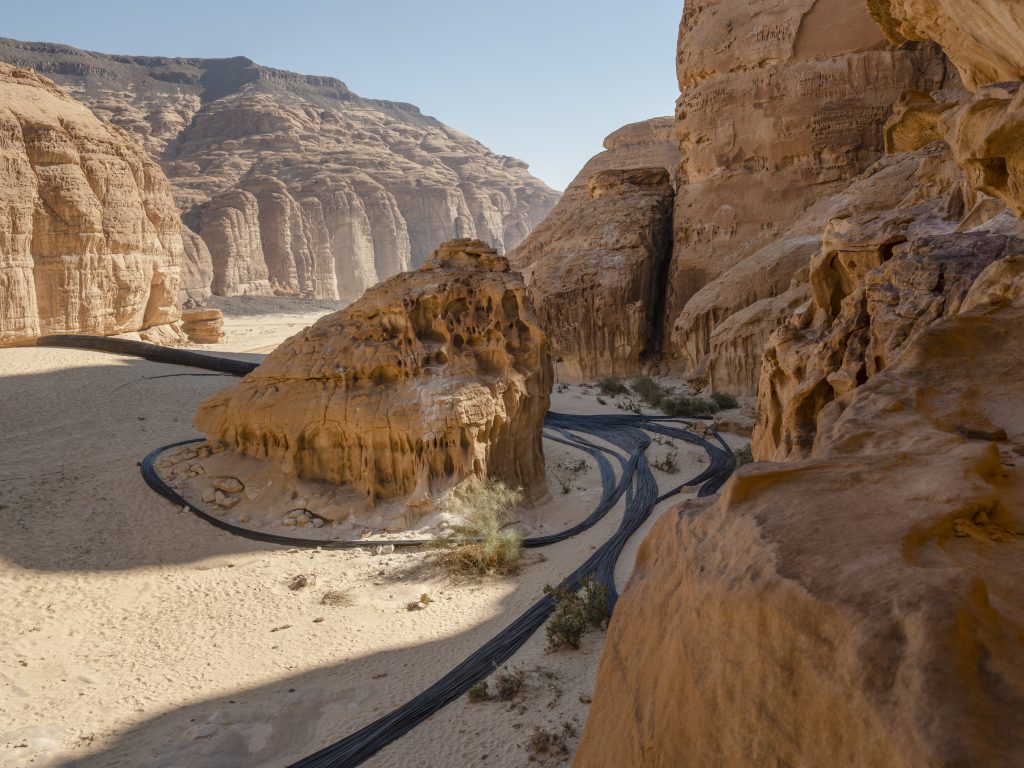 Speaking about censorship and creativity, Shono notes the current situation in Saudi Arabia. "Being an artist wasn't really rewarded in the past, even borderline risky, so to go from that to being celebrated now is very satisfying." In the last few months, he has participated in the Diriyah Contemporary Art Biennale, BIENALSUR and the 11-week AlUla Art Residency (ended 14 January 2022), just in the Kingdom alone. With the art ecosystem constantly changing, the demands placed on artists are now greater than ever. "You have a huge range of people trying to rise to this occasion but who may still be working out of the bedrooms they grew up in, all while being asked to showcase work on the international art scene," he explains. "It's a critical time and people are investing their time and money, but what is important for this scene to survive is for it to become self-reliant…I'm constantly inspired by the people around me who are trying to figure this out right now here in Saudi, because there is no playbook for this kind of cultural awakening".
For his recent AlUla residency project, On This Sacred Day, Shono reflects on the changes taking place and, on our desire to be curious and push our imagination. The installation is made up of sand-cast brick segments placed among a palm grove as a casket-like structure where old palm leaves are burnt – a commentary on life cycles and the process of renewal. The smoke is reminiscent of storytelling around the fire, with the plumes of black spreading stories and igniting the imagination. On the other hand, the burning of fires is often seen as a sign of protest against change or dissatisfaction with social or political situations, yet purposeful conflagrations can limit wildfires (of unruly discontent) and help regenerate new growth. The deliberate cremation of dead vegetation is necessary to safeguard change and prevent uncontrollable damage by those who wish to restrict healthy transformation.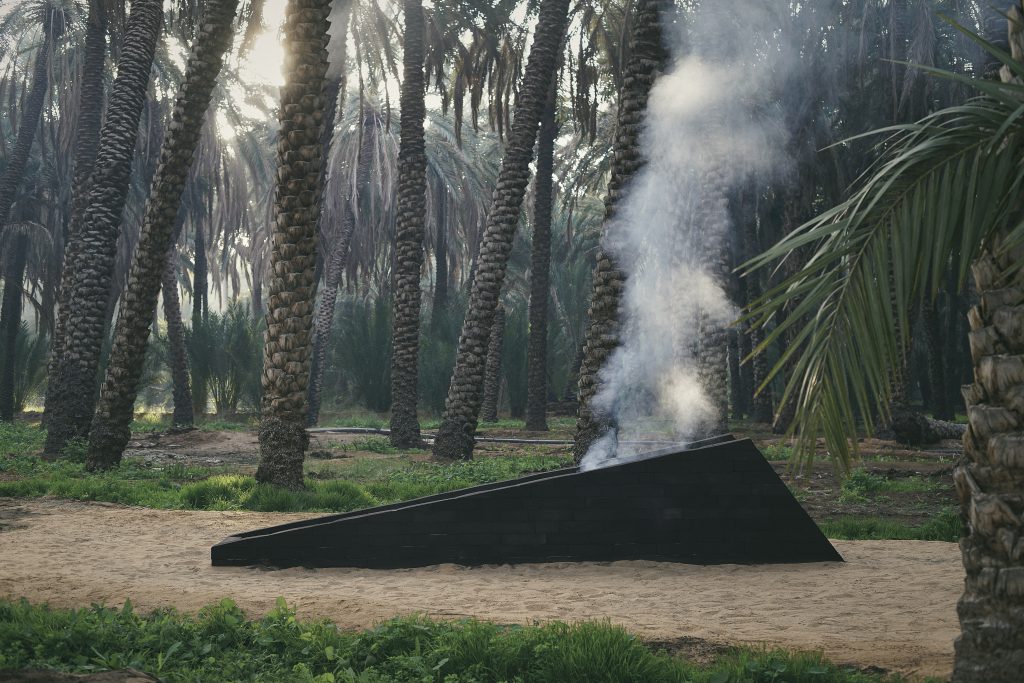 As we ended our conversation, Shono described the plans for his now-realised Diriyah Contemporary Art Biennale work. On Losing Meaning is a sculptural robot and, as it moves, it performatively uses its body to mark the white floor with black pigment. The machine sculpture is a physical representation of fluidity in interpretation and a symbol of undefined words or narratives. Shono notes that "the sculpture reforms, reshapes, erases and covers [its markings] as it searches for meaning. The irony is that as it searches it becomes more undefined".
In perhaps a fitting conclusion to our discussion, Shono reveals how he often creates his work as a journey for himself, as well as the viewers, highlighting the importance of imagination, discovery and challenging narratives. "There's no blueprint or script. I don't know the last moments of the story because then I get bored, I want to be surprised like a good book, and have the ability to allow people to have that journey with you and feel connected to it. The most interesting thing right now is how to translate this way of working into my oeuvre."