For the second year running, CI Bloom gave centre-stage to the beating heart of Turkey's contemporary art scene: local, emerging and independent artists.
---
"The backbone of the Turkish contemporary art scene has always been Turkish galleries and artists," says Ali Güreli, chairperson and founder of Contemporary Istanbul (CI). It was with this ethos of community that CI Bloom, which concluded its second edition this week, was introduced to Istanbul's annual art agenda in 2021 as a locally focused offshoot of the international flagship event. Aptly scheduled for spring, as the Judas trees along the Bosphorus come into bloom, the fair aims to strengthen the Turkish art scene by offering support and visibility to homegrown emerging and independent artists.
While the curated section of 25 galleries featured usual suspects such as Dirimart, Zilberman Gallery, Anna Laudel and Pi Artworks, it was the more recently established galleries that stole the show, thanks to their skilled and innovative curation. Highlights included the Antalya-based Denart, which presented an exhibition of ceramics by emerging artist duo Ertugrul Gungor and Faruk Ertekın. Painted in the china-and-cobalt blues typical of the traditional craft of Kütahya, the artists' hometown, the works depicted playful and intriguing scenes, such as two cows gamboling in a field with a miniature portrait of a tied-up Nusret Gökçe, the famous restaurateur, floating above them.
Founded just over a year ago in Antalya, Denart is the only contemporary art venue in the southern Turkish city. "CI Bloom is a big opportunity for us, because there are no collectors in Antalya," explains the gallery's founder and curator Gülden Bostancı. The fair makes a point of platforming artists and galleries based outside of Turkey's cultural capital. "This is one of CI Bloom's major impacts, because the country's art scene is concentrated in Istanbul and artists in other regions face a lack of visibility," notes art critic Nergis Abıyeva. Darağaç Kolektif, Sub and Ka – three of the four art initiatives featured in a dedicated section – are likewise located in Izmir, Çanakkale and Ankara respectively. Further illustrating the fair's emphasis on community, they were invited to participate free of charge and offer non-profit exhibition venues and collaborative workspaces to artists in their individual home bases.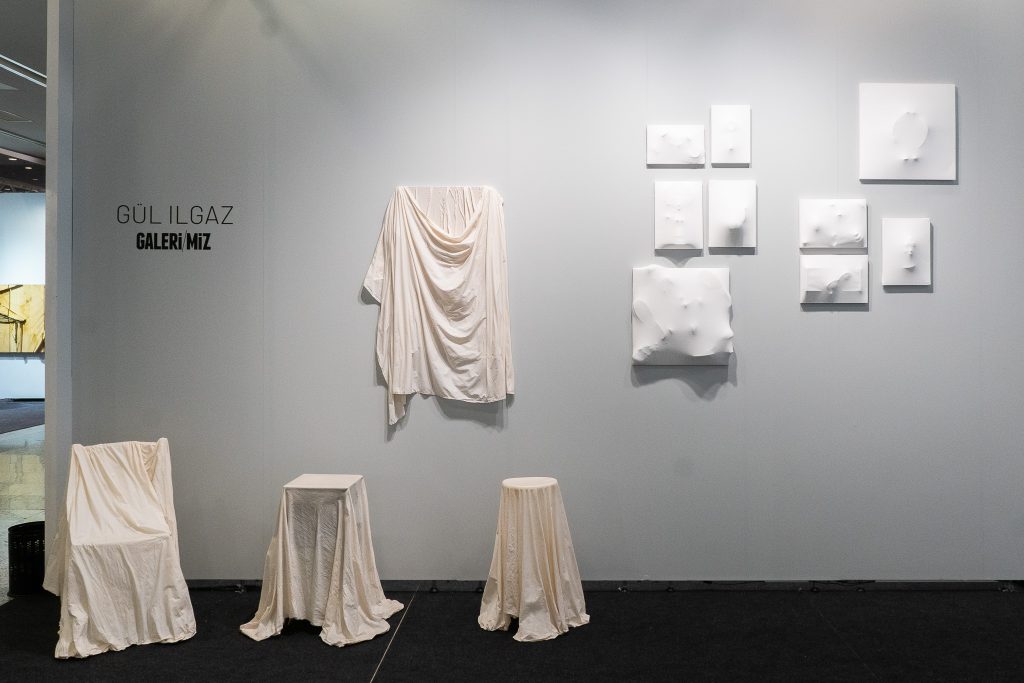 In addition to emerging and non-Istanbulite artists, CI Bloom supports practitioners who lack gallery representation. Some of the best-received works at the fair were by independent artists like Gül Ilgaz, whose solo exhibition with Galeri Miz included an installation that reversed the roles of medium and subject, consisting of a series of canvases stretched over miscellaneous household objects: decorative figurines, a pair of sunglasses, a child's shoe with a heart-patterned sole. Taksim Sanat – an exhibition space run by Kültür AŞ, an affiliate of Istanbul Metropolitan Municipality, and which works to ensure recognition for independent artists – featured a crowd-pulling work by Esin Aykanat Avcı that explored the potential of plants with vascular systems similar to those of humans for organ transplant research.
Despite CI Bloom's obvious merits, however, the question that haunts all art fairs lingers: is it really necessary? For one thing, its local focus fails to set it apart from CI, given that, as Güreli himself has pointed out, Turkish galleries have consistently comprised a third of the international fair's participation since its inaugural edition almost two decades ago. Equally, its goal of promoting artists and galleries in parts of the country where contemporary art is less prevalent, counterintuitively requires bringing them to Istanbul. It remains to be seen whether the fair can make good on its promise to provide a greater presence to underrepresented artists in the longer term, but for now, at least, CI Bloom is helping to level the playing field.