Through his colourful portraits, Moroccan-Belgian photographer Mous Lamrabat reveals the complexities in what we wear and the unifying power of expression.  
---
Walking through the heart of Brussels, it is impossible to miss Mous Lamrabat's exhibition, A(R)MOUR. A red neon sign, radiating the word 'Love' in Arabic, illuminates the entrance window of MAD, the city's incubator for local fashion designers and creatives. The welcome to visitors is enhanced by a colourful array of Palestinian keffiyehs, each adorned with Lamrabat's printed images.
On the floor, a round carpet with the word 'A(R)MOUR' stencilled in white letters is an invitation to step into an artist's fantasy universe. The word cleverly plays with the double meaning of two French words. 'Amour' signifies love, and by adding the letter R, the word is transformed into something very different.
"[The word] presents people with opportunities," Lamrabat explains. "What people look like is their 'armour', their protection to be left alone or to look tough. Presenting it in this way gives people a chance to shed their 'armour' and make way for 'amour'.
The show is a total immersion into a world of colour, love and the power of clothing as both protection and self-expression, inviting viewers to challenge preconceptions and celebrate diversity. Lamrabat reveals how a fez, a niqab, a keffiyeh, a baseball cap or a logo can tell a story about one's personality. Each piece of clothing or accessory represents a shield that reflects multifaceted identities, a reminder that differences can also unite people.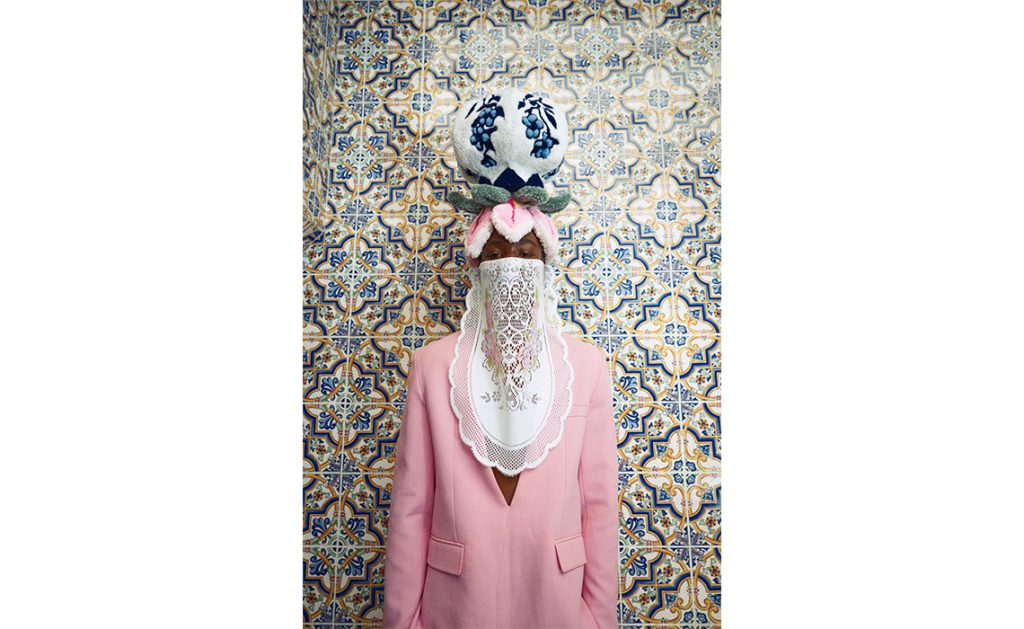 Lamrabat showcases 81 works here, encompassing both newer and older photographs. While some of the older pictures were taken in desert locations spanning from Namibia to the UAE, for the new commissions by MAD he sought inspiration from locations in Brussels that evoke memories of Morocco, where he was born. Lamrabat started his career as a self-made fashion photographer after studying interior design. His Moroccan heritage plays a significant role in his art and, as an advocate for Muslim women to wear the veil with pride, he has fearlessly put niqabs on the covers of international fashion magazines. Growing up in the Flemish part of Belgium, Lamrabat witnessed at firsthand how people would gaze at his veiled mother. This experience left a lasting impression, leading him to try and create a world where empathy and acceptance prevail.
The expansiveness he seeks is helped by the exhibition breaking away from traditional display methods, with some images showcased against the towering curtains that divide the space. These transparent and colourful textiles by French artist Justin Morin interact with photographs by Lamrabat who, teaming up with stylist Lisa Lapauw, has captured models sitting on Moroccan-style couches or standing in front of colourful tiles reminiscent of North Africa. Collaborating with local talents, he blends Arab and Western aesthetics to create a utopian space that transcends cultural divisions. From a woman donning a light blue veil and eyewear jewellery designed by Anneleen Bertels, to another shoot featuring a model in unique ceramic boots crafted by designer Naomi Gilon, a particular world emerges.
There are also collaborations with designers Siré Kaba, with Guinean roots, Kenza Taleb Vandeput's label Kasbah Kosmic, which bridges Belgium and Algeria, and textile designer Shishi San, whose colourful tufted vases are also featured, as well as other Belgium-based creatives.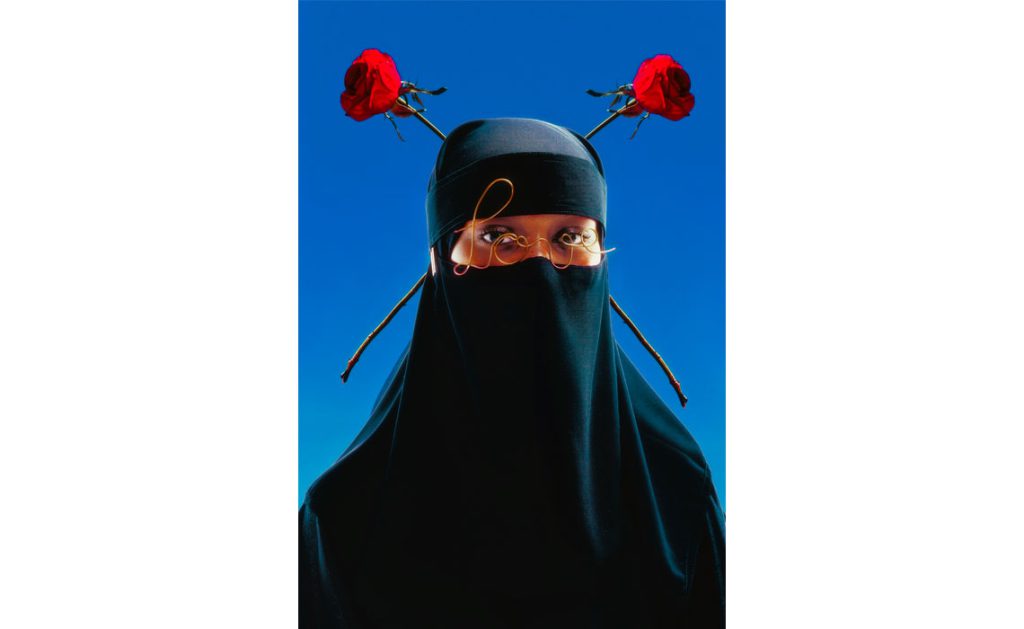 With a talent for transforming portraits into works of art, Lamrabat incorporates unexpected elements, juxtaposing traditional and contemporary motifs. According to Dieter Van Den Storm, creative director at MAD, "Lamrabat's work goes beyond splashes of colour and stylized images to explore a different worldview, one that is multi-layered." Some may call the artist provocative for his thought-provoking images that creatively challenge our cultural values, but for Van Den Storm, Lamrabat is a "precious bridge-builder between generations and cultures".
The photographer demonstrates a keen eye for natural light phenomena, particularly the "blue hour." Lasting a mere 10 minutes before sunrise or sunset, this period transforms the sky into indigo hues. Within this timeframe, Lamrabat captured a series of four portraits of figures that emerge within a surreal atmosphere. The blue hour unveils a colour contrast that would otherwise remain invisible, allowing Lamrabat to reveal those often overlooked by society.
Meticulous attention to detail also characterises Lamrabat's work. His carefully crafted compositions turn garments into works of art and models into living sculptures that take centre stage in elegant simplicity. Yet he can also be subversive, as when he challenges traditional gender roles by presenting a man in a traditionally feminine pose or outfit, for example. With a much-needed dose of playfulness, Lamrabat encourages a more diverse world of photography that amplifies marginalised voices and redefines notions of beauty and identity.
A(R)MOUR runs until 2 September 2023