Publisher: I.B Tauris
Publication date: 2019
Pages: 122
Price: $61.00
ibtauris.com
Canvas rating: *****
---
Authored by scholar and former MoMA curator Fereshteh Daftar, this book is an impressive, well-researched volume that challenges generalizations on art from Iran, all the while championing its development outside of any Western impact. In her opening chapter, Daftari outlines the framework of Iranian art, which looks at Modernism in the early twentieth century. Throughout the book, she thoughtfully considers how existing terminology, Including 'modernism, falls short of fully encapsulating the circumstances that shaped artistic production in the country. One of the book's strengths Is that it does not attempt to be all-encompassing. Rather, it delves into specific turning points in Iran's art history, from the 19th-Century Qajar period to the rise of sculptor Parviz Tanavoll in the early 1960s. In a dedicated chapter, Daftari outlines the 'Saqgakhaneh movement, established by artists who forged their own artistic vocabulary sans Western influence. This 'school' combined religious imagery and folkloric motifs with modern painting, resulting in newly imagined forms based 'on symbolic traditions.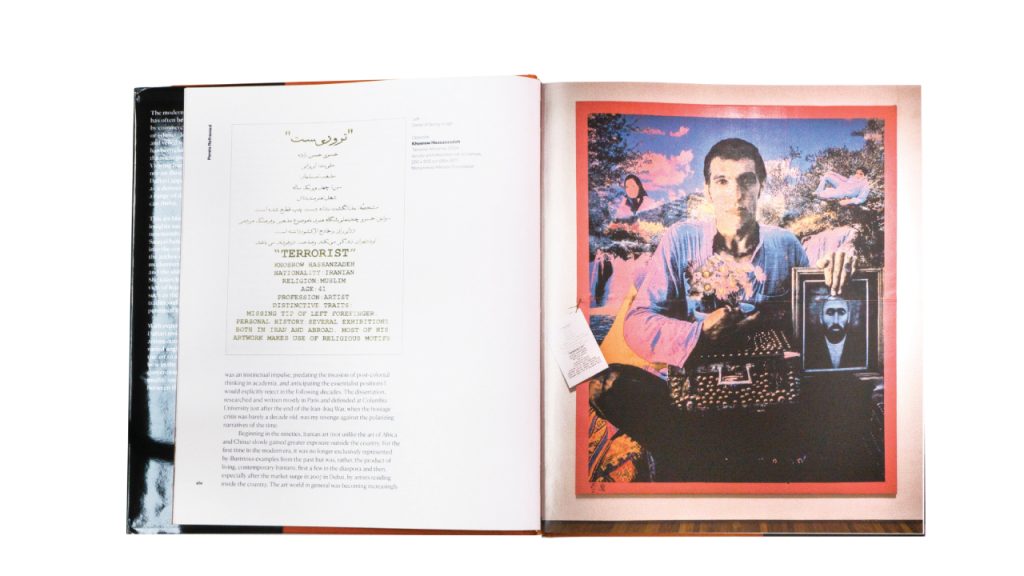 In one of the book's most engaging chapters, Daftari chronicles an "abstraction-figuration continuum' that arose post-Revolution. Drawing critical insights, she contrasts the works of Leyly Matine-Daftary, who was primarily concerned with formalist abstraction, and Kazem Chalipa, a supporter of the Islamic regime who extolled 'martyrs' through his canvases. On some level, these chapters serve as a context for the second half of the book, which focuses on contemporary Iranian art, both within and outside the country. Aptly titled The Tip of the Iceberg, this section exposes the diverse practices of Nazgol Ansarinia, Shirin Neshat, and Shahpour Pouyan. Although Daftari claims that the theme of identity is a ubiquitous force, it is not approached simply by Iranian artists in terms of selfhood.
Instead, it serves as an investigation of national, cultural, and historical identity by artists with rich ancestral heritage and 'of the socio-political complexities between East and West. If there's one thing you should take away from this book, it is that Iranian art cannot be considered homologous.