Beirut: Eternal Recurrence, a group show of major Lebanese artists at Ottawa's SAW Art Centre, presents a microcosm of Lebanon's capital and looks at how its character and contradictions resonate in the Canadian context.
---
Beirut: Eternal Recurrence greets you before you even arrive. Upon approach, many sounds – voices, music, traffic, clanking, birds – filter out from the exhibition space. Nothing is quite clear or specific; the experience is not so dissimilar to entering any new urban environment. Whether arriving by water, land or air, coming into a city is alluring. There is the promise of something enigmatic and unexpected as well as familiar, an impression that one is at home even while at a distance.
The exhibition comprises entirely media works, 12 in total, the scale and placement varying. Some require headphones to hear the soundtrack, most merge with each other in the space as an auditory montage. Sound is as important an element as the visuals, as what we choose to listen to can also inform what we know. The walls are a uniform colour recalling a fireball sun as it fuses into a horizon. The hue shifts depending on the light radiating from the video installations, absorbing you entirely; eyes continually having to readjust to the switching density of light. The impact is overwhelming, the intensity demanding your attention in an encounter with a metropolis and its edge conditions. Forest and shorelines along with landfills and abandoned domestic spaces prevail visually. Although bereft of sentimentality, the longing for Beirut and its meaning as a place where one resides physically, as well as emotionally, is ever present.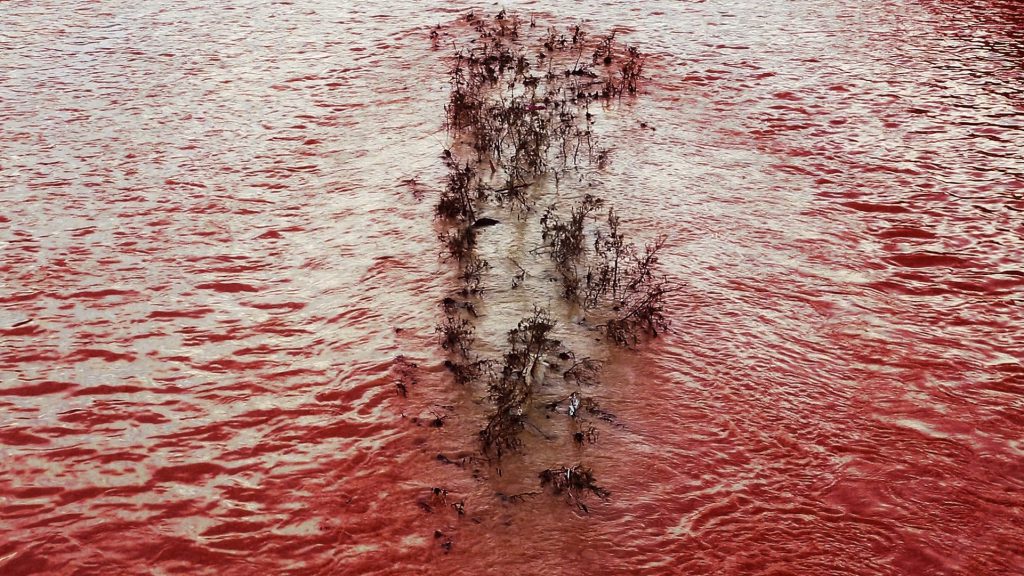 The artists, all connected to Beirut, range from internationally renowned to emerging, or as Paris-based artist Sirine Fattouh stated at the opening day panel, "From Mona Hatoum to Batoul Faour." The other artists are Ziad Antar, Marwa Arsanios, Ali Cherri, Lamia Joreige, Lynn Kodeih, Walid Raad / The Atlas Group, Stéphanie Saadé, Jayce Salloum and Akram Zaatari. The exhibition is co-curated by Amin Alsaden (Toronto), Jason St-Laurent (Ottawa) and Amar A Zahr (Amsterdam) with the premise to present "works that speak to the intertwined geographic, political, social, historical and cultural dimensions that constitute the contemporary life of this important urban centre at the heart of Southwest Asia." The title is borrowed from Lebanese theorist-artist Jalal Toufic, his idea of "eternal recurrence" suggesting "how catastrophes bring human will into question because while harrowing events keep happening, no one ever wills their recurrence into existence."
In the lead up to the vernissage at the SAW Centre, an artist-run centre located in Ottawa, Canada, an invitation in the form of a boarding pass was mailed out, an intimate touch in a world where communication is often mediated through screens. One sensed a buzz, which in a city with many competing arts events, says something. As Beirut is to Lebanon, Ottawa is to Canada, the national capital and home to the country's major cultural institutions and seat of government. Canada has recently contended with a moment of reckoning in terms of acknowledging human rights abuses that occurred within its borders, particularly with regard to the treatment of Indigenous children in the residential school system. Public awareness and sensitivity have increased, yet within the arts it has created a problematic phenomenon. Motivation for change is timed with mandates, ones that tend to be linked to what has become a repetitive cycle of national apologies for the ongoing trauma colonisation inflicted. This has led to institutions rapidly putting into place decolonising practices along with quickly addressing staff representation, collection acquisitions and programming. Regarding SWANA inclusion, there are deficits in all aspects. It provokes the question: why do certain injustices and catastrophes register, yet others do not?
This is the cultural landscape, as well as the vacancy, into which Beirut: Eternal Recurrence arrives. Ottawa has a diverse Arab population, including a sizeable Lebanese community that has played an important role in defining the city as it is today. A large number of Lebanese citizens migrated to Canada during their country's civil war, with a further wave following after the economic collapse of Lebanon in 2019 and constituting what co-curator Amar Zahr explains as "the cyclical phenomenon we aim to address in Beirut: Eternal Recurrence". Addressing these realities, as well as making connections between empire building here and in the Middle East, is critical. The mechanism of colonial displacement links together the experiences of many.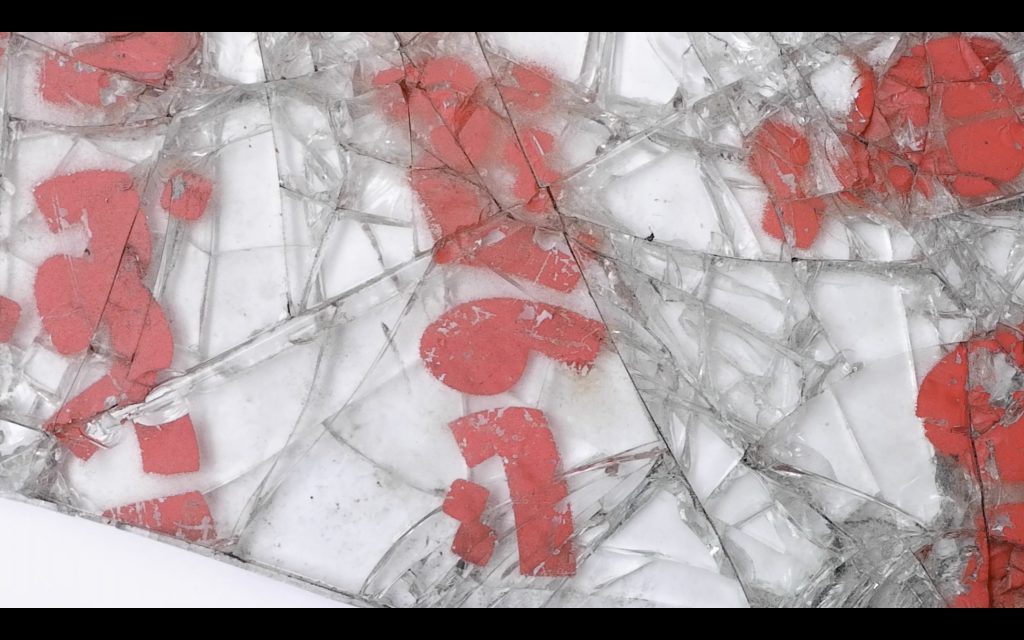 Beginning the exhibition with so much I want to say, Mona Hatoum's 1983 work about her own displacement, is entirely fitting. The repeating track of her troubled voice coming from the intentionally glitchy recording meets you upon entering. From there the space opens up to a wall-sized projection of Akram Zaatari's Beirut [Exploded Views] (2014) that optically consumes you with its epic proportions and erupting fireworks. In contrast, Stéphanie Saadé's Where Eyes Rest (2021) draws you into a sparse scene broken only by a hand moving a strand of hair in circular motions around wet white shower tiles. A gesture of bleakness in the face of defeat or the cycle of rumination while willing a way out?
Inside the first gallery, other works build on the dialogue initiated by Hatoum, Zaatari and Saadé. There is no one way to move through the space, nor a prescribed order in which to engage. Each pass through reveals new connections and other lines of enquiry. In Lamia Joreige's Sleep (2004), a couple toss and turn in bed, an enduring restlessness. Charbel Haber's soundtrack contributes to the fever dream. In Jayce Salloum's (This is Not Beirut) Kan Ya Ma Kan//There was and there was not (1994), time is sliced up by splicing disparate documentation and fragmented dialogue. There is no plot by which to attach specific meaning, pointing to the impossibility of defining such a complex site as Beirut. Walid Raad's We can make rain but no one came to ask (2006) merges fact (the 1986 explosion in the Furn Ech Chubak neighbourhood) and fiction (a hypothetical investigation). With its pacifying motion and panoramic views, it is aesthetically seductive and belies the severity of the narrative.
Falling is not collapsing, falling is extending (2016) by Marwa Arsanios is an intimate touchpoint regarding the garbage landfills strategically situated at Beirut's shoreline to become the real estate developments, also referenced in Akram Zaatari's work, that are built on the rubble of buildings owned for generations. Arsanios documents one at its moment of demolition, her former family residence. Sirine Fattouh's A Night in Beirut (2006) and Another Night in Beirut (2019) are an homage to a tabbal (drummer). His drumming throughout the holy month of Ramadan frightened her as a child during the war. As companion works, they are a poignant portrait of an individual threaded through the artist's experience of her family home in Beirut, marking the passage of time and one's capacity to reconcile childhood fears. Sonically, the drumming tethers the combined soundscape to a steadying pulse.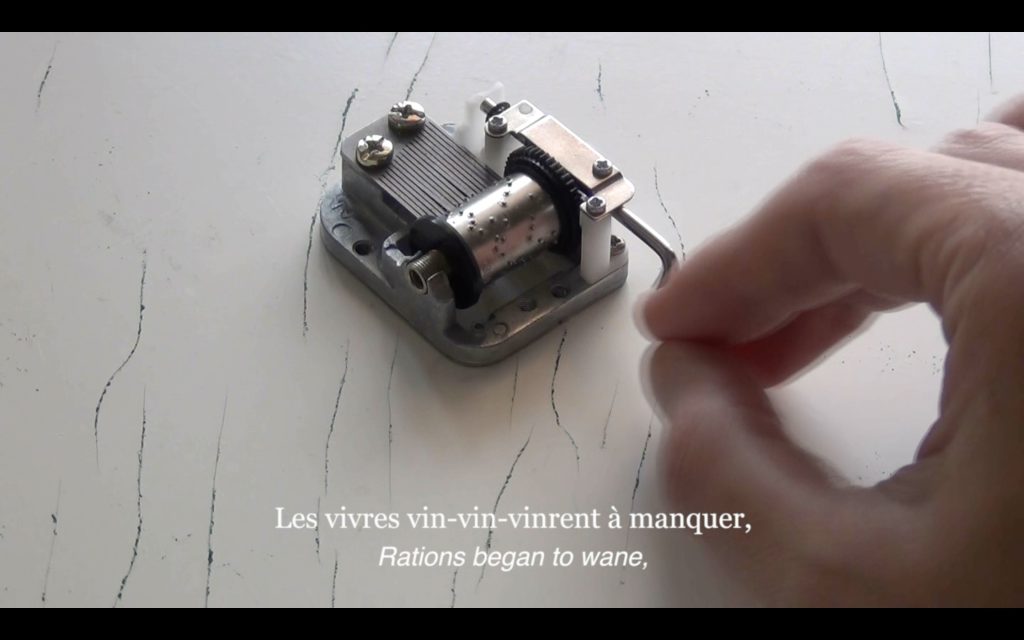 In the second gallery Ali Cherri's The Disquiet (2013) spans the end wall of SAW's exhibition space. Focusing on fractures and fault lines, it summarises a history of earthquakes in Lebanon along with reconstruction in the aftermath. As if to add to the absurdity of rebuilding on shifting ground, the soundtrack of Ziad Antar's The Little Boat (Il était un…) (2020) can be heard in the background, his hand turning the crank of a metal music box. The tune, Il était un petit navire (There was a little ship) is a story of lost sailors in danger of being consumed by the sea. One of the most recent works, Batoul Faour's Shafāfiyyāh (2023), looks at glass as a metaphor to make sense of the tragedy of the August 2020 port explosion, as well as the double meaning of shafāfiyyāh (transparency) when uttered by government officials. She narrates her essay 'Glass Politics: On Broken Windows in Beirut' over footage of residential buildings and window manufacturing in between configuring still-life compositions of the shattered material, a ritual to connect the fragments.
All the works are projected or displayed on monitors with the exception of Lynn Kodeih's. The two-channel work, with accompanying soundtrack by Mathieu Arsenault (Québec), diagonally bifurcates the main gallery acting as a divider but not an obstruction. One can move around it, even view the projection flow onto the top edge of the structure. One line of enquiry in Kodeih's work is to understand what it means to cross a border; another is what it means to belong. Through the process of immigrating to Canada, Kodeih uncovered information that challenged her notion of Canada as benign. Now based in Tiohtià:ke, the Indigenous Kanien'kehà:ka and decolonial name for Montréal, her practice has shifted to the consideration of belonging to a land that is not your own, as well as belonging to a settler state with a brutal history and perpetual reality for those who are Indigenous. On one side, Propheties (2022), imagery of Beirut that Kodeih felt was prophetic of the 2020 port explosion; on the other, La traverse (2023), stark footage of empty landscapes from her new surroundings that link the catastrophes of colonisation and its victims from one home to the next.
In a city and region where this type of exhibition is both desired and needed, Alsaden, St-Laurent and Zahr have curated a notable gathering in Beirut: Eternal Occurrence and pulled together a brilliant collective of artists whose works illuminate each other. They cannot resolve what Beirut is, yet in that is an invitation to know more.
Beirut: Eternal Recurrence runs until 23 September 2023