Artist Joe Namy investigates the power of story-telling in his current exhibition, Studies for a Library, at Brief Histories in New York City.
---
On 12 August 2016, Khalid Jabara hoped the story he told himself, one in which American authorities keep its citizens safe, would come true. From his home in Tulsa, Oklahoma, he called the police and begged for their help: For years, the man next door had stalked Jabara and his family, maligning what he perceived to be Jabara's nationality and Muslim religion in despicable, violent language. In 2015 , the man followed through on his threats, attempting and nearly succeeding in murdering Jabara's mother with his car. A judge had quickly released the man on bond for those crimes. Next, Jabara told the police that the man had a gun. Even in the heat of Oklahoma, this possession was against the law. Yet the police told Jabara they could, and would, do nothing. Some eight minutes later, standing on his front porch on the phone with his family, Jabara was killed by that man with that gun.
Khalid Jabara's cousin is the artist Joe Namy. Born in America and based in London and Beirut, Namy has over the last 15 years or so developed a body of work that investigates the politics of sound and the journeys that ideas take, particularly in wartime, as they move through various languages. Automobile (2012–ongoing), a sound performance for cars and their stereos in Beirut and beyond, booms with ideas about noise as architectural interventions. In Purple, Bodies in Translation (2017) speakers fill a room with the sound of people talking, of their two texts examining the pitfalls of moving wartime descriptions of Syria and Iraq from their witnesses' direct accounts into essays and film subtitles. A video monitor offers a single purple hue, and a mirror in which viewers can look at themselves.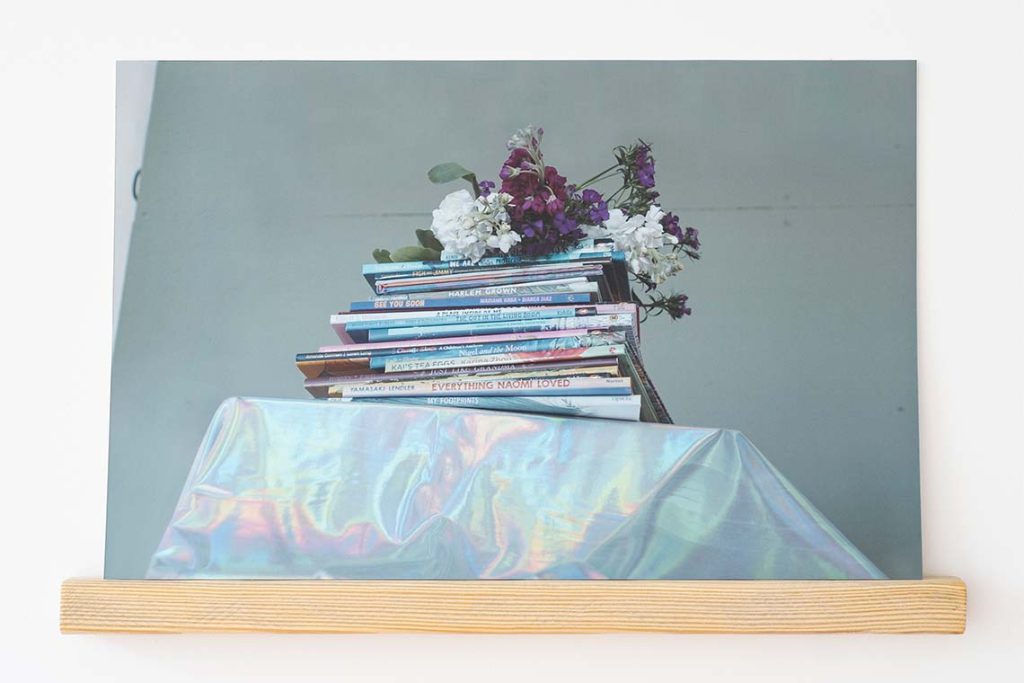 Studies for a Library, Namy's autumn show at New York City's Brief Histories gallery, uses similar strategies to tell a story about Jabara, and a story about how to tell his story. A video, which gives the show its name, plays on a loop behind the kind of rubber alphabet rug kids bounce around on as they take their schooltime lessons, though its modular letters don't seem to spell anything legible. The video is restrained, as if distilled to an elemental documentation.
A year after Jabara's murder, the B'nai Emunah Preschool, located just a few blocks from his home, established within its walls The Khalid Jabara 'Tikkun Olam' Memorial Library. The collection includes books – The Paper Crane by Molly Bang (1985); Something Beautiful by Sharon Dennis Wyeth (1998) – designed to impart lessons of social justice and empathy to their young readers. Khalid's sister, Victoria, and the preschool's director, Shelli Wright, narrate the video, and their subtitles underline simple framing of the books resting on child-size chairs and tucked among chalkboards and thriving potted plants.
An actual bookcase of readable books stands ready by the gallery door. Walls are hung with photographs of florals, memorial and regenerative in nature, and blocks of colour glossy enough to reflect the room and its inhabitants. A gentle soundtrack by Detroit-based harpist Ahya Simone echoes that ancient instrument's modern role in the consciousness-raising music of Alice Coltrane and Dorothy Ashby. It's also, of course, the music of mythical angels, the soundtrack to a heaven.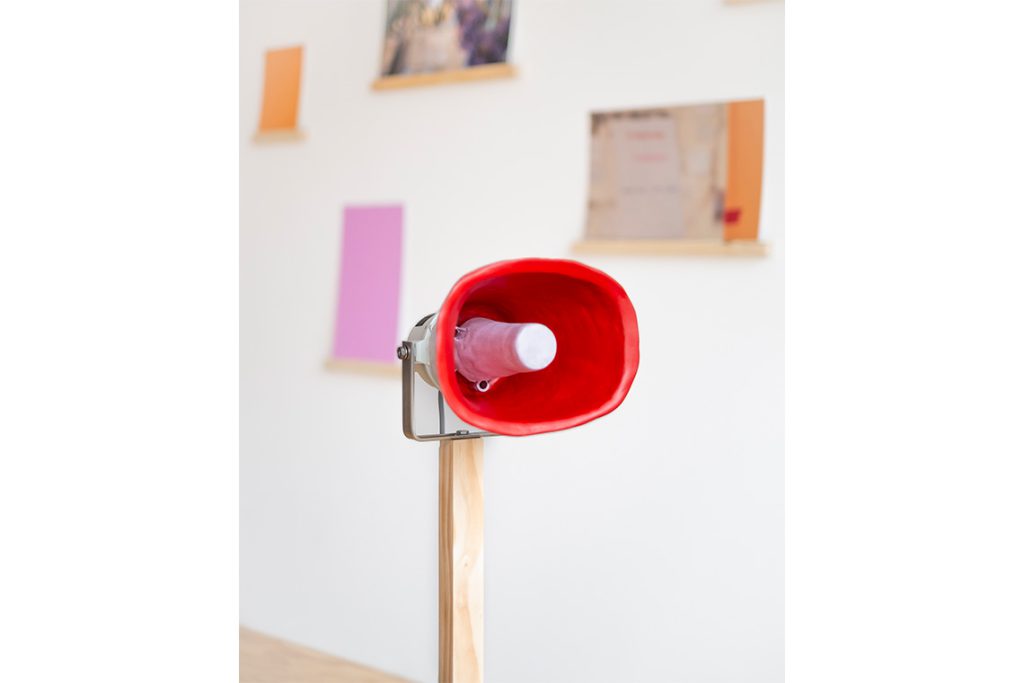 There's a risk of this worthy material sagging under sentimentality, but the idea that children, with the right stories in mind, will become adults with the agency and desire to live more ethical lives might be said to be a necessary fiction. A fiction because in America we've recently seen a generation raised on the facts of climate change and sexual and gender diversity turn towards the irrational, the fascistic, the apocalyptic; and necessary because they've taken classrooms as their battleground, banning and even burning school books, policing the anatomy and appearance of those who might read them. Namy's own work hasn't escaped the new censorship: right-wing thugs likely burned into ashes The Curtain of the Sky (2021), a textile installation made by immigrants in Sweden of local clothing donations, after its display at the Borås Art Biennial.
It seems important that Studies for Library focuses on the builders of the library, not its hopefully transformed users. Through the video, Namy makes a place in history for one way to survive terror. The gallery also contains a second one: a clay megaphone facing not the classroom but the city streets beyond the walls. On the hour, one of Namy's compositions rings out, vocalised by the British-Iraqi soprano Alya Al-Sultani. The refrains are by turns haunting and enraged, soothing and alarmed. They exist, sounding of ambulances and affection, and the confusion between the two is a story of this moment. One person's song is another's SOS. The sound of the authorities coming doesn't mean that they heard you cry.