This summer sees Mohammed Sami's first institutional solo exhibition in the UK, The Point 0, organised by Camden Art Centre in collaboration with the De La Warr Pavilion. The show weaves an artful path of confrontational ambiguity that is both disconcerting and affirming.
---
When you enter The Point 0, Mohammed Sami's solo exhibition at the De La Warr Pavilion in the English coastal town of Bexhill-on-Sea, a monumental painting faces you from the opposing wall. A building glows white, as if it is a spotlit dancer on stage, surrounded by a fence-like enclave of dark trees and an uncanny blue sky. Whether it is day or night is unclear, where it is situated is equally uncertain, and viewing the building from among the trees creates an ambiguous atmosphere of intrigue and potential danger.
The painting is titled Refugee Camp (2021), and the image is conjured from Sami's memories of his time living in a refugee camp in Sweden, after he obtained asylum there in 2007. Born in Baghdad in 1984, Sami grew up during the Iran-Iraq conflict, two Gulf wars, and the US-led coalition invasion of Iraq. He made a deal with his school that, in return for painting monumental propaganda murals in support of Saddam Hussein's regime, he would pass maths and English, which he struggled with due to dyslexia. The skills Sami developed as a mural painter, creating large-scale images that bear down on viewers and inspire a sense of distance and awe, translate to his paintings in terms of scale, but not in feeling. Refugee Camp, like many of Sami's works, is imposing, but rather than creating a sense of distance or insignificance in relation to a grand idea, it brings the viewer into the environment of the painting, one that is disorientating and carries a sense of unease. Sami's compositions are often a close-zoom — of buttons straining on a tight shirt, a plane window, or a hole in a ceiling with tendrils of building material that make it resemble a jellyfish. Abstracted without context or knowledge of what is outside of the frame, his work carries a sense of absence and obscurement, a strange balance of a sense of space and claustrophobia.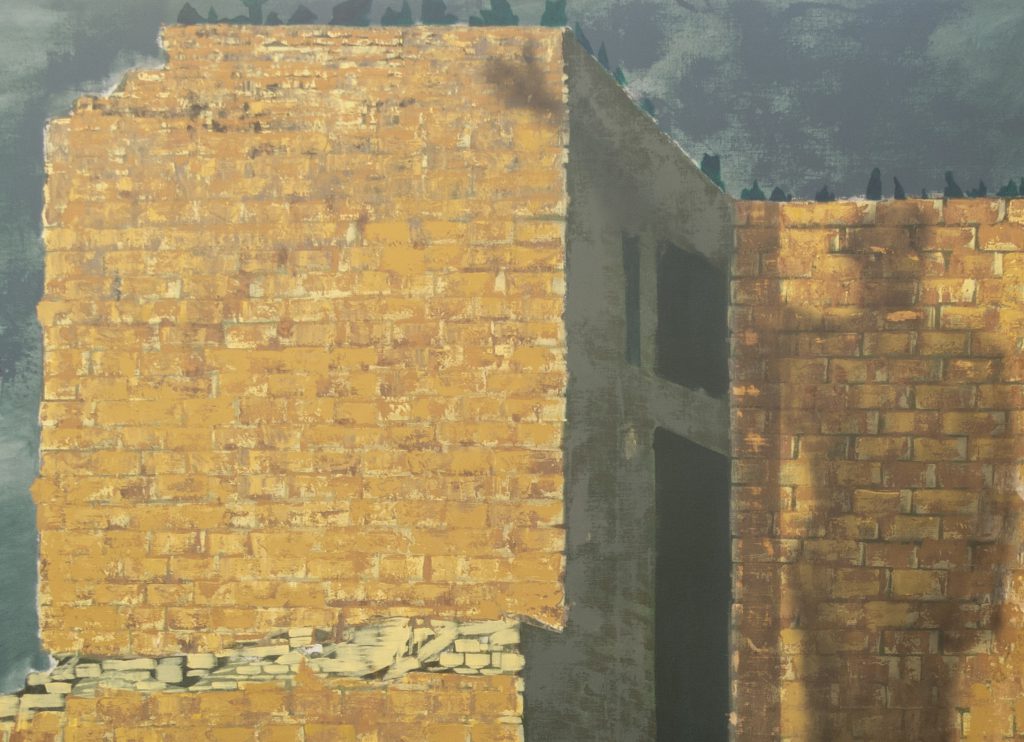 Sami paints from memory, relying on triggers to direct his brush and give shape to his compositions. He rarely paints people, at least not characters who convey narrative or attachment, and they don't give anything away. Yet his work carries a sense of human presence — or the charged moments just after people depart. A rack of clothes sits unworn in Every Day is Ashura II (2020), rows of seats become rows of gravestones in The Parliament Room (2022), while the closest we get to the depiction of a figure is the shadow of a monument in The Palace (2023), possibly about to be toppled.
Furniture, clothing, plants, carpets and building materials take on the role of character, becoming signifiers and obscuring traumatic memories. In an interview with The Guardian, Sami said: "This is the type of signifier I use to hide the traumatic image behind something entirely different, like a cactus or the carpet on the floor. This helps to distract you from the main subject matter, which is trauma and conflict. [In Arab culture, euphemism and allegory are used] as a delusive strategy to not let the authorities understand what we're saying".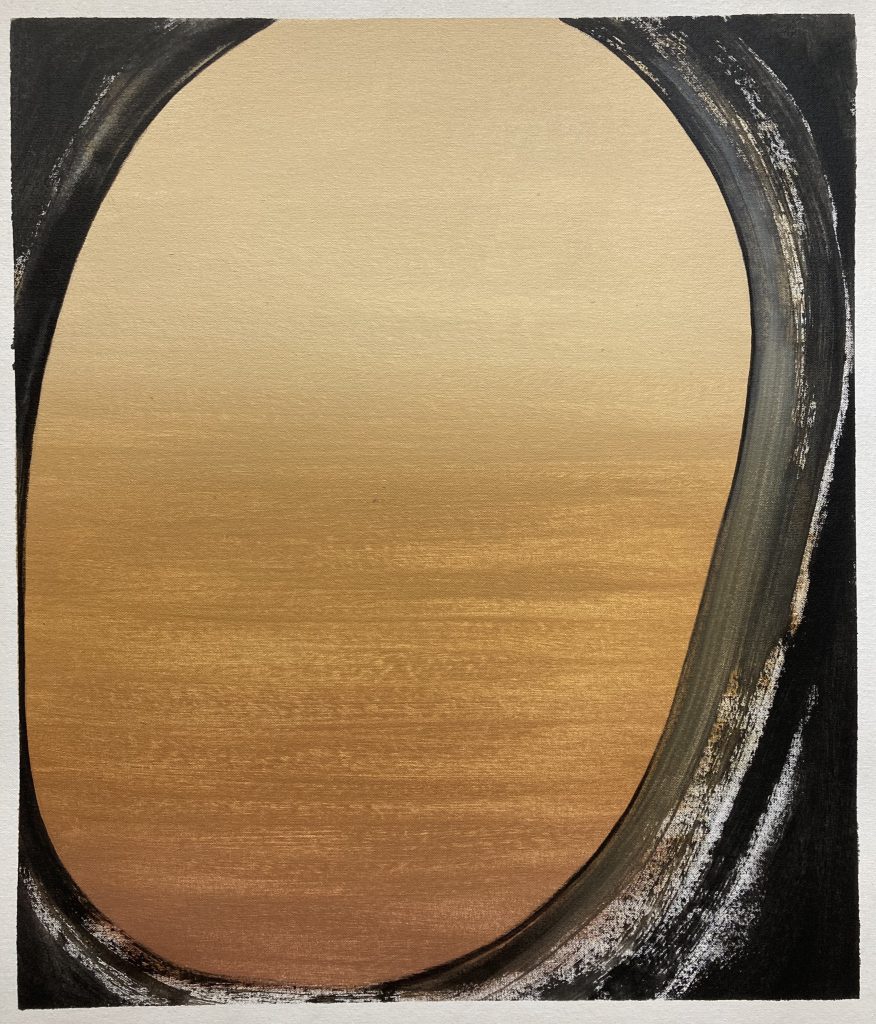 His work has a hallucinatory quality, and viewing the exhibition feels like being an observer within someone else's life – aware of your distance from the scene, able to decipher what is directly in front of you and feel the charged environment, but not knowing the moments before or what may soon occur. The exhibition title, The Point 0, may refer to the point on a scale from which positive and negative readings can be made, or from which progress can be charted. The ambivalence of this definition fits with the atmosphere of Sami's work, a record of traumatic memories as they are triggered, and the ongoing trauma of being displaced from your home. He sits with the complexity of his experience, and avoids simple narratives, or easy readings. Although the viewer experiences the work from outside of the frame, there isn't room for passivity.
The exhibition's titular work is a small painting inspired by the view of a desert from a plane window when the artist returned to Baghdad after his father's death. The desert is depicted as a gradient of ochre wash, which resembles a sunset more than the definitive line of a landscape; the golden hour haze representing the 'perpetual sunset' created by sand carried into the air as the landscape was violently kicked up during the US-led coalition invasion of Iraq. The framing of a window within a picture often depicts a sense of liberation and safety, but the view is clouded with ambiguity, of how and where the dust may settle. Marking the point 0, it is a moment charged with complexity.
Mohammed Sami: The Point 0 runs until 28 August 2023