Downtown Dubai welcomes Hotel Indigo, the city's first boutique hotel, where guests eat, breathe and enjoy Dubai's vibrant cultures and diversity through contemporary art and sleek, playful design.
---
IHG Hotels & Resorts' boutique and lifestyle brand Hotel Indigo expanded its portfolio across the South Asia, GCC and Africa regions by opening its first and flagship property on Dubai Creek in October 2020. Making its mark through a distinct aesthetic approach that sets it apart from its competitors in Dubai, its dynamic visual tension meets at the intersection of mod and Arabesque, with the boutique hotel embracing funky but slick Pop Khaleej energy.
Hotel Indigo's defining factor is its position as a cultural connector that draws inspiration from the local environment as well as contextualising itself and assimilating within its surroundings, from architecture and interiors to F&B. "Just as no two places are alike, no two Hotel Indigo properties are the same," the brand says. "Our hotels provide a gateway to discover and explore some of the world's most inspiring cities." As IHG Hotels & Resorts' latest neighbourhood, the Creek's rich history as an epicentre of trade serves as a living metaphor of Dubai's current reality as a global – even futuristic – economic hub. Hotel Indigo also gives a knowing nod to the idea that within the art and culture realm, history and heritage always inform the here-and-now.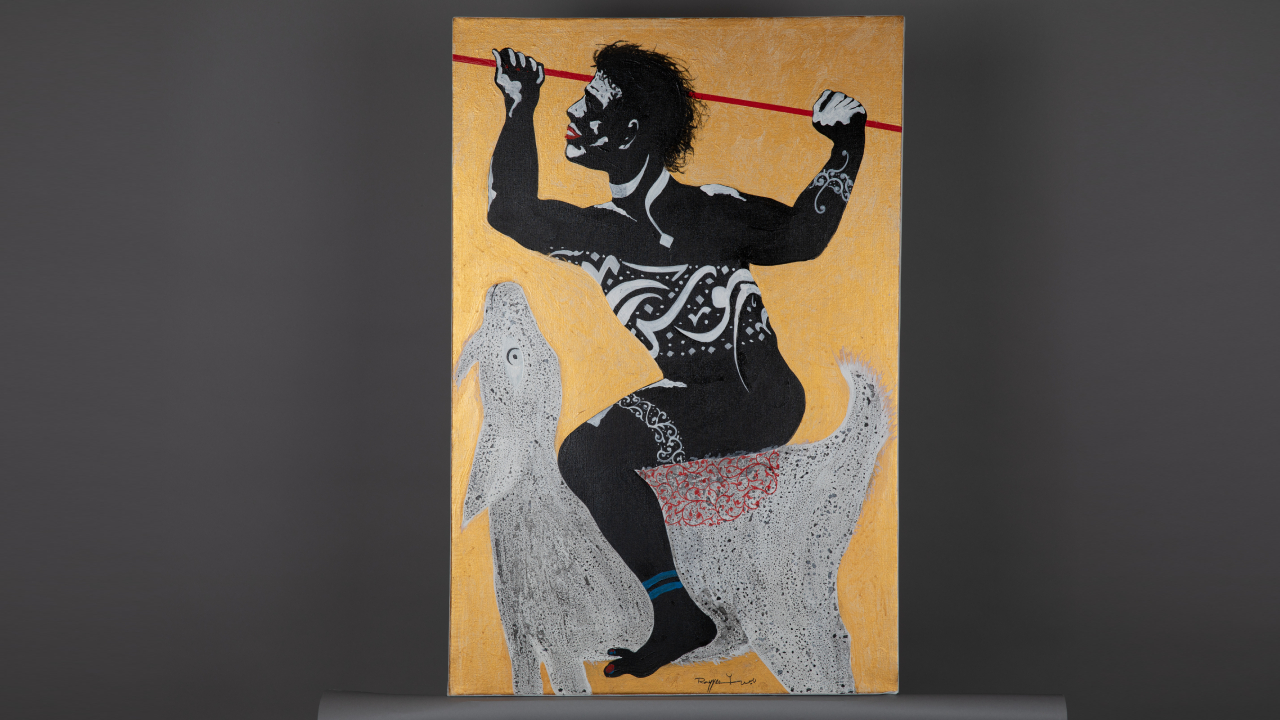 Merging old-time Emirati stories with the latest corporate savviness and luxury mod-cons is where the 269-key Hotel Indigo triumphs as a newcomer and stakes its claim within a veritable sea of luxury properties. Thoughtful aesthetics form welcome distractions for guests, as well as providing a culturally immersive experience that delights rather than imposes. "The Creek's journey is a story about the transformation of Dubai from an historic trading post to the city of the future that it represents today, and this has influenced the hotel's overall architectural and interior approach" states the Hotel Indigo team, which took careful note of the Creek's winding path leading from the dhows and other craft moored along its banks through the Ras Al Khor Wildlife Sanctuary to D3, the city's design and innovation hub. "The design of Hotel Indigo Dubai Downtown brings neighbourhood stories to life."
Thanks to strategic creative partnerships, Hotel Indigo's carefully curated art collection, glowing in natural daylight, serves as a visual history of its new home. Over 200 artworks – from installations and shadow art through to photography and digital work – have been sourced in collaboration with Dubal-based Alserkal Cultural Foundation, Tashkeel, XVA Gallery and Opera. The works adorn the property's interiors, with each floor dedicated to an individual artist on a rotating basis. The result is a fresh and fun visual cacophony of colour and form that always provides something new and exciting for the eyes of even the most seasoned art aficionado. Pieces by UAE-based artists such as Baseem Rayyes, Fadi Sarieddine and Studio MUJU and Rand Abdul Jabbar are included alongside international talent related to the city. Artists drawn to the magnetic dynamism of the city and offering up their own interpretations of Emirati culture and traditional practices include Daniel Wegera, inspired by regional architecture and Orientalism. Other artists pay distanced homage, such as LA-based Refik Anadol, who honed in on the patterning of Dubai's flora and fauna to create poetic 3D data sculptures in the hotel lobby for his debut in the region. The works are relevant and boundary-pushing but smartly tempered by accessibility. This is a leisure-rooted visual journey, not a museum trip through history.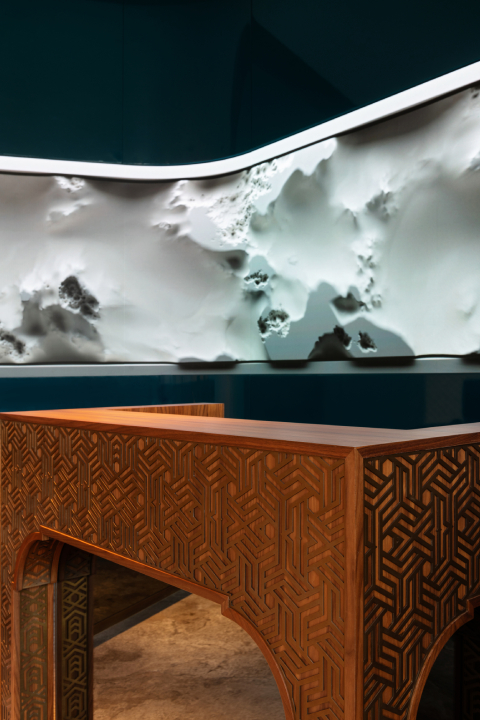 Somehow inevitably, the collection always circles back to home Tribute is paid to the city's diverse and vibrant neighbourhoods through surrealist wallpapers, bespoke sheesha lamps (seen in rooms and suites) and carved mashrabiya-style wooden doors. References also include mother-of-pearl bathrooms, a nod to the UAE's pearl-diving heritage, as well as the Christian Lacroixdesigned entrance arch of Mediterranean eatery Open Sesame, inspired by the discreet complexity of traditional abayas. Off the Wall, the Pop art-inspired cocktail bar with Moroso and Baxter Italy furnishings – seen throughout the property – pays credit to the district of Satwa and presents sound wave-shaped ceiling work, exposed brick walls and graffiti. The rugs in the hotel's public areas, meanwhile, are the result of a collaboration with the Fatima Bint Mohamed Bin Zayed Initiative, a UAE-based carpet production and community development programme that empowers over 4000 female Afghani artisans.
Hotel Indigo Dubai Downtown's contemporary aesthetic and imaginative corporate culture champions the vibrancy of tradition with a twist of the present in a playful mimesis. When it quips "Got you covered", it really means it. Stimulating the senses of its guests as well as their minds, it is a lifestyle hotel perfect for the visually curious and anyone looking for a pleasantly deep dive into Dubai.