In partnership with The Arts Center at New York University Abu Dhabi, Dance Reflections by Van Cleef & Arpels presents Rachid Ouramdane's latest creation, Corps extrêmes (Extreme bodies), continuing its commitment to showcasing the very best

 

of the art of choreography in the United Arab Emirates.
---
Existing at the intersection between documentary and dreamland, Corps extrêmes explores the boundlessness of the artistic and sportive realms in a cutting-edge, hybrid stage setting that uplifts the enervating feats of its performers. Since 2022, Dance Reflections by Van Cleef & Arpels has partnered with The Arts Center, part of the campus of New York University Abu Dhabi on Saadiyat Island. This multidisciplinary cultural laboratory is dedicated to developing and presenting theatrical, cinematographic, choreographic and poetic works, achieved by facilitating dynamic interactions between the arts and the university curriculum by providing a forum for dialogue between students and established, professional artists.
"Choreography, like all great forms of art, varies greatly in style – from graceful to athletic, subtle to visceral – and in doing so it provokes a huge variety of emotions," says Serge Laurent, Van Cleef & Arpels' Director of Dance and Culture Program. "We are honoured to partner with The Arts Center in their missions to bring ground-breaking artists to the UAE for the first time."
"The artists in Corps extrêmes give a dramatic physical performance that speaks to the yearning for the utopia of escaping one's condition of a human being stuck to the ground," Laurent continues. "It is a bold, arresting piece that continues the commitment of Dance Reflections by Van Cleef & Arpels to the creation, transmission and education of dance as an art form."
Even in the Maison's earliest days, Van Cleef & Arpels has always been highly invested in the beautiful art form of dance. During the 1950s, this attachment was further strengthened when Claude Arpels met choreographer George Balanchine; from their shared adoration of precious stones developed a close and enduring creative bond which would eventually give rise to Balanchine's iconic ballet Jewels, which was first performed in New York City in April 1967.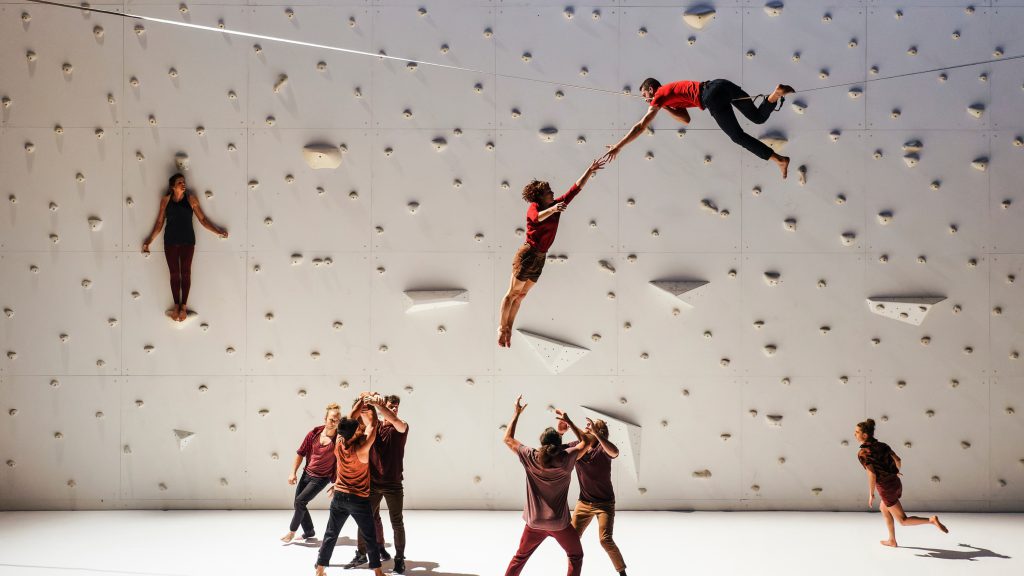 More recently, in 2020 the powerful ties between the Maison and dance resulted in the formation of Dance Reflections by Van Cleef & Arpels. This inspired initiative was created with the intention of promoting dance companies and institutions around the world, with a programme that embodies manifest promise by Van Cleef & Arpels to support the work of choreographic creatives by helping them to present the fruits of their labours to a global audience.
Following a raft of other successful shows, including Set and Reset/Reset by the Candoco Dance Company and What the Day Owes to the Night by Cie Herve Koubi, Dance Reflections by Van Cleef & Arpels will conclude its first year of programming with a presentation of Rachid Ouramdane's latest work, Corps extrêmes, in May 2023 at The Arts Center at New York University Abu Dhabi.
Ouramdane's choreographic practice has focused upon the meticulous gathering of evidence, working in collaboration with authors and filmmakers. In using the medium of dance, his aim is to inspire and explore societal issues through performances that take the form of poetic testimonies.
In keeping with this methodology, Corps extrêmes reflects Ouramdane's own desire to focus on the fascination triggered by the wish to take off and the sensation of weightlessness. As part of this effort, he is joined by not one but two exemplars in the field of extreme sports – French highliner Nathan Paulin, and Swiss climber Nina Caprez – who appear on stage far from their usual arenas, accompanied by eight trained acrobats from the Compagnie XY.
Even the stage itself is a unique creation, incorporating a towering climbing wall as both backdrop and a vertical performance element, while a long tightrope traverses the space high above. At times, the stage transforms into a gigantic screen, onto which images are projected of the phenomenal vertiginous landscapes where Paulin and Caprez perform their incredible feats, while voice-overs from these exceptional athletes play, each part contributing to personal accounts of their practice. The score, created by French musician and composer Jean-Baptiste Julien, heightens the actions of the performance, mirroring the dramatic rising and falling motions of the dancers.
Eschewing the simplistic attraction of spectacle and virtuosity, Ouramdane's piece seeks to evoke an existential – even metaphysical – new dimension, flirting tantalisingly close to the ever-beckoning void, while simultaneously remaining grounded in reality. The result is both startlingly intimate and grand in scale, assembling a performance that brings an artistic sensibility to a far from ordinary, yet profoundly human experience.
Corps extrêmes takes place on 12 and 13 May 2023 at The Arts Center, NYU Abu Dhabi