If German-American architect Mies van der Rohe coined the phrase "Less is more" in Berlin a century or so ago, then it appears now as "More is so much more", with the Haus der Kulturen der Welt (HKW) offering O Quilombismo as an attraction park of activities. This call-to-arms exhibition, part of a programme of events that includes close to 100 artists, animates and exhausts one's imagination in equal measure, with the website equally overrun with possibilities. Navigating this ambitious presentation can be likened to taking hold of a copy of Domus, which for the Italian publication's endeavour only leaves one feeling positively perplexed, as everything of the content appears to metamorphose over the printed page. Quilombismo, as termed by the Brazilian artist and essayist Abdias Nascimento, fills you with the same kind of excitable energy as the institution introduces various motives, civil and self-affirming, so that the exhibition unintentionally becomes the scenery to so many other activities. Even the lengthy title, which appears differently, depending on where you look, reads like a purposeful protest banner for a ready-to-go march on the capital.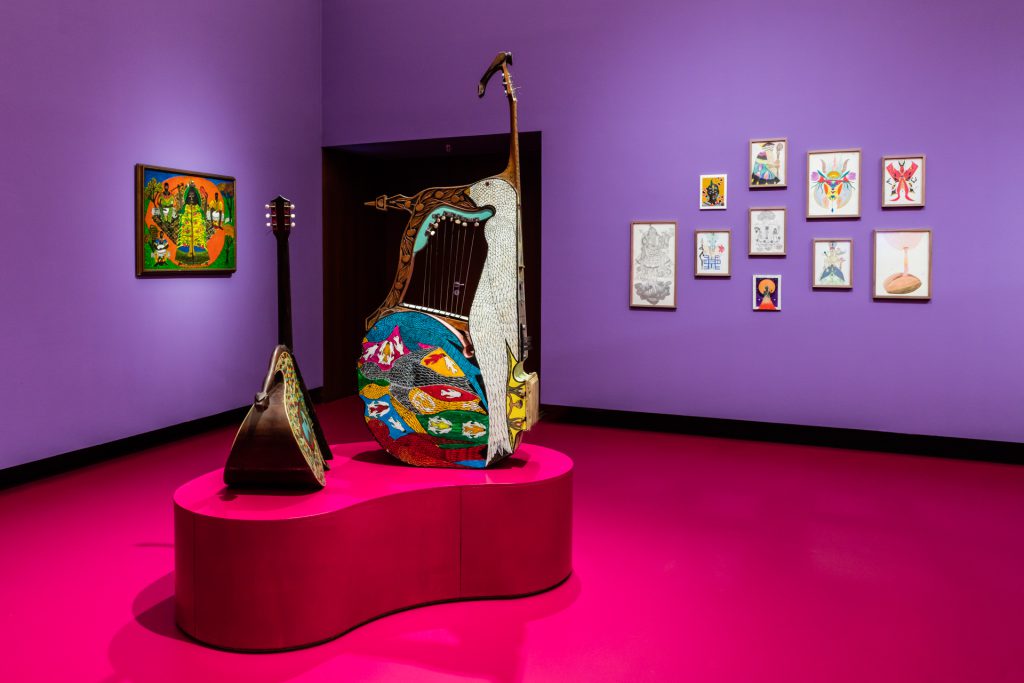 HKW's reopening introduces a canon of personal and politicised voices that have thrust cities and societies in so many directions, bottled and bought to this honeycomb building in Berlin. Pinning everything to this, the opening event-cum-exhibition includes as many artists as there is audience, and like a dinner party with more guests than seats, the meal takes the form of a buffet that, metaphors aside, has everyone eating off the floor. And for all of the text applied to this rousing appeal for inclusion and connectivity, with the exhibition as its linchpin, quilombo offers as its meaning "a settlement or safe haven for people escaping slavery". Yet its multiplicity as meaning is closer to the same phrase in Argentinian Spanish, meaningful but visually messy, with less art and more evidence of the actions of so many individuals – artists, musicians, performers and participating speakers – who are willing to take on the role of ecologists, environmentalists, political agitators and principled philosophers. This is an exhibition that acts as a vehicle for human endeavour, where the viewer's interest introduces them to the cause.
Opening to a jamboree of drums and impromptu dancing, this celebration of everything of the arts carries you with it. Coloured outfits, performance and meaningful messages from sit-down and stand-up speakers, culminating in medleys of music, HKW's events emanate a warmth that it is impossible not to be impressed by, like looking straight at the sun. Everything of the sounds and visual symbolism spills out onto the brutalist concrete as though from a fantastical bazaar, with decorative and three-dimensional works applied to a kaleidoscope of coloured walls and floor space, the highlights of which include Ibrahim Mahama's E PAIN ME (2023) and IN THE GARDEN (2023), which appear as vast textile works that sew together the Ghanaian artist's critical and political concerns. Hoovering everything of his city that isn't attached to anything solid, Mahama collaborates to create these stitched-together structures which, as much as they are fabric, for their intervention of spaces and places, read as architectural. E PAIN ME appears 'Christoesque', but intentionally without anything of the modern materials and rope that the Bulgarian-American artist employed. Mahama's interests are not just sculptural but societal, and as in Berlin, his work immediately moves us to where he comes from. The makeshift markets and metropolitan melee are pressed into his elemental sculptures.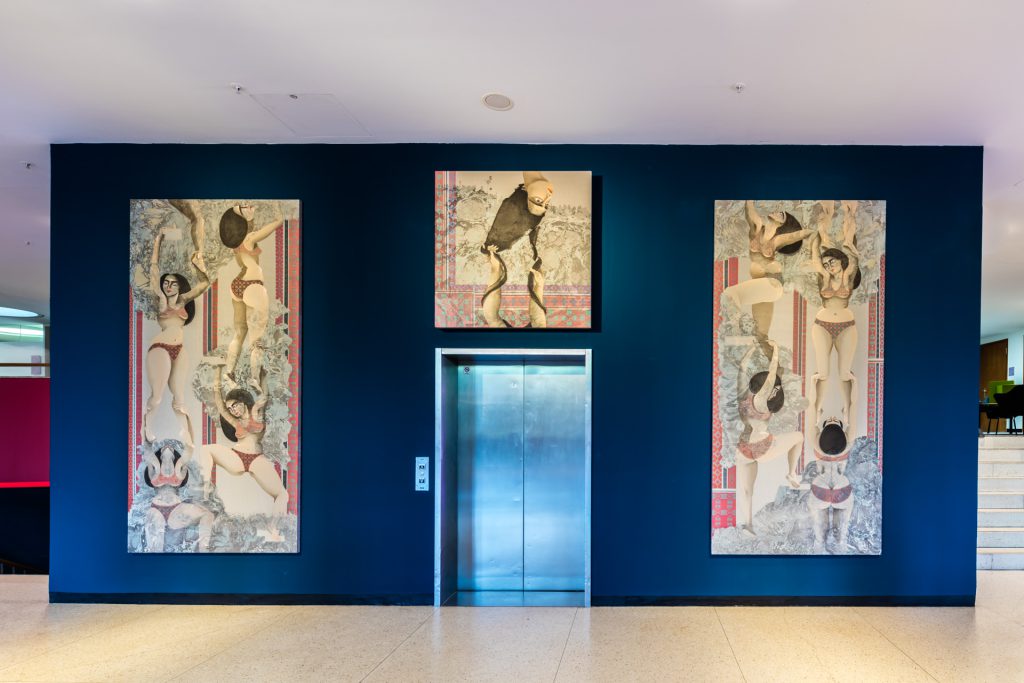 Hajra Waheed's film The Spiral (2019) illuminates one of the rooms of the matrix of exhibition spaces. Easily missed, the Canadian's work is as politically propelled as Mahama's as she introduces her insight into the singular and shared experience. But whereas Mahama's art is rigorous for his material choices, the sensitive strength of Waheed's works appears usurped by the exhibition's agenda; her projection draws attention to the significance of the spiral as a recurring structure in nature, whilst being representative of the complexities of the self. French conceptualist Christian Boltanski claimed it as "personal traumas" that become the basis for so many artists' oeuvres, and for Waheed, it is the shock of seeing the beautiful world become a battlefield that urges her art to speak; taking the simplest elements and giving them considerable substance.
The late Moroccan artist Farid Belkahia's work is one of several textured hangings in the exhibition that include pieces by Tuli Mekondjo and Alberto Pitta. Belkahia's hieroglyphic Patchwork Culturel (1979) is derivative of a mastered approach to the sensibilities of symbolism, with his leaving for Europe and returning to Morocco. The title of his work epitomises the makeshift inventiveness of the artists and the institution, which ultimately comes at the expense of art that celebrates its own strength, without it acting as the mouthpiece for a tenet of politicised ideas.
O Quilombismo runs until 17 September 2023