Dubai-based Talin Hazbar merges her understanding of various disciplines to explore how landscapes change, move and transform. In so doing, she investigates the stories the materials share to express our past, present and future.
---
Canvas: What first interested you about natural materials?
Talin Hazbar: I think it was their silent transformation, their cycles of growth accompanied by decay, and their manifestation of time. My interest in nature and ephemeral structures stems from nature's ability to operate and behave at both a microscopic and a macro level simultaneously.
Observing natural materials and formations influenced my understanding of matter as volatile and mobile, continuously moving and adapting. Landscapes have been evolving, reshaping and redefining through time and we each have our own journey of attachments to, and readings of, our surroundings. The process of working with nature and of monitoring natural material transforming – whether towards growth or decay – has allowed me to understand the state of temporality that exists around and within us.
How is this understanding manifested in your practice?
My framework has been focused on redefining the idea of moulds and exploring malleable systems. Through early projects, mainly focused on granular materials, specifically sand, I realised that we can achieve articulated coherent and responsive structures through malleable moulds. With every material I work with, I am interested in finding the overlapping boundaries and investigating the ecological, historical and social aspects by working collectively with nature. This raises more questions and enables me to look at not only the physical properties of the materials over time but also the accumulated knowledge around them.
How has your study of architecture contributed to your understanding of material?
Architecture has allowed me to see the potential of building materials and to look at them as a way of showcasing culture and identity. It also crystallised in my mind the importance of collective thinking and the value of contributions from varied disciplines and different views and experiences. These encompass diverse fields and areas of expertise such as archaeology, sociology, history and environmental science. For example, at a historical site, the monumental accumulation of material seems to mimic a natural ecosystem in its precarious construction and there are references to architecture, material vernacular value and particle physics. Whether instigated by human intervention or by nature, then developed by one or the other, these accumulations are always examples of organisation. That, in its essence, is where I find the overlap between architecture and my practice most exciting.
Earth Readings (2022), the result of your residency in AlUla, took sand and soil from particular coordinates and shared stories. What particularly interests you about the connection between land and humans?
AlUla, the oasis, is truly a break from reality. It holds warmth, and carries life through different forms and shapes. The oasis can be navigated, but never controlled or moulded. The water and the ground relationship are inseparable. Through its channels, different narratives and experiences are encapsulated. How much are we connected to water and how much do we resemble water? The oasis was sculpted by natural elements. Water and wind have carved the landscape, along with generations of people cultivating the palm groves and building their homes around it. Talking to the local community to find answers was the natural way to go. It was a blessing to be welcomed warmly by the people and the experts who were working at various sites in AlUla. Every time I met someone with a question, I was given an answer and also connected to another person who might know more and answer further questions. I learned a lot about the oasis culture, the guardians of palm groves, farmers, water irrigation systems, the value of soil and what it really means to preserve a legacy while dipping into the future.
What particularly inspired your installation?
I wanted to create new ways of experiencing the AlUla space, honour the conversations that I'd had and also help preserve the local traditional crafts. Earth Readings consists of 1360 handmade adobe mud bricks assembled in two almost parallel walls that create a short confined path within the palm grove. A number of the bricks hold personal and intimate stories gathered from AlUla. This project focuses on map-making and mark-making narratives to embody the materiality and meaning of the land. The installation is a space to create various relationships between the past and the present.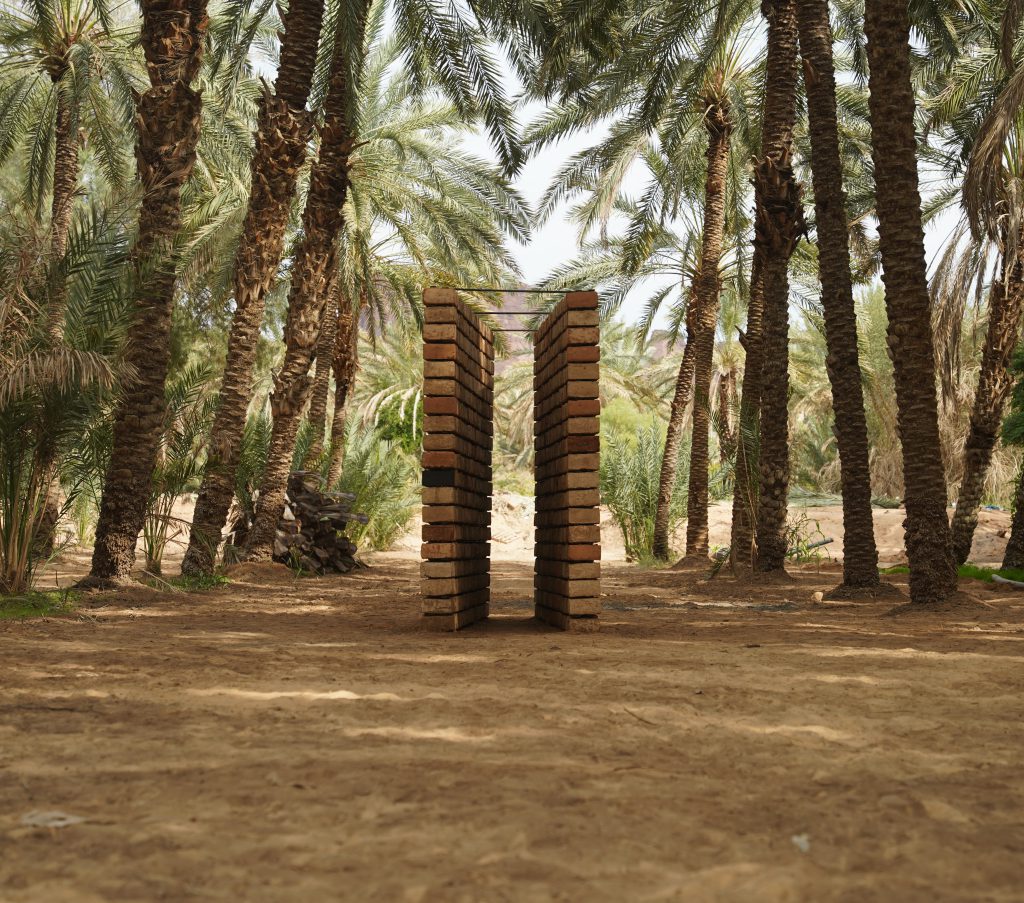 How do materials connected with the sea differ from those on land?
Each landscape holds different stories and materials. The forces forming them may differ, but they do share elements in common. What interests me is the process of formation and the stories that we build with each landscape and its materials. Back in 2016 I became very interested in marine matter through looking at nature as a collaborator. I started noticing the impact of water on the fishing equipment used by local communities in the UAE, mainly the gargour, a type of domed fishing basket. These structures become home to accumulated matter, so I wanted to learn more about those accumulations and the nature of the organisms that create them, live in them, and also leave them. So I connected with a group of fishermen in Sharjah to learn about their netcraft and the process of fishing. The conversation encompassed the local community's relationship to the sea and resulted in the artwork Accumulations. From there I became connected with a larger circle of experts to learn more about marine organisms and our relationship to that particular landscape, especially here in the UAE where fishing and the sea are sources of life to a large community. In 2019 I was invited by the National Gallery of Victoria in Melbourne to participate in the NGV Triennial 2020 with a new commissioned work, Accretions.
You have also been working with the Dubai Voluntary Diving team?
Yes, I was curious to understand marine activities other than fishing, as well as their effects on the ocean. The Dubai Voluntary Diving team dedicates consistent and regular time throughout the year to clean up the ocean and lift residual waste, from fishing gear to shipwrecks. I wanted to lift structures and materials from the water and reimagine this waste as a building material in an exploration of how we connect with the notion of a place and placeless-ness. The head of the team, Captain Abdulla Muhsen, and I had a series of conversations about the marine organisms and accumulations from my previous work and discussed the idea of looking at how the same process can be utilised in creating a building material. We merged our expertise in the making of Sediments, a re-imagination of the seabed using materials lifted from the water, and to start a conversation on ecology, environment and common space. I foresee more work together in the future.
Are there particular concerns when working with natural materials?
The main concern is not the material itself, but how to work with it. Different challenges lead to new questions and investigations. There is always a need to address and question aspects such as conscious production and consumption, indigenous knowledge, ecological consequences, restoration and conservation, entropic change, the process of archives and respect for tradition and cultural heritage. Collaboration is essential for any project or research to thrive.
This interview first appeared in Canvas 103: Down and Dirty – Art Meets Land