I Am Still Alive, a retrospective of Turkish artist Cengiz Çekil presented by Arter, grapples with the existential dread at the very heart of the contemporary condition.
---
Cengiz Çekil's I Am Still Alive is an investigation of death. On view at Istanbul's Arter, the retrospective – the late artist's most comprehensive exhibition to date – opens with a work entitled Obsession (1974/2013), consisting of a yawning spider's web with a black leather pencil case in the centre. The object calls to mind a female sexual organ, but the metal prongs of the open zipper conjure a set of ensnaring teeth: a symbol of life turns into a deadly trap.
Celebrated as a pioneering figure of Turkish contemporary art, Çekil responded to the crisis of modernity in the country, whether in the realm of politics, the contemporary art world or the social paradigm. His work is often read as a stubborn expression of joie de vivre amid the funereal climate of the times – particularly during a period of intense political and economic instability in Türkiye during the 1970s and 80s, marked by violent armed clashes between radical left- and right-wing groups that killed thousands, rapidly growing inflation and unemployment, and the country's third army coup in two decades. "Political institutions had blessed death," he mused in a 2007 interview with curator Necmi Sönmez, "but my only concern was to emphasise life's longing for everything." Yet there is a persistent presence of macabre elements in his work that suggests an uneasy equivocation between existential anxiety and hope as resistance.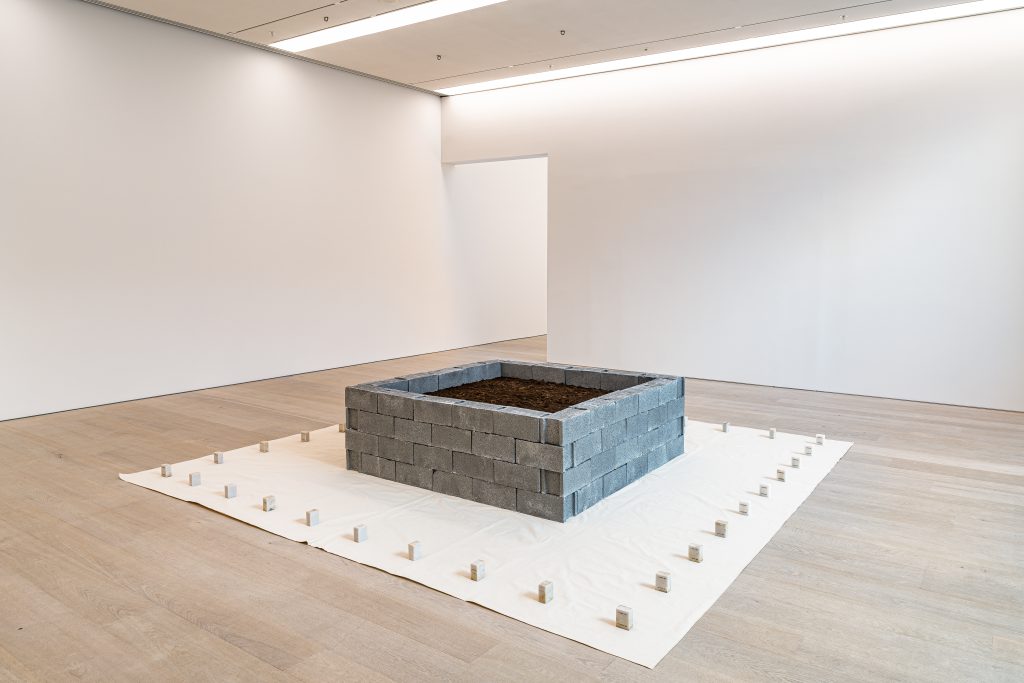 Mausoleums, graves and other motifs of death are recurrent in Çekil's oeuvre. A Mortal Monument No. 1 (1990) is one of a group of works in the exhibition that use cinder blocks to reference the shanty towns erected around Türkiye's cities as a solution to housing shortages during a wave of mass rural to urban migration in the 1980s. The makeshift construction material evokes the impermanence – even foreboding precarity – of life in these settlements. The installation comprises a tomb- like brick structure encircled by 36 marble blocks inscribed with the dates when it has been publicly displayed, including those of the Arter show. This allusion to grave markers is echoed in Arrangement No. 5 (1987), which consists of alternating rows of cinder blocks and fluorescent lamps laid out on a white shroud. Here, however, Çekil offers a chink of optimism: the bricks contain soil planted with seeds that flourish in the lamplight.
Çekil often worked with everyday objects, from ordinary items like pencil cases to organic elements and construction materials. Mechanical parts and devices, light bulbs, circuits, magazines, newspapers and Coca-Cola cans clutter the exhibition space like an eccentric inventor's workshop. Such daily ephemera signal the futility of the human effort to make a mark in the world. The artist's use of timepieces in particular evokes the fleeting nature of life. What Time Is It? Time Machines (2008) is composed of 180 battery-operated wall-clocks, none of which tell the correct time. Their hands move out of sync to create a discordant cacophony of ticking that reflects time's inevitable and relentless march forward. On the other hand, the timepieces in a later work entitled 1200 Watches (2005) have stopped. Displayed inside a glass-topped case, these watches are part of a vast collection Çekil amassed over his lifetime – an interest he inherited from his father, a horologist. "Mausoleums sometimes present one with precious objects," he told Sönmez. "These watches resuscitated my father inside me." By immortalising the memory of the senior Çekil, this work turns Time Machines on its head.
In the exhibition catalogue, the show's curator Eda Berkmen likens watches in the artist's practice to "amulets granting protection amid surrounding chaos". Fascinated with ancient Anatolian metaphysical beliefs, Çekil often incorporated into his 170 work talismanic symbols traditionally used to ward off illnesses, rogue spirits and the evil eye. Probing the roots of abstraction in Anatolian visual culture, such references also engage with our tendency to seek relief from the knowledge of mortality in superstition and spirituality. Waxings (1999), for instance, is a series of jute canvases that depict geometric forms – inverted triangles, squares within squares and concentric diamonds and circles – created using a burning candle. This method is borrowed from folk healing practices in which smoke is used to cleanse patients.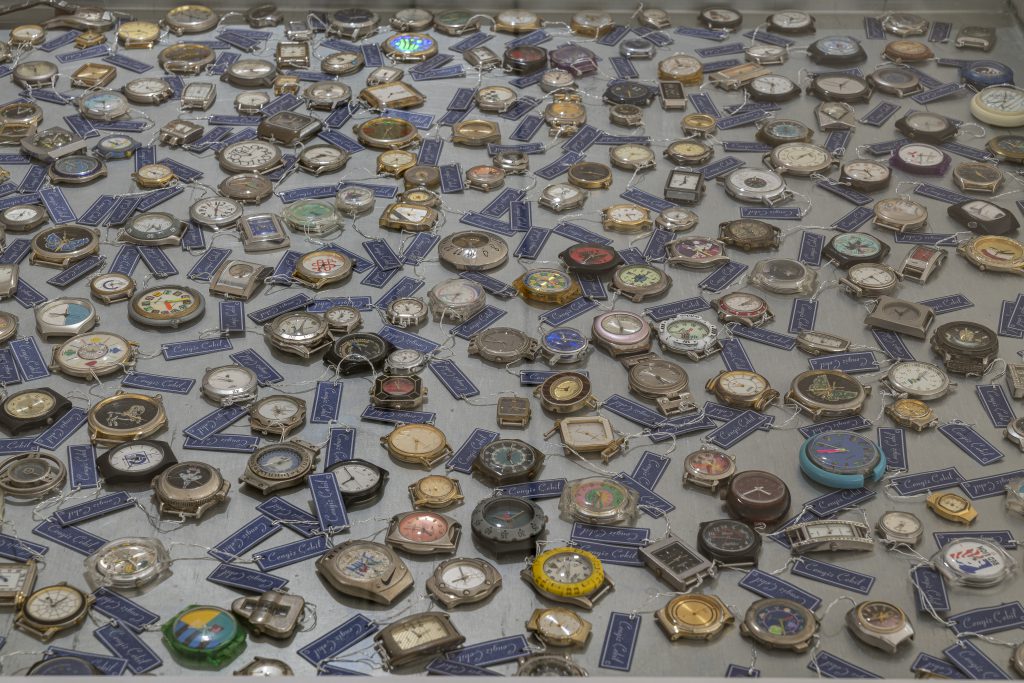 For Çekil, the practice of art itself was a healing ritual that offered an antidote to existential dread. Many of his works were executed through a methodical daily mark or gesture, giving meaning and order to life. Drawing from two studies of Anatolian spells by researcher İsmet Zeki Eyüboğlu, Calendar of a Year Lived (1977) consists of a scroll of fabric on which the artist recorded each passing day with an 'x'. Against the widespread political violence of the time, the work is an affirming testament to life and living. Calendar is a follow-up to Diary (1976), not on view but discussed by the artist in The School of Cengiz Çekil (2015), a nine-hour video work produced by his former student Vahap Avşar and which is featured on Arter's fourth floor. Lending the exhibition its title, Diary is a simple blue notebook in which Çekil stamped the words 'I am still alive', along with the date, each night for a year. The last page bears the message 'I am going for my military service'. Does this final entry suggest that he evaded the bloodshed in the streets or, equally possible, spell certain death?
The exhibition concludes without resolution with Smashed into Pieces (1998), which dominates the last room of the upper floor. Two hundred and eighty-eight gilded mouldings of human body parts – limbs, joints, unidentifiable casts of muscled flesh – are spread across the floor like a mass grave. With no evidence or indication of the identities of the bodies, they are stripped of subjecthood. The golden paint that coats each piece may be an expression of bitter irony – or a mark of the worth of each life lost.
I Am Still Alive runs until 22 October 2023