The second edition of Tasweer Photo Festival Qatar opened last month by gathering photographers from across the MENASA region in a celebration of artistic talent and alternative narratives.
---
Established by Qatar Museums and launched during Qatar Creates, Tasweer is a multi-exhibition festival which reflects the Emirate's desire to develop further as a hub for creative communities and industries. "The Tasweer festival was initiated three years ago," Sheikha Maryam Al Thani, Curator of Photography and Exhibitions at Qatar Museums, tells Canvas. "We wanted to create a biennale that would bring the regional community together, especially when we saw how few photography initiatives were taking place."
Tasweer incorporates five individual showcases, ranging from documentary photography such as Doha Fashion Fridays at M7, capturing the fashion trends among migrant workers, to artistic storytelling series like Mashael Al Hejazi's installation, My Mother Lulwa's House, at the historic Majlis Barahat Al Jufairi.
At Mathaf: Arab Museum of Modern Art, As If We Never Came by Yemeni-East African visual artist Shaima al-Tamimi is inspired by her family's photographic archives, examining themes of identity through a collage of portraits, videos and writing. By exploring the properties of these works as anchors of personal history, heritage, love and loss, she creates multifaceted reflections of memories that stretch across generations.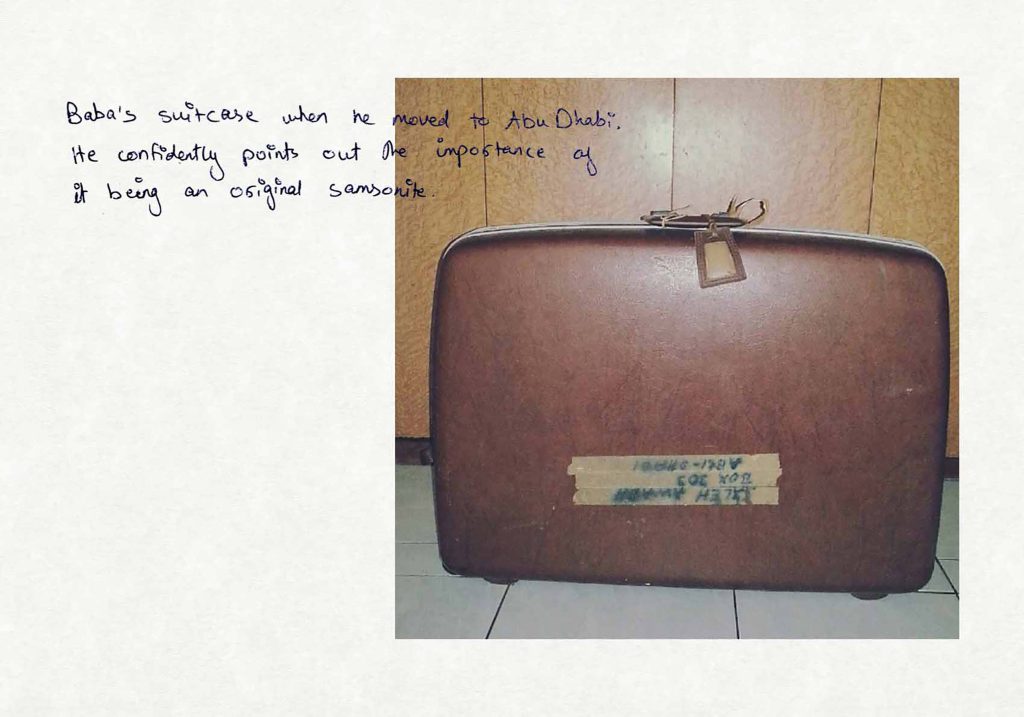 "I grew up with my father telling me about the restaurant that he helped my grandfather work in, back in the 1960s," Tamimi explains. "We managed to find a photo of it and what really stuck out to me was the fact that it was called Victory Restaurant. I think a big part of our journey – as Yemenis in displacement – is that we always think that we are made to feel that were not equal to everyone, so I thought the metaphor was a nice one.
"I live away from my family, because I migrated after them," she continues. "Every day, my dad sends me videos and images of what he's cooking. It ties into the whole story of the distance between us as families, and also the fact that his fond memories still live on to this day."
Also at Mathaf, I Am The Traveler And Also The Road showcases the works of 2021 and 2022 Tasweer's Sheikh Saoud Al Thani Project Award's 12 grantees. Among these is Palestinian artist Rula Halawani, whose photo series For You Mother focuses on the impact of the occupation of her native country, from the material culture of Palestinian society to the transformed places of her own childhood.
"What I'm showing here is part of a long-term project that I started in 2014," Halawani explains. "The first part was for my father, about my memories with him in Palestine. This is the second part, and my mother is the one who asked for it. I showed her the photos I had done for my father, and she said: 'When I die, are you going to do one for me?' I told her: 'I'm going to do one for you now, while you're with us.'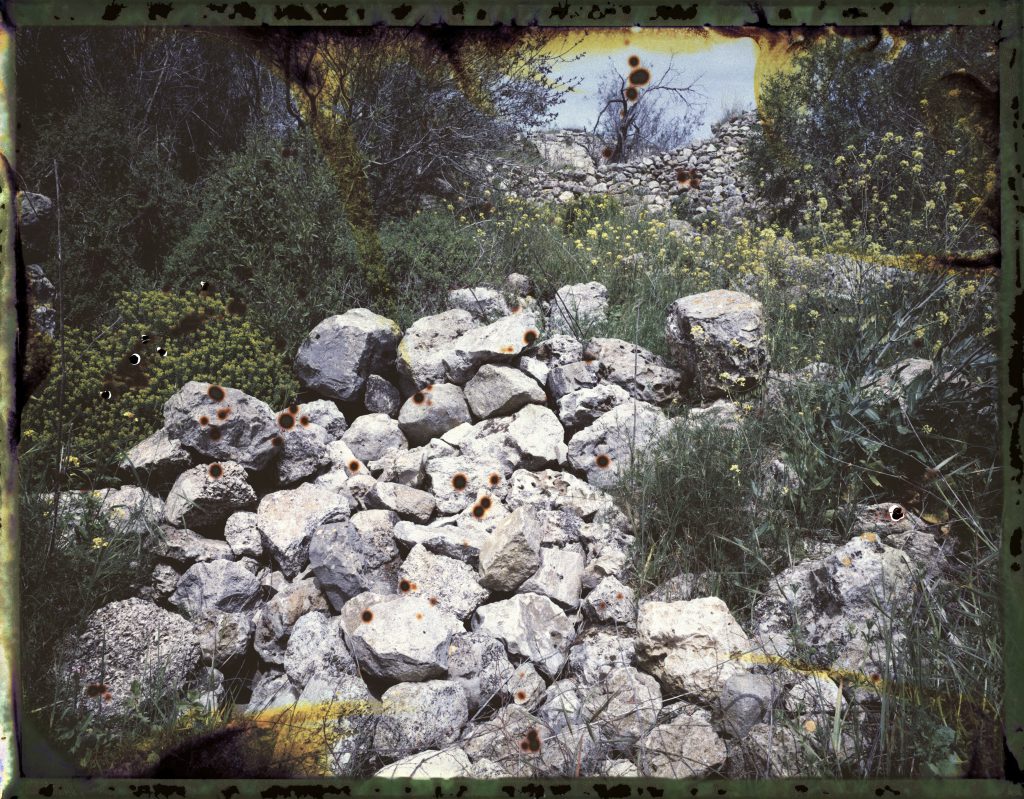 Halawani recalls how her mother used to take her to the mountains, "a place that she admired so much. I had so many memories of the settlement that we used to visit. I didn't want to take any pictures of it, because nothing is left there now. I researched two depopulated Palestinian villages – Suba and Lifta – and decided I wanted to do my project in those two places, because they look similar to my memories of the mountains we visited with my mom."
The photos are shot using damaged film, resulting in distorted colors and floating imperfections, and giving a ghostly, eerie aesthetic to the scenes.
Unlike some photo festivals, Tasweer not only showcases still images but prides itself on the inclusion also of video and multimedia technology. At Al Koot Fort, And Thereafter presents an immersive work by Qatar-based Egyptian artist Hadeer Omar, in collaboration with Michael Hersrud and Simone Muscolino (collectively Sonic Jeel).
The site-specific installation, inspired by the nearby bustling Souq Waqif, marries traditional and contemporary aspects of daily life, transforming them into a multisensory experience of captured images and sounds from around the souk.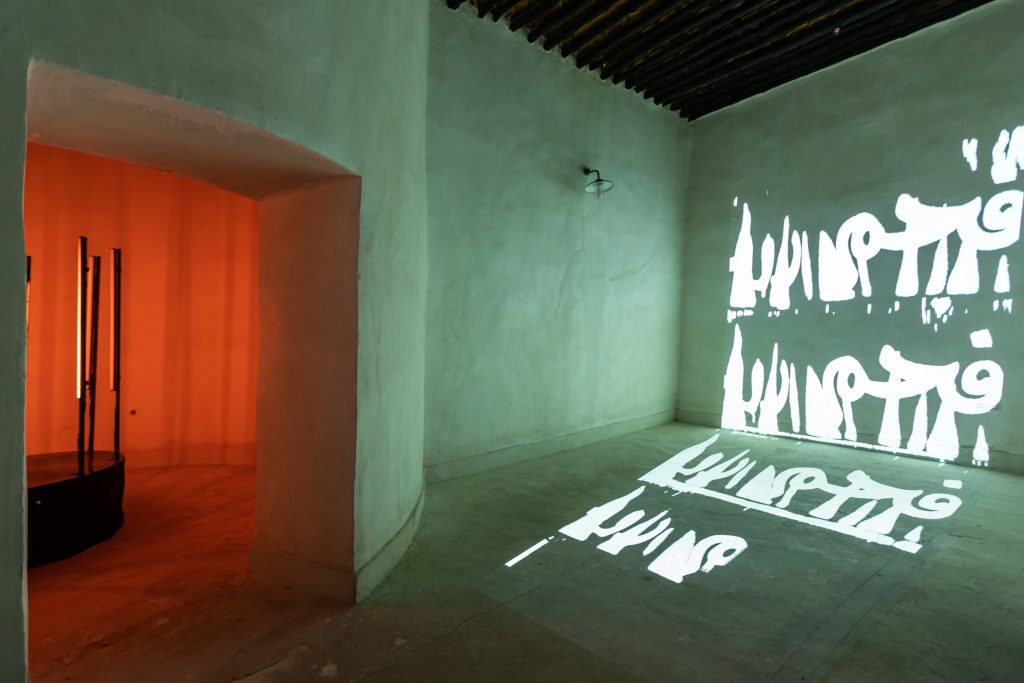 "[The fort] used to be a prison, and then it was closed after the British came before being turned into a cultural center where people would sell craftwork," Omar explains. "Then it was just left empty. It's super scary and silent at night, but everything around is busy and there's the Msheireb area on the other side, which was built only recently and is very vibrant." She says how she found the juxtaposition and contrast between the old and the new particularly intriguing, as was the scale and layout.
"We were really interested in all alleys, shops and sounds in the souk," Omar adds. "Some of the shops are so small and not even a place you can enter, just a small corner that you experience from the outside." Speaking about The Journey I, an installation at the fort, she says: "I used a 360 degree camera inserted inside the shop to give the perspective of the viewer being there and experiencing it personally. The sound designers worked on capturing a lot of the associated textures and the sounds, to make it more immersive."
Tasweer runs until 20 May 2023