Royal Ontario Museum
The Royal Ontario Museum (ROM) is one of the largest natural history museums in North America, boasting over six million items across forty galleries. If its sheer size isn't enough to impress you, the building – a neo-romantic 19th-century building with a bold, sharp edged addition by famed architect Daniel Libeskind–surely will be. Completed in 2007, the mirrored angles contrast with the ornate decoration of its older Siamese twin. Inside you'll find treasures from the natural world, including gems, dinosaurs and a meteorite, and historical pieces of art from across the world. A standout piece to search for? The large abstract bottle-cap tapestry by contemporary Ghanian artist El Anatsui.
www.rom.on.ca
Tel: +1 416 586-8000
100 Queens Park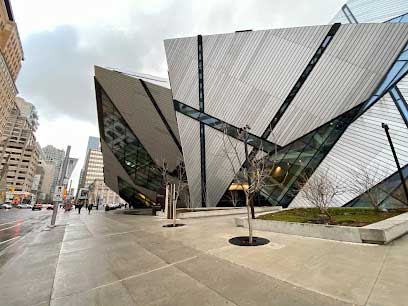 Aga Khan Museum
A new addition to Toronto's museum landscape is the recently completed Aga Khan Museum. An initiative of the Aga Khan Network, the museum houses collections of Islamic art and heritage, including never-before-displayed gifts to the spiritual leader. The museum itself, about a 45-minute trip from the downtown, is a dramatic and minimalist white granite building designed by Fumihiko Maki and uses its 6.8-hectare site to showcase a formal garden and multiple reflecting pools. The collection is a window into ancient worlds and Muslim civilization from the Iberian Peninsula to China, ranging from paintings and textiles to books and instruments. Highlights of the 1000-object collection include a page from the stunning 9th-century Blue Qu'ran from North Africa.
www.agakhanmuseum.org
Tel: +1 416 646-4677
77 Wynford Drive, North York
Art Gallery of Ontario
While all the museums in Toronto have stunning facades, the Art Gallery of Ontario (AGO) boasts one of the most beautiful. The Frank Gehry-designed addition stuns both inside and out, with the spiral wooden staircase that leads from the old museum to the new sure to satisfy even the most discriminating Instagrammer. The museum's collection includes amazing pieces of Canadian art from Emily Carr to the Group of Seven, and an excellent collection of works by Inuit and other indigenous artists including Kenojuak Ashevak, Norval Morrisseau and Jackson Beardy. The AGO has excellent temporary exhibits, with past shows including Kahlo, Basquiat and Turner. This summer it will partner with the Tate Modern to showcase a Georgia O'Keefe retrospective. When there, be sure to go outside and check out the OCAD (Canada's largest art school) and its Sharp Center for Design – a black-and-white multi-storey cube elevated by eight spindly multi-colored legs.
www.ago.net
Tel: +1 416 979-6648
317 Dundas Street West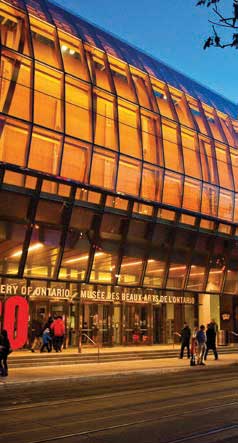 Power Plant
The Power Plant Contemporary Art Gallery, located on Toronto's waterfront, is dedicated exclusively to contemporary art. Once a functional power plant, it opened as a gallery in 1987 and on any day is a worthwhile destination for art fans. Having just hit its 30th anniversary, the gallery has shown some of the most noteworthy and genre-piercing contemporary pieces, including Christian Marclay's remarkable installation, The Clock. There's free admission every day of the year and, with rotating temporary exhibitions, always something intriguing to look at. Current works on show include a specially commissioned piece by the Swiss-based Moroccan artist, Latifa Echakhch. Bonus tip: if you can land a ticket, the annual Power Ball is Canada's art event of the year.
www.thepowerplant.org
Tel: +1 416 973-4949
231 Queens Quay West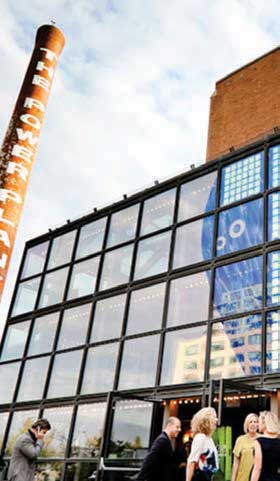 Corkin Gallery
Located in the historic Distillery District – a former bootlegger's paradise turned cosmopolitan design district – Corkin Gallery is a converted tank house. Featuring leftover brick beams reminiscent of Roman columns, the sprawling (10,000 square feet) gallery houses some of Canada's most notable artists and can exhibit up to three shows at a time. Recent exhibitions have included LATIN AMERICA: MODERNITY, with sculptures, abstract paintings and large-format photos by contemporary South American artists. Corkin also possesses a fine collection of vintage photography, with examples by Robert Mapplethorpe and Ansel Adams. Call to arrange a viewing – or purchase! – of works not currently on display.
www.corkingallery.com
Tel: +1 416 979-1980
7 Tank House Lane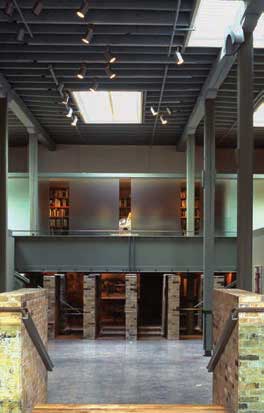 Clint Roenisch
Clint Roenisch is one of the most recognisable characters on the Toronto art scene. When he opened his namesake gallery in 2003 it was next door to the Museum of Contemporary Canadian Art (MOCCA) on Queen West, but like the MOCCA (scheduled to reopen this year), Roenisch has relocated to the less central Bloordale neighbourhood, which is fast becoming Toronto's new gallery district. He represents a cross-section of artists spanning generations and media, and has an impressive roster of international names including Heather and Ivan Morrison (Wales) and Marcel van Eden (Zurich). Many of Clint Roenisch's artists have exhibited or been collected by institutions such as MoMa, Centre Georges Pompidou and the National Gallery of Canada.
www.clintroenisch.com
Tel: +1 416 516-8593
190 Saint Helens Avenue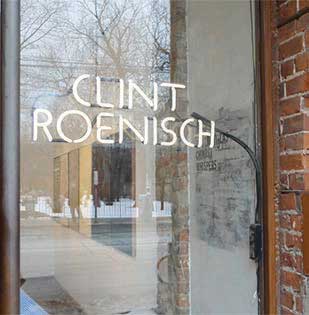 Narwhal
A small gallery in Toronto's trendy Dundas West neighbourhood, Narwhal would be easy to miss. However, the modern gallery's selection of paintings and artists make it a definitely worthwhile trip for those who like their culture somewhere between the funny pages and fine art. The gallery explores the congress of contemporary art, design and visual culture and the works are playful without being cloying. From the animéinfluenced surrealism of Junko Mizuno to Lauchie Reid's macabre mask-wearer in the style of the Dutch masters, humour is present in almost all of the works you'll meet here.
www.narwhalprojects.com
contact@narwhalprojects.com
2104 Dundas Street West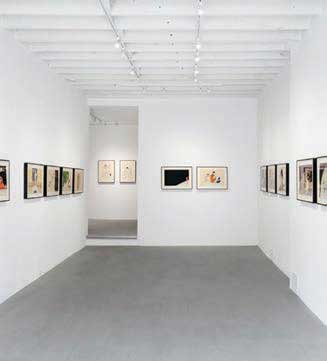 Cooper Cole
One of the first galleries to migrate to Toronto's industrial Dupont Street, Cooper Cole is a contemporary gallery housed in a converted warehouse. The minimal and rough exhibition space – think plywood and plaster rather than polished and prim – is a draw for national and international artists, such as New York-based Sara Cwynar and Londoner Gee Vaucher. The large space is perfect for more innovative works, with contemporary installations breaking across varying media. The gallery's vernissages attract Toronto's hip, young and stylish crowd, and are definitely worth catching if you can.
www.coopercolegallery.com
Tel: +1 416 531-8000
1134 Dupont Street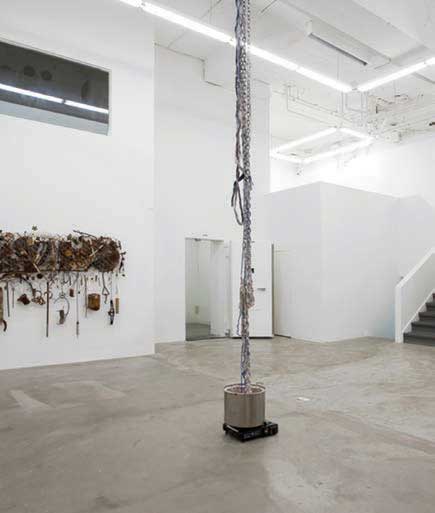 Nicholas Metivier
Metivier, located in Toronto's entertainment and fashion district, represents some of Canada's most acclaimed modern artists and whether hosting a photo, abstract or portrait show, is bound to please. Especially notable is Edward Burtynsky, whose large-format photos of industrial landscapes have been featured in The New Yorker and are currently housed in over 50 museums worldwide. Metivier's eye strays wide, and other clients include young realist painters like Stephen Appleby Bar, who paints his contemporaries in the style of an old master, Keita Morimoto's dreamy portraits bathed in light and the evocative colourful abstracted figures of Katharine Harvey.
www.metiviergallery.com
Tel: +1 416 205-9000
451 King Street West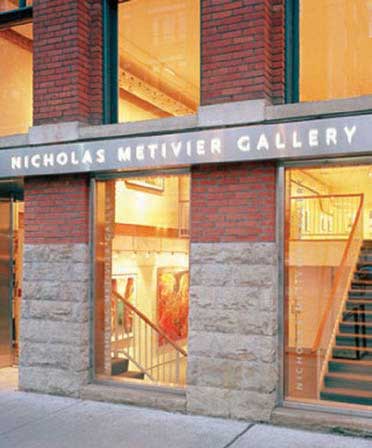 XPACE
Funded entirely by OCADU Student Union and programmed by alumni, XPACE is the place to check out the next generation of Toronto artists and highlights local and emerging artists in short exhibitions and runs. Founded in 2004, the gallery bills itself as a cultural centre, with exhibitions throughout its spaces and workshops on everything from screen printing to macrame. XPACE also showcases a Zine Library, founded by artist and illustrator Alicia Nauta, where you can browse through the minds of local miscreants and artists on a bookshelf couch hybrid. You can also borrow a Walkman and one of the specially curated mix-tapes to listen to while you peruse
www.xpace.info
Tel: +1 416 849-2864
303 Lansdowne Avenue #2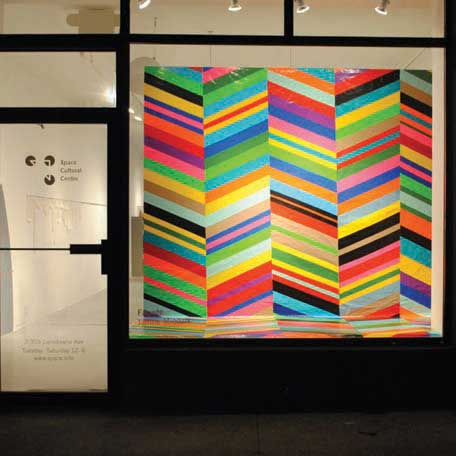 8-11
The small ramshackle gallery 8/11 is a non-for-profit, tongue-fully-in-cheek gallery located in the heart of Chinatown. Named for the rotating eight curators who run the space, and cheekily referencing 7-11, its exterior sign changes based on their mood and its website is a Craigslist clone you can click through for inside jokes (you're better off checking its Facebook page for upcoming events). But the space is a hub for a certain type of young, plugged-in artist, and features the concerts, plays and readings that are the nexus of the Toronto arts scene. The gallery has about one vernissage a month, which brings in musicians, artists and poets. In the summer, 8-11 features concerts and readings utilising the backyard, often with sneaky beer and tacos sold alongside.
www.8eleven.org
233.spadina@gmail.com
233 Spadina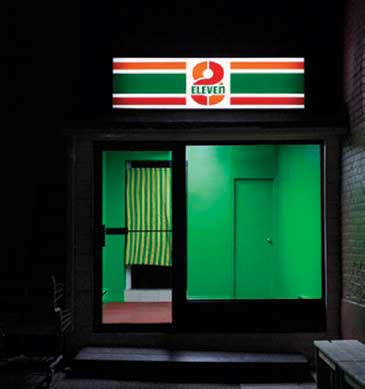 Angell Gallery
Angell Gallery has been at the forefront of the contemporary art scene since it opened in Its mandate is to present new and newish artists who take risks, challenge critical norms and viewers' expectations. The artists featured work in a variety of media, from photography to painting, sculpture to digital, but recently have pushed to include more digital arts and gifs. Angell Gallery's exhibitions are known for their unconventional, daring and thoughtful curation, and with features and reviews in a variety of publications, like New York Times, ARTFORUM and the Los Angeles Times, to name just a few. It
seems to be paying off.
www.angellgallery.com
Tel: +416 530-0444
1444 Dupont Stree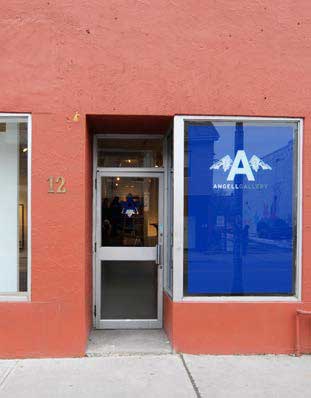 Walter Scott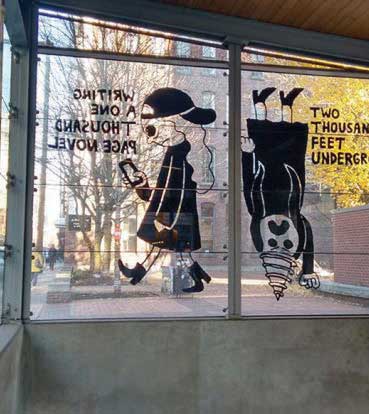 Walter Scott's comic, and its titular character boy-crazy, neurotic, artgirl Wendy, are a spot-on satire that perfectly describes and lampoons Canada's art scene. The book, featured in Vice, Canada Art and other media establishments, dissects and gently teases the different scenes in Canada and North America as assuredly as Annie Hall talked about relationships. But beyond the famous and heartfelt parody, Scott is an accomplished contemporary artist who makes graphic and sculptural pieces. He combines a graphic sensibility with items such as long curly hair, zipper or camo, to make statements about masculinity and indigeneity. Humorous, self-aware, biting and kind-hearted, Scott's work is bold, refreshing and honest.
www.walterscott.com
Abbas Akhavan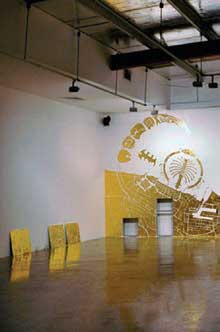 An Iranian artist now based in Toronto, Abbas Akhavan's site-specific work runs the gamut between sculpture, video and performance. Its only constant is that it is created in direct response to the environment in which the work is created. Akhavan recently took home the Sobey Art Award, one of the most prestigious awards for emerging and midcareer artists in Canada. His work can be minimalist and mindful, and very much of the moment – he once evoked a refugee camp in a gallery with a pile of shoes, a sheet and an installation made to suggest sandbags.
www.abbasakhavan.com
Bridget Moser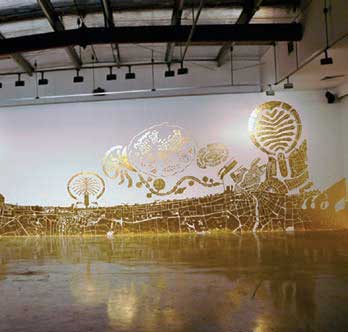 Performance artist Bridget Moser once described her work as "angry young woman makes feelings about things." While ostensibly correct, it's so much more than that. Via a meld of surrealism, monologue and stand-up comedy, Moser plays with her identity, her anger, her confusion and her body to make inventive pieces that move and amuse. She is part of a group that took part in Banff Culture Centre's Alternative Comedy residency, and now puts on regular events in the vein of standup cum experimental theatre productions called Doored (put on by other Torontobased grads Life of a Craphead). Part prop-comic, part experimental theatre, Moser trains her wary eye on pop culture and says defiantly "Why not?" She's an original and destined to be even greater than she already is.
www.bridgetmoser.com
Easy Tiger Goods
A small cafe and 'lifestyle concept' boutique, Easy Tiger has an excellently curated collection of everything from brightly coloured Dusen Dusen linens to locally made Province Apothecary. With items ranging from $12–500 in price, there is something for everyone here. There are planters, cards, vases, almost anything you care to name as a potential gift– though so elegant and charming you may well end up keeping them for yourself. Keep an eye out for local designer Guy Guy Guy's whimsically designed apparel basics and canvas totes, at the moment only available here.
www.easytigergoods.com
Tel: +1 647 748-6161
1447 Dundas Street West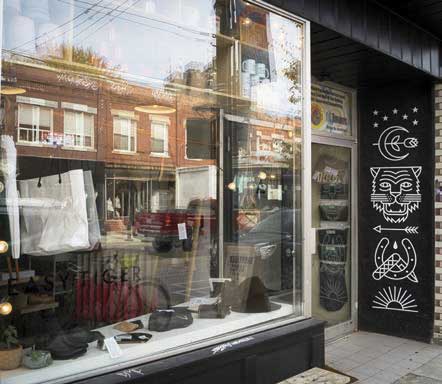 Art Metropole
Founded in 1974 by art collective General Idea, Art Metropole specialises in art books, videos and prints. On offer is a dizzying selection of artist-created books, periodicals, posters, clothing, audio, video and any number of small-run and irreverent items. Among the 2300-plus artists' books, keep an eye out for Will Munro: History, Glamour, Magic. A seminal Torontonian who died of cancer in 2010 at the age of 35, Will Munro helped remake the city through his punk promotion and queer aesthetics. To understand his work is to better understand the city, and his tome is just one of the treasures at this must-see shop.
www.artmetropole.com
Tel: +1 416 703-4400
1490 Dundas Street West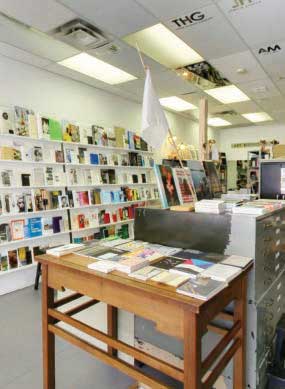 Magic Pony
The retail arm of the same group that owns Narwhal Gallery, Magic Pony shares a similarly irreverent sense of humour. The shop doubles as a creative studio that collaborates with local and international artists to produce unique designs, products, books and events. The focus is on toys, prints and pins, but there is also appealing original art like the brightly coloured dreamscapes of Souther Salazar, photo-realistic crystals from Carly Waito and charming porcelain by Julie Moon.
www.magic-pony.com
Tel: +1 416 861-1684
2104 Dundas St W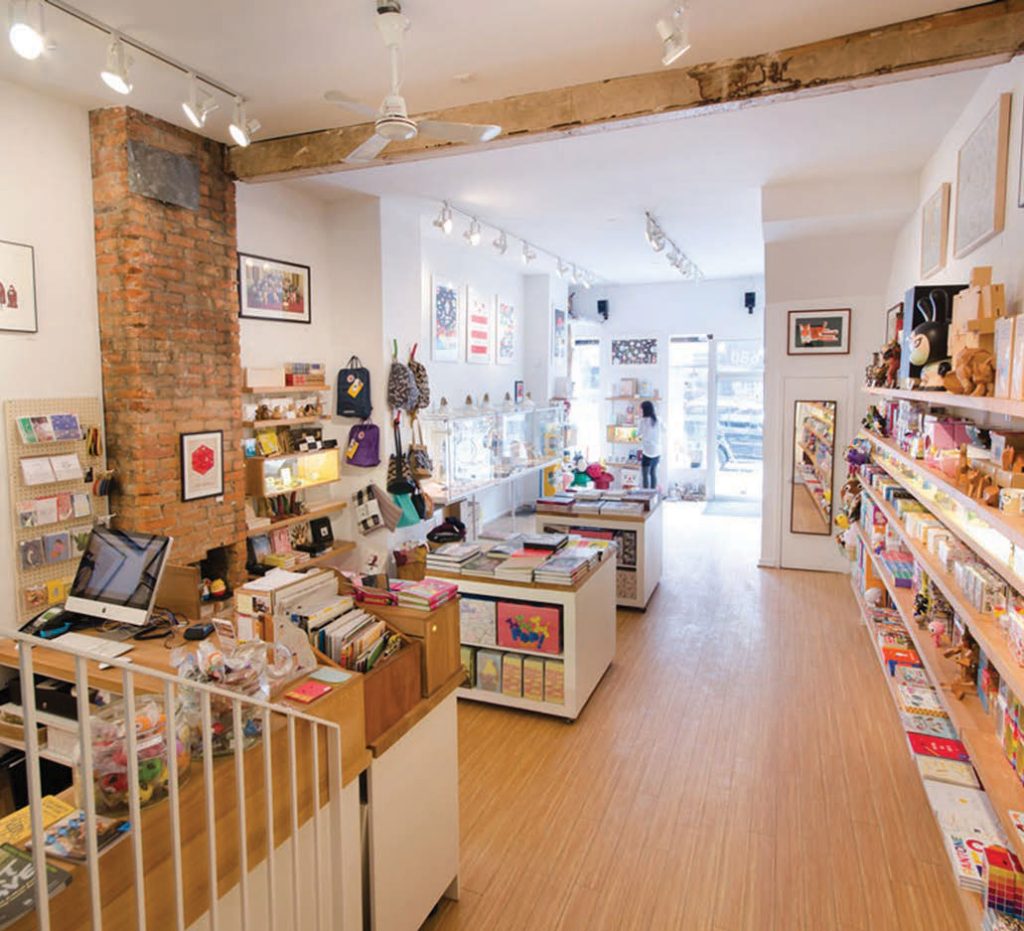 Bar Raval
A stunning Art Nouveau-inspired bar greets you when you enter Toronto chef and Wunderkind Grant van Gameren's newest restaurant. The Gaudi-esque decor matches the cuisine, a Barcelona-influenced menu that features excellent charcuterie and a deceptively simple tomato-toast. The cocktails are exquisite, and for a real treat be sure to request a sherry to pair with the cheesecake for an experience one can only describe as transcendent. The restaurant is open from 8 am until 2 am, making it a perfect spot for a breakfast coffee and pastry, a sit-down meal, or a nightcap. Or all three.
www.thisisbarraval.com
sup@thisisbarraval.com
505 College Stree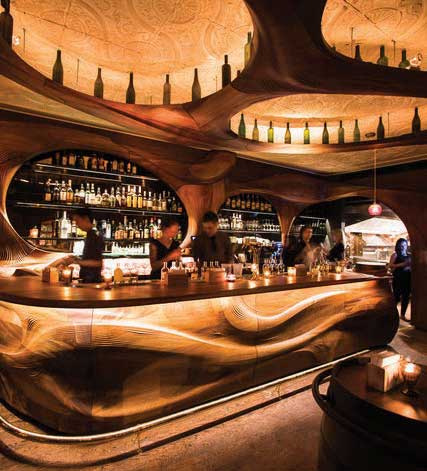 Otto's Bierhalle
A recently opened upscale restaurant to pair with the fast and casual Otto's located in Kensington. This smartly designed resto – one of the owners also has a lighting company, so there are stunning fixtures throughout – features a long list of local and imported beers. The standout must be the giant "feasts" for up to three, served on a tray and featuring every possible iteration of smoked and roasted meat. While the menu caters to carnivores, vegetarians can find delicious options in the roasted brussel sprouts, pretzel and cheese fondue and sauerkraut fritters. After dinner, head upstairs to event space The Great Hall, to take in a concert.
www.ottosbierhalle.com
Tel: +1 416 901-5472
1087 Queen Street West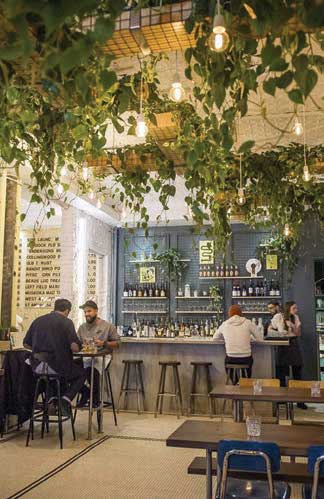 Imanishi
Toronto's multicultural legacy is on full display in the izakaya (Japanese bar-food) restaurant, Imanishi. Don't be fooled: the only sign is the one left over from the old tenant – a Portuguese sports bar. The space is casual, designed to be reminiscent of a neighbourhood bar in Tokyo. Food includes chicken wings, spicy ramen and corn kakiage, and light tempurafried corn kernels. The katsu curry, a breaded pork served with cabbage, is a total highlight, as is the agedashi eggplant – fried aubergine marinated in cold ginger dashi.
www.imanishi.ca
Tel: +1 416 706-4225
1330 Dundas West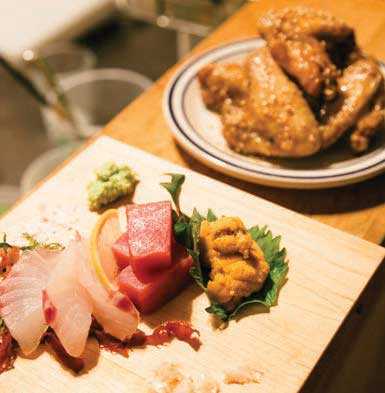 Awai
Chef Nathan Isberg made waves in Toronto last year when he closed his truly innovative and bold restaurant Atlantic. The menu was set every day, no alcohol was served and the price was pay-whatyou-can, decided by the customer. Well, Isberg is at it again with the vegan and vegetarian restaurant Awai. The 12-course tasting menu (suggested cost $80) is plant based, wood fired and locally sourced. Wine is available as pairings, and much on offer is organic. A truly singular experience.
www.facebook.com/awairestaurant
Tel: +1 647 643-3132
2277 Bloor Street West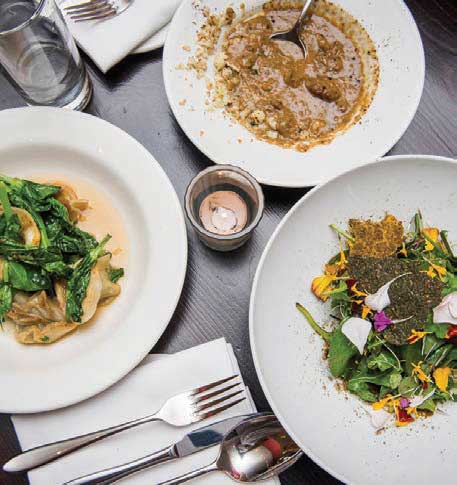 Hotel Ocho
Renovated by local architects Design38, this former textile factory has been transformed into a smart, well-appointed hotel in the heart of Chinatown and features plenty of exposed brick and wooden beams. Centrally located and with 12 rooms, it is within walking distance of both Kensington and Queen West, and sports a very attractive and reasonably priced restaurant and lounge. While Chinatown has kept – and hopefully will keep – some of its original character, Ocho and places like it have transformed the block into a new and fashionable destination.
www.hotelocho.com
Tel: +1 416 593-0885
195 Spadina Avenue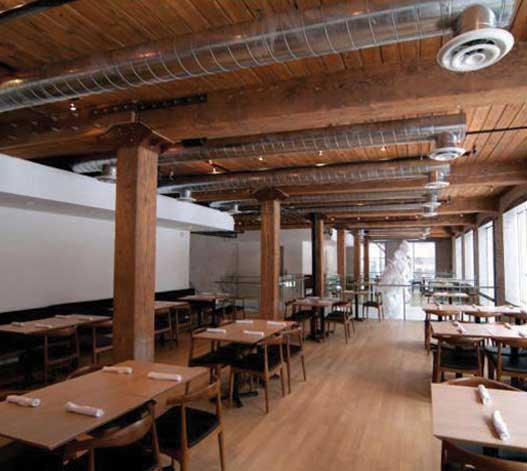 The Gladstone Hotel
The 37-room Gladstone, originally built in 1889 and refurbished in 2005, is part-event space, part-restaurant, part-art gallery and part-hotel. A former hotel-turned-rooming home and then back to hotel, the current iteration has become a popular Toronto cultural landmark. The first two floors are filled with rotating exhibitions, and during the week events such as concerts, readings and craft markets fill the spaces and draw the crowds. Each room was designed by artists, so forms a unique artwork. Beyond the event spaces, there are two restaurants: a cafe and the Melody Bar, a great place to catch up with live music.
www.gladstonehotel.com
Tel: +1 416 531-4635
1214 Queen Street West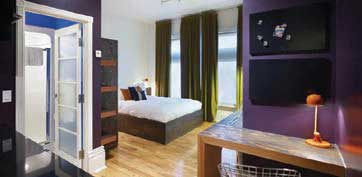 The Drake Hotel
Arguably the best-known boutique hotel in the city, the Drake predates and shares no relation with the eponymous hometown rapper's rise. This Queen West hotel features 19 wellappointed rooms, but is more famous citywide for its restaurant, which turns club around 11pm, the concert space in its basement, and the dramatic sky-lounge on the roof terrace. The Drake also features stunning works by local artists, having featured the collective Team Macho and Kris Knight, and there are regular exhibitions and even a resident artist.
www.thedrakehotel.ca
Tel: +1 416 531-5042
1150 Queen Street West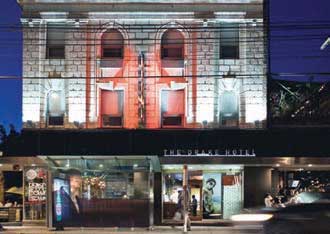 Le Germain Hotel Toronto
The Germain is a Canadian boutique hotel chain focused on convenience and comfort without sacrificing style. Located in the entertainment district, across the street from the legendary Second City and a hop away from the TIFF Lightbox Theatre, this is a luxury hotel with all the standard amenities including a business centre and high-end toiletries. The rooftop terrace even features a putting green, should the mood strike. This chain prides itself on customer service, so don't hesitate to contact the concierge if you need anything – from a yoga mat to dog toys to tickets to a show.
www.legermainhotels.com
Tel: +1 866 345-9501
30 Mercer Street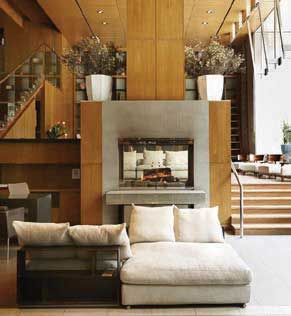 TORONTO – CANADA
The travel guide for exploring the
ecstatic beauty of TORONTO.