Niccolò Basso, Riccardo Bon, Sara Bossi, Arthus Boutin, Maria Rita Cerilli, Peggy Guggenheim Collection, Rachele D'Osualdo, Francesca Fungher, Lisson Gallery, Andrea Goffo, Palazzo Grassi, Pauline Guyon, David Head, Fondazione Bevilacqua La Masa, Attilio Maranzano, Agostino Osio, Fondazione Prada, Francesca Rumiato, Gloria de Risi, Fabrice Seixas, Zuecca Project Space, Luca Nichetto Studio, Francesco Urbano and Estudio Michel Zabé.
Ca' Pesaro
If Modern art is your thing, this museum will enchant you with its unexpected collection. Built as the Baroque home of a family of Venetian collectors, it was converted into the International Gallery of Modern Art Ca' Pesaro in 1902 and established its stellar reputation by presenting some of the first exhibitions of Italian Avant-garde artists such as Boccioni, Casorati, Gino Rossi and Arturo Martini, among others. The collection, however, also includes masterpieces by international artists such as Judith II (1909) by the founder of the Viennese Secession, Gustav Klimt. Take your time to visit the temporary exhibitions devoted to Masters of the 20th century, currently featuring works by American painter Cy Twombly.
www.capesaro.visitmuve.it/en
Tel: +39 041721127
Santa Croce 2076, 30135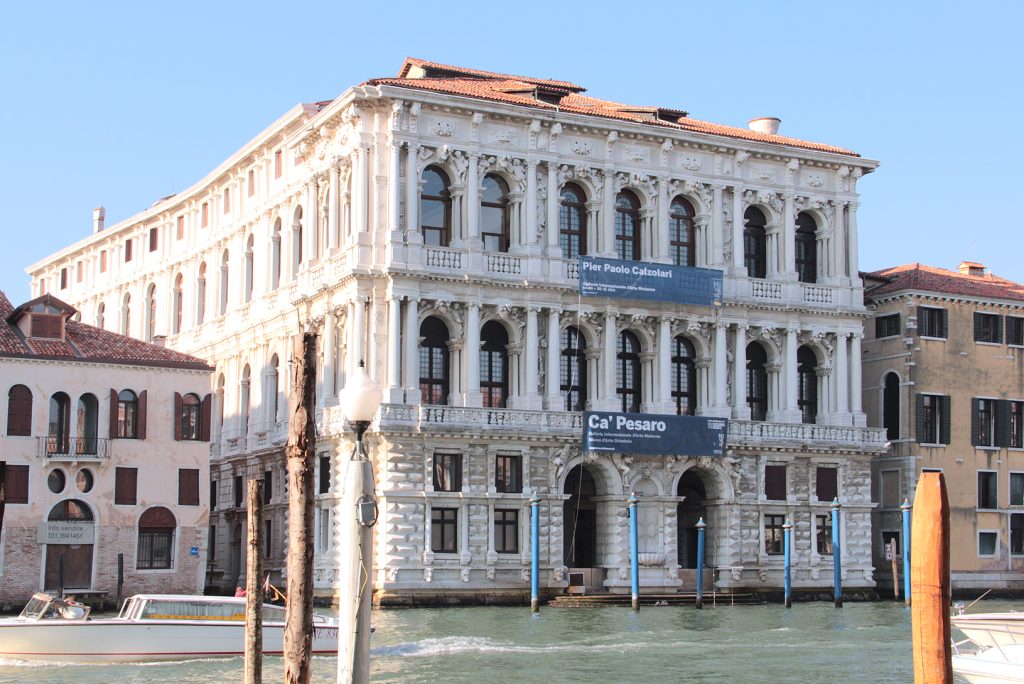 Palazzo Grassi
Venice's most charismatic private venue for temporary exhibitions since 1951, Palazzo Grassi was bought by business tycoon François Pinault and renovated by Japanese Minimalist architect Tadao Ando in 2006. It now exhibits works by acclaimed Contemporary artists such as Rudolf Stingel and Urs Fischer, along with a survey of the international art scene. In 2009, Pinault doubled his presence in the lagoon with Punta della Dogana, a former customs house which emblematically separates the Grand Canal and the Giudecca Canal. What to expect here? Until 30 November, a major retrospective of 300 paintings by French artist Martial Raysse and a collective show curated by celebrated Vietnamese artist Danh Vo and Caroline Bourgeois.
www.palazzograssi.it/en
Tel: +39 0412719031
Punta della Dogana Dorsoduro, 2, 30123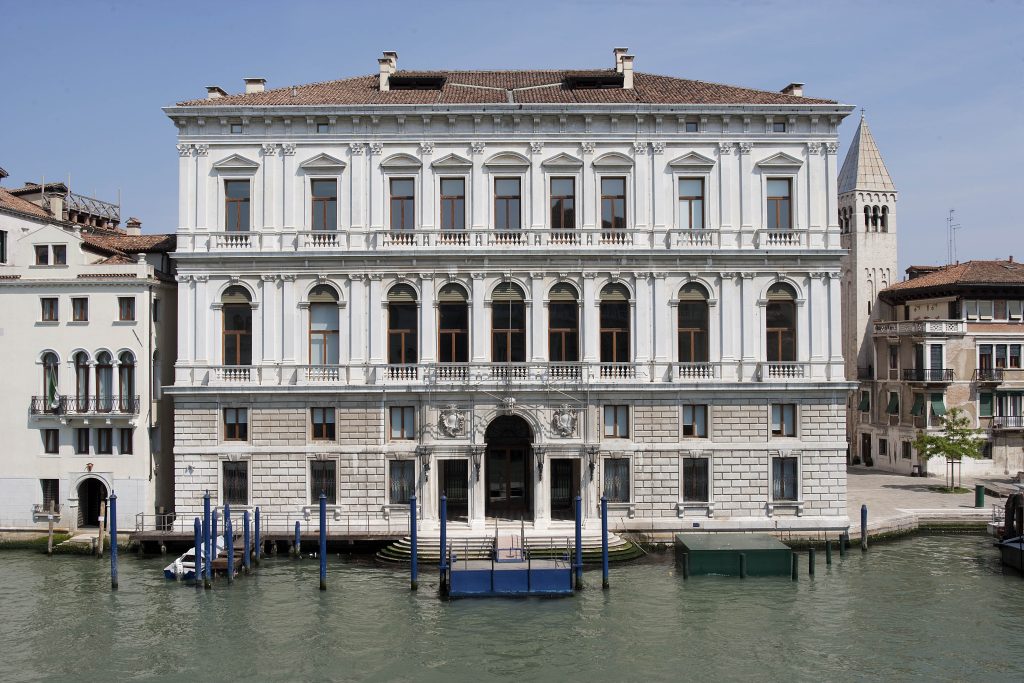 Peggy Guggenheim Collection
A lifelong friend of artists such as Constantin Brancusi and Marcel Duchamp, heiress Peggy Guggenheim devoted her entire life to promoting and collecting the best of 20th-century Western art. When she died in 1979, her precious collection was housed in her Venice mansion, an 18th-century villa facing the Grand Canal where she spent over 30 years of her life. This is the place to be for every visitor to the Venice Biennale – besides an astonishing collection and the temporary double retrospective on brothers Charles and Jackson Pollock (including the latter's largest painting Mural) – this is where the best parties in town are held.
www.guggenheim-venice.it
Tel: +39 0412405411
Palazzo Venier dei Leoni, Dorsoduro 701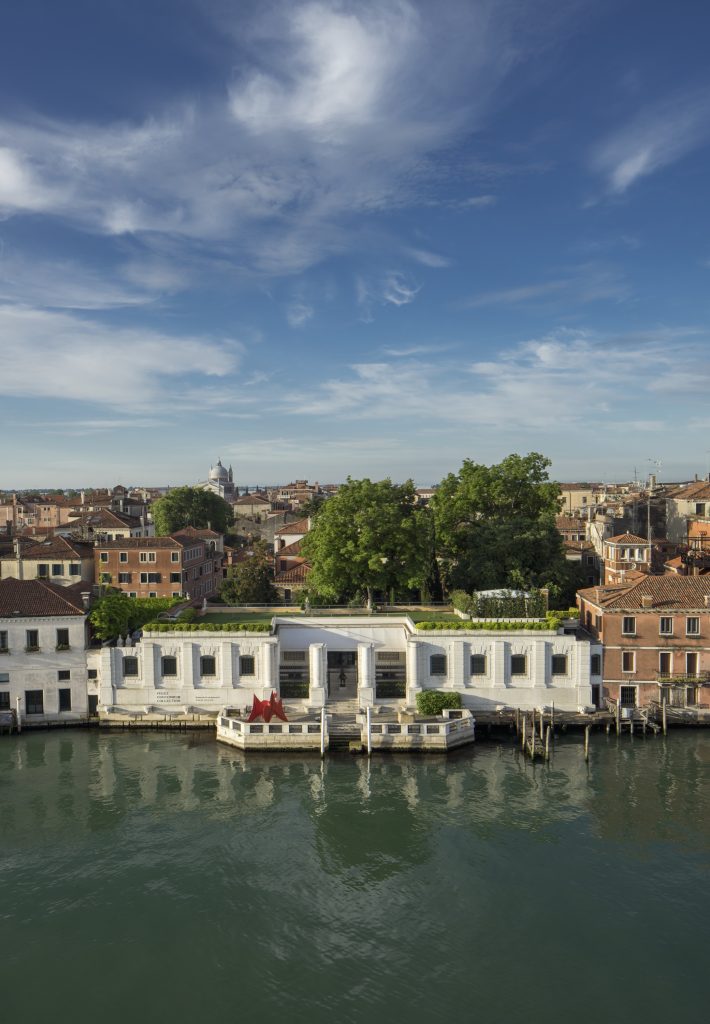 Fondazione Prada
Just a few steps away from Ca' Pesaro is Ca' Corner della Regina, which has been converted into the official venue of the Fondazione Prada in Venice, one of Italy's most renowned private cultural institutions. The Fondazione Prada is based in Milan, where it recently opened its new headquarters in a former distillery, now transformed into a 19,000-square-metre art museum by architect Rem Koolhaas. The inaugural exhibition, which will connect the two venues, explores repetition and appropriation in the realm of sculptures from Greco-Roman times to the Neoclassical style of the 19th century.
www.fondazioneprada.org
Tel: +39 0418109161
Calle de Ca' Corner, Santa Croce 2215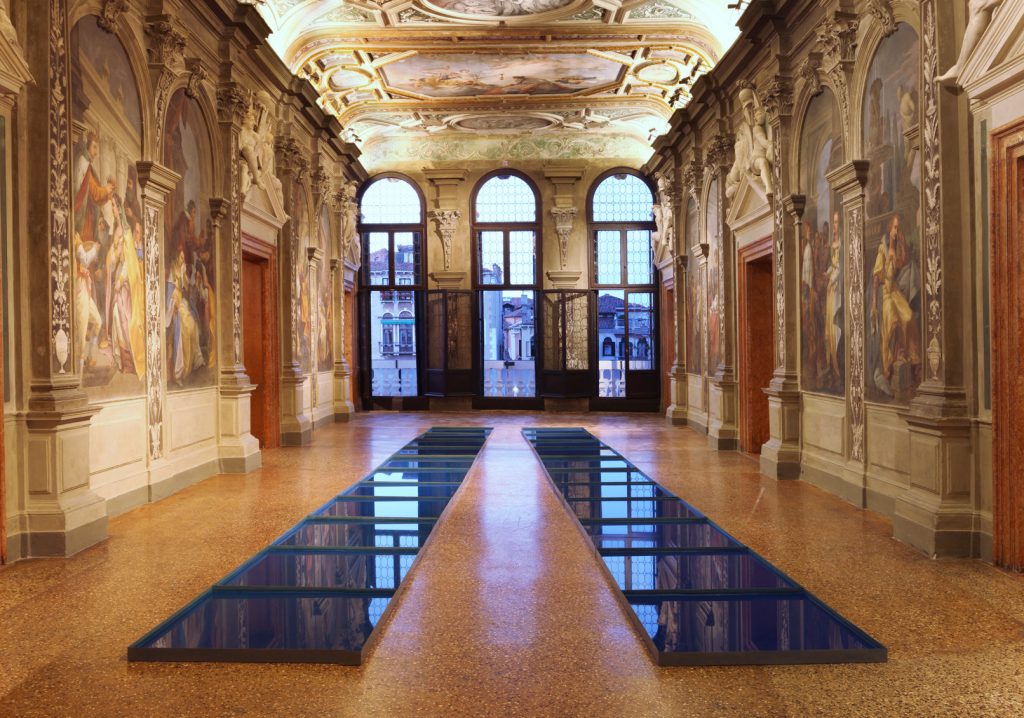 Palazzo Fortuny
Once owned by the powerful Pesaro family, this huge, Gothic palace takes its name from its life as the atelier of Mariano Fortuny, a true 'Renaissance man' who dedicated his eclectic life to photography, stage design, textile design and painting. Palazzo Fortuny was donated to the city in 1956 by Fortuny's widow Henriette, and is now part of the Fondazione Musei Civici di Venezia, which also manages Ca' Pesaro, the Doge's Palace and the Clock Tower in Saint Mark's square. A unique program of exhibitions devoted to photography, painting, music and the concept of time has made this institution a must-see in Venice.
www.museiciviciveneziani.it
Tel: +39 0415223088
San Marco 3780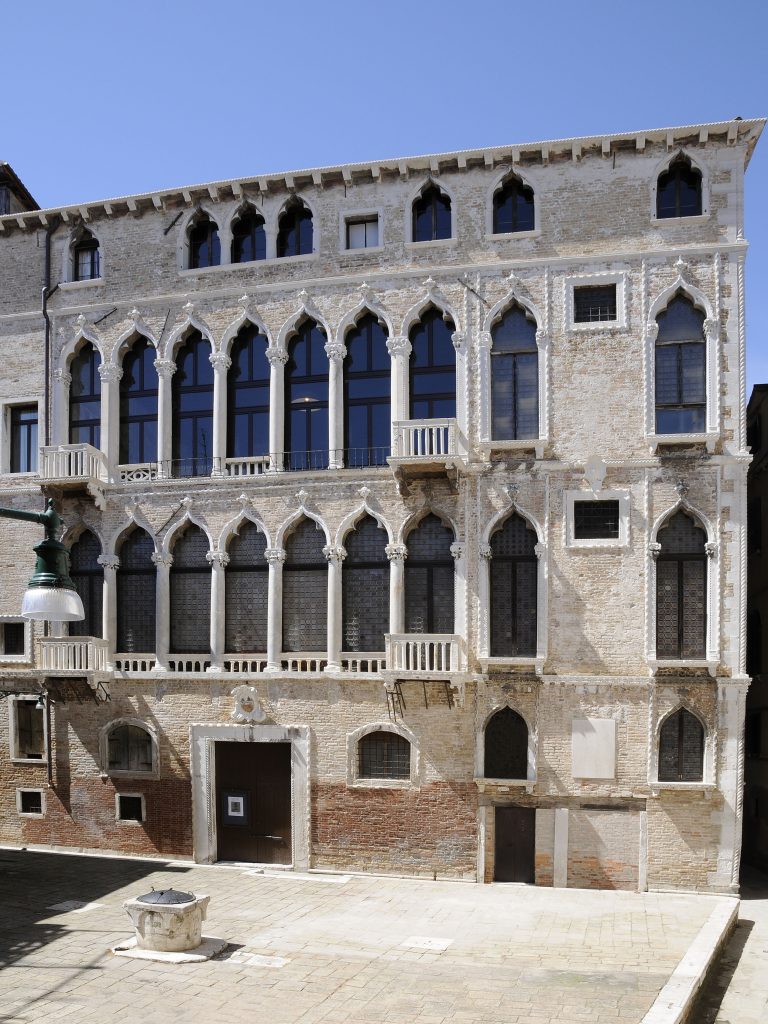 Bevilacqua La Masa Foundation
Founded in 1898, shortly after the first edition of the Venice Biennale, this institution allows visitors to experience the very best of Contemporary art in Italy. With residencies, prizes and exhibitions, the Bevilacqua La Masa Foundation has stayed true to its original mission as an observation point for the local art scene. During the Biennale, you will find collaborations between local and foreign institutions, which has previously featured artists such as Marlene Dumas, Roni Horn (in collaboration with the Centre Pompidou, Paris), Kim Sooja, William Kentridge and Rebecca Horn.
www.bevilacqualamasa.it
Tel: +39 0415237819
La Galleria di Piazza San Marco, 71/c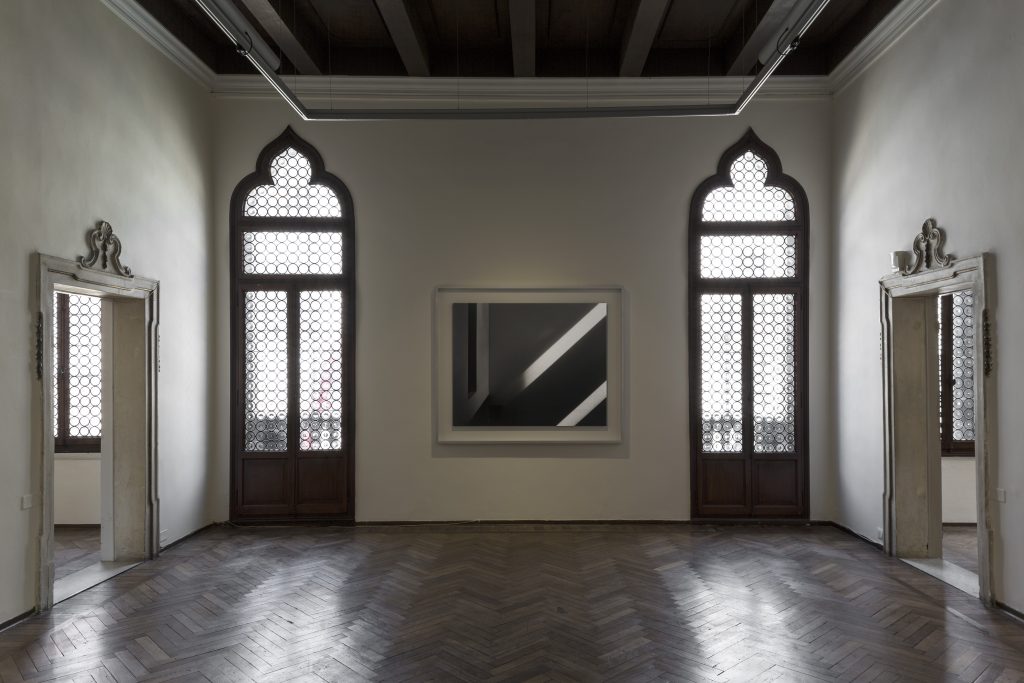 Fondazione Querini Stampalia
There are places that maintain a special aura, even when transformed into public institutions; the Fondazione Querini Stampalia is one of them. Opened as a house museum in 1869, it contains precious collections of furniture, paintings, porcelains, globes, fabrics and sculptures – the entire heritage of the noble Querini family. Count Giovanni Querini dedicated the place to foster study of 'useful subjects' and since the 1950s, this mission has expanded to include a series of site-specific Contemporary art exhibitions by Ilya and Emilia Kabakov, Kiki Smith, Mona Hatoum and many others. The newest face is American-born sculptor and poet Jimmie Durham, who has produced a body of work inspired by the materials and knowledge of Venetian traditions.
www.querinistampalia.it
Tel: +39 0412711411
Sestiere Castello, 5252
Zuecca Project Space
Zuecca is not a museum, but a privately funded Contemporary art centre focused on art research and transcultural dialogue. Founded on Giudecca Island in 2011 by arts manager Alessandro Possati and sponsored by Hotel Bauer Palladio & Spa to date, Zuecca Project Space has presented mesmerizing art projects, such as Chinese artist and activist Ai Weiwei's show inspired by the artist's political detention. Next on its schedule is an exhibition curated by Belgian art collector Vanhaerents, featuring works by Andy Warhol, Bruce Nauman and Lucien Smith, among many others.
www.zueccaprojectspace.com
Tel: +39 0412406840
Giudecca 33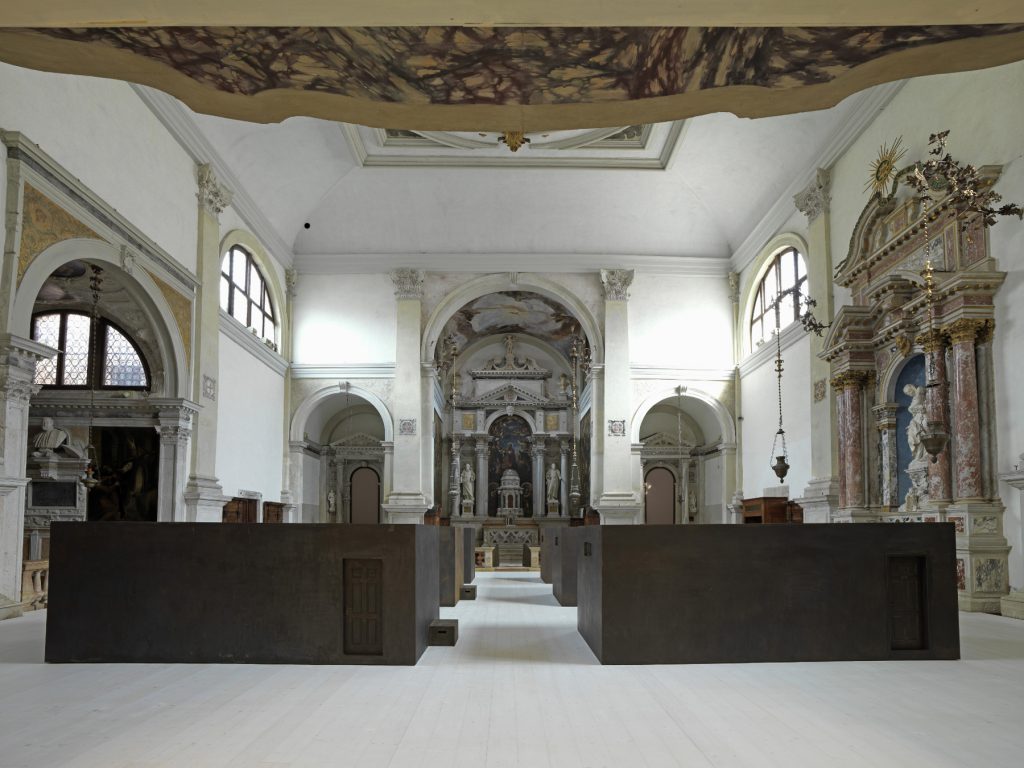 Galleria Michela Rizzo
Michela Rizzo founded her gallery in 2004 near St Mark's Square and has worked with established international artists such as Roman Opalka, Tony Cragg and Antoni Muntadas. Rizzo has an experimental approach to the gallery's program, which frequently leads her to produce exhibitions free from the gallery walls, such as Damien Hirst's show at Palazzo Papafava in 2007. In 2013, Rizzo decided to move the gallery to Giudecca Island – in the former studio of artist Lawrence Carroll – where a new art scene is emerging outside of the more traditional tourist routes. To coincide with the 56th edition of the Venice Biennale, Rizzo presents an exhibition of new works by renowned Italian photographer Francesco Jodice.
www.galleriamichelarizzo.net
Tel: +39 0418391711
Giudecca 800q Isola della Giudecca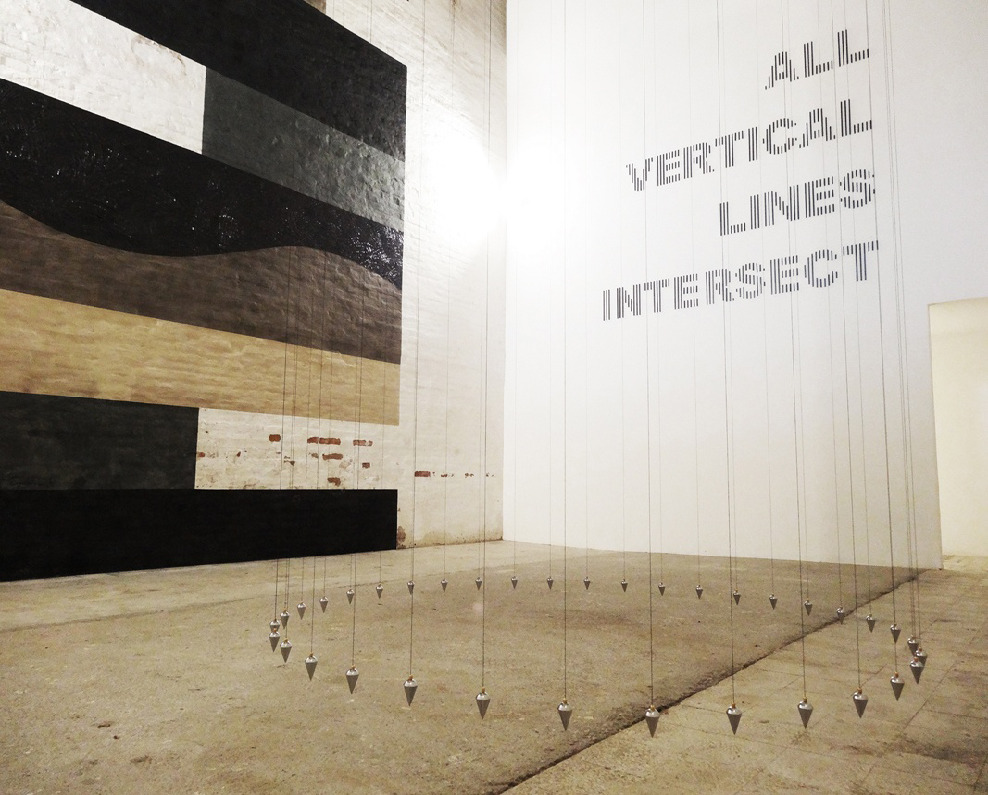 Galleria Upp
Despite the scarcity of Contemporary art galleries in Venice, the city offers a fantastic academic environment and a plethora of international art museums and foundations. This is why in 2009,
Caterina de Cesero, a graduate of German Literature, gave up working as an artist's assistant to develop her own commercial project. Located next to the Bevilacqua La Masa residency branch, Galleria Upp was conceived as a springboard for young and talented local artists to investigate languages, materials and codes of Contemporary art production ranging from performance
to painting and installation.
www.galleriaupp.com
Tel: +39 3284643887
Giudecca 282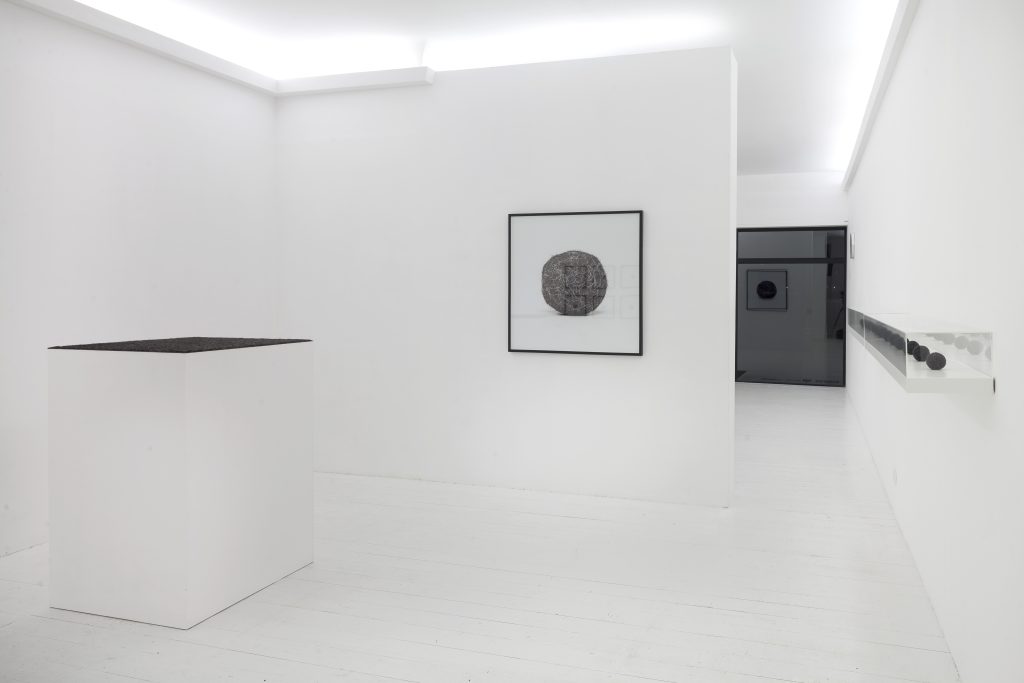 Massimo de Luca
Collectors and dealers Massimo de Luca and Marina Bastianello made a brave choice in 2012 when they decided to open a gallery in Mestre, a town a few kilometers away from Venice on the Italian mainland, which is undergoing a huge cultural and urban transformation. To many, it still remains off the traditional art grid. Together, they have devoted their efforts to emerging Italian artists and are currently cultivating some of the most interesting talent emerging in the country, thanks in part to a collaboration with art critic Andrea Bruciati, as well as other curators and contributors.
www.massimodeluca.it
Tel: +39 3666875619
Via Torino 105/Q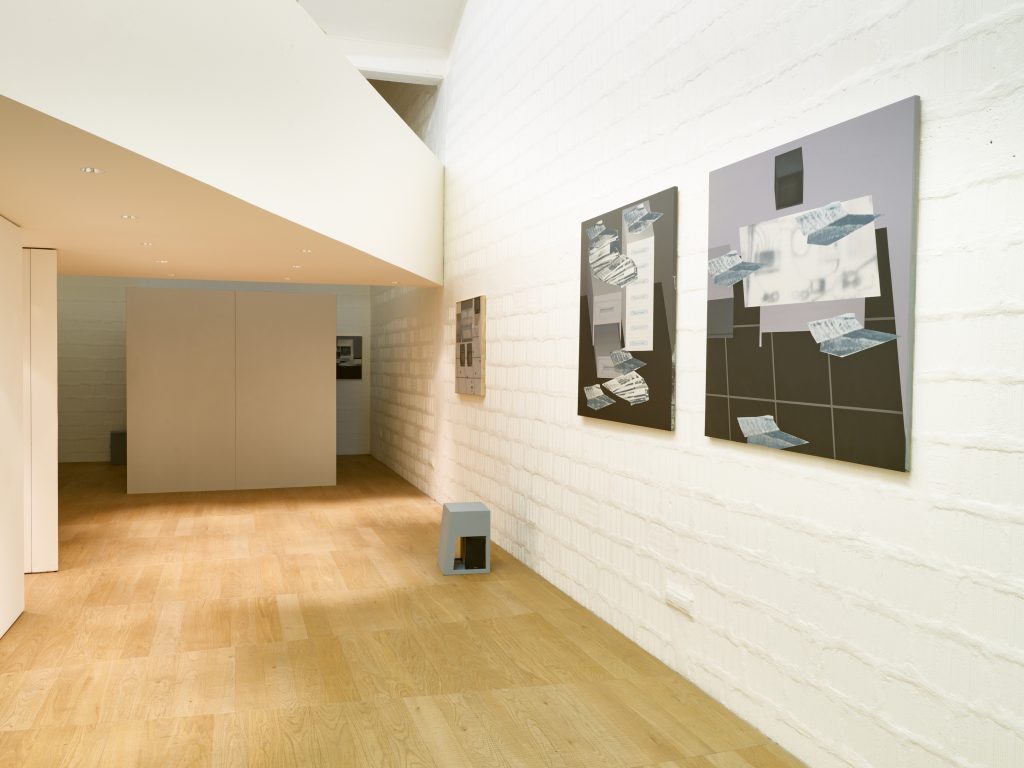 Galleria Caterina Tognon
An art dealer since 1992, Caterina Tognon began her venture with a commitment to the Studio Glass movement (which she still practices) although her focus has now switched to Contemporary art. Her program continues to include both gallery and institutional shows taking place during the Venice Biennale. She represents a variety of artists from different generations and backgrounds, such as painter Maria Morganti, sculptors Francisco Tropa (who represented Portugal at the 54th Venice Biennale) and Hubert Duprat, with a recent collaboration with Heimo Zobernig for his show at Ca' Rezzonico in 2013. Don't miss his participation in the current Biennale
www.caterinatognon.com
Tel: +39 0415207859
San Marco 2158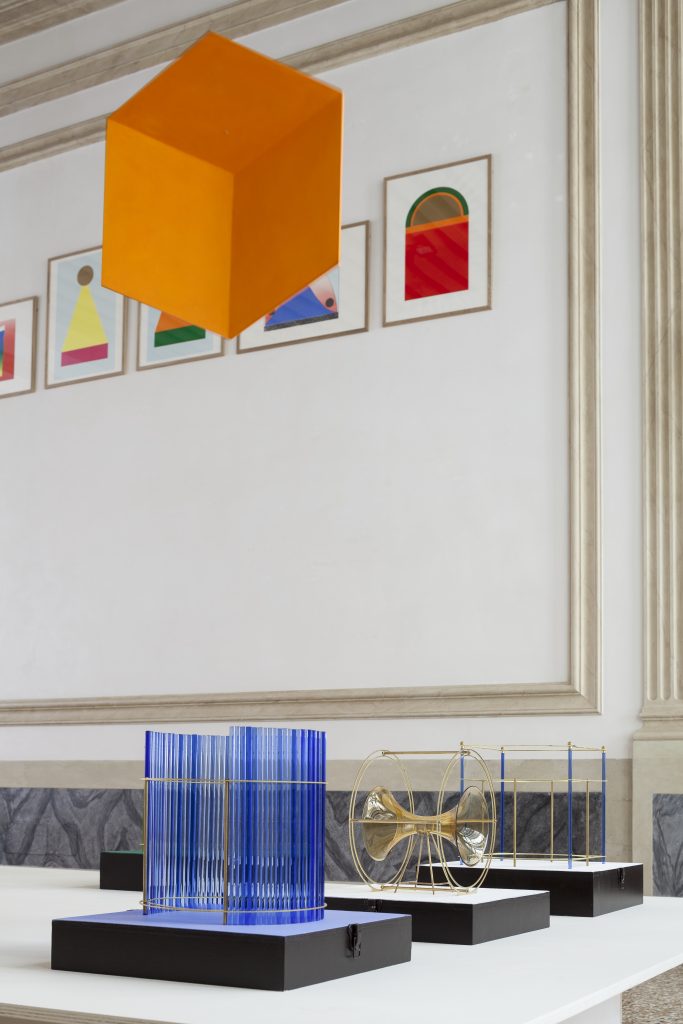 Maria Morganti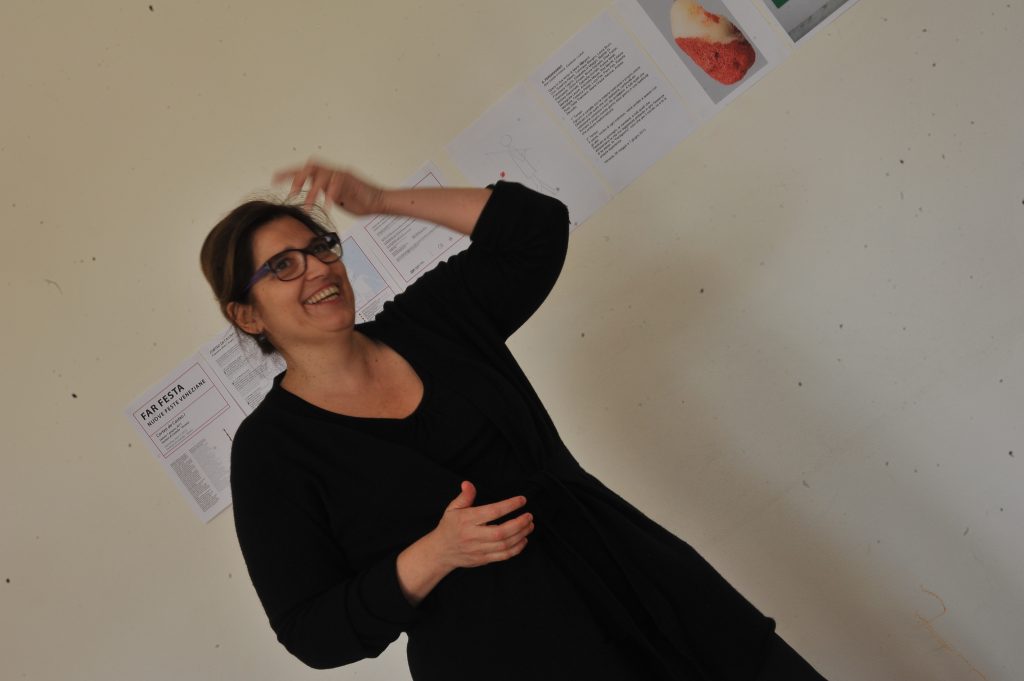 Maria Morganti (born 1965) has lived in Venice for more than 15 years. Morganti mainly works with painting, which she favors as a means of expression for an existential investigation into the passage of time. Her works escape image representation as well as any possible reproduction by conveying a sense of the materials and colours in tangible sediment on each of her canvases. With the intimacy of a self-portrait or diary, her praxis is interlaced within a vast art community, which she has cultivated over the years with frequent meetings at her home and at the Bevilacqua La Masa Foundation.
Serena Vestrucci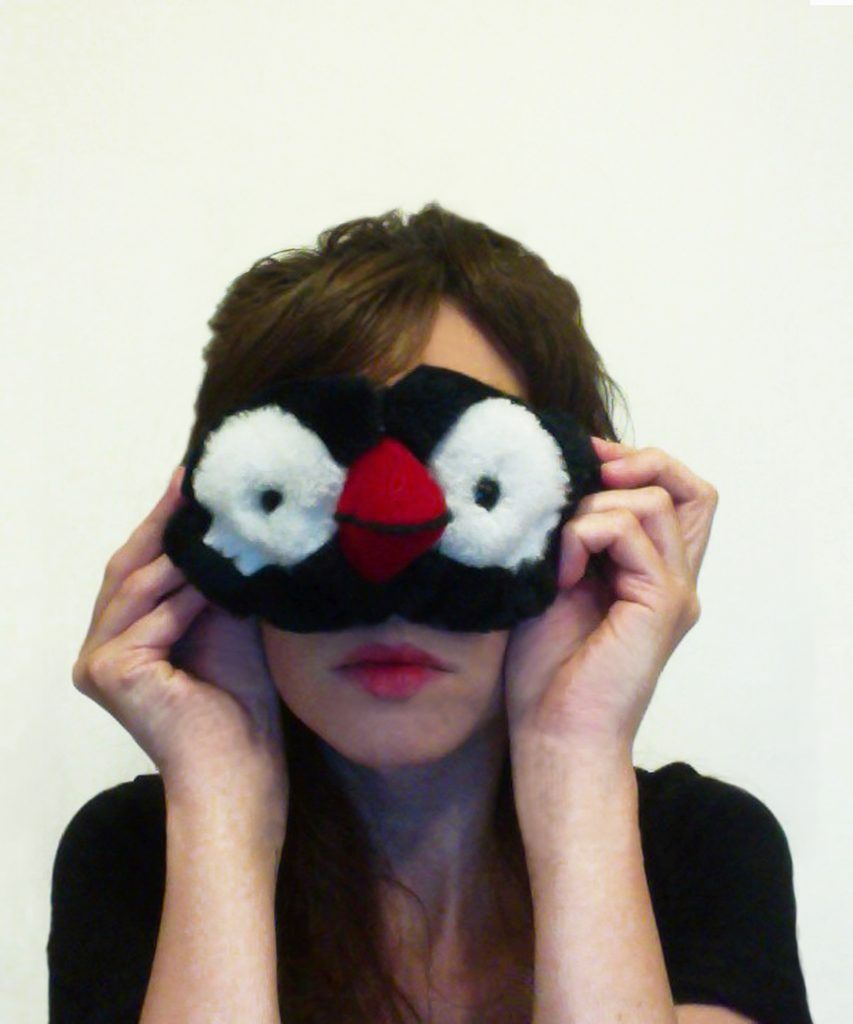 The 1986-born artist's work stems from the mundane and the familiar. Her subtle irony leads to small gestures and shifts in perspectives, in which she strives for a sense of poetry. The European Union flag cut into pieces and meticulously stitched becomes a sky recalling Byzantine and Renaissance paintings, while makeup is applied to a canvas, revealing the fiction exerted by beauty through an extended idea of portraiture. Her work is an investigation into the mechanisms of art making, authorship and selling.
Giorgio Andreotta Calò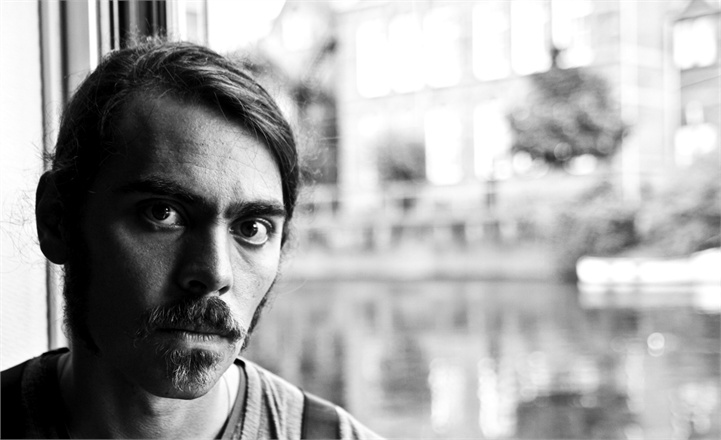 Born in Venice in 1979, Giorgio Andreotta Calò combines his interest in sculptures with performance art. His work can be sound, an unstable image, a material intervention or a replica of that which is missing. As a witness to time and stories, he draws from socio-political facts and collective emotions towards practices and places. For the 54th Venice Biennale, he walked from Amsterdam back to the lagoon. The only artist to miss the opening, he left his manifesto with a speaker in the garden of Carlo Scarpa. A former resident of Rijksakademie, Calò is also the winner of the 2012 MAXXI Museum Prize for Italian talents.
Luca Nicchetto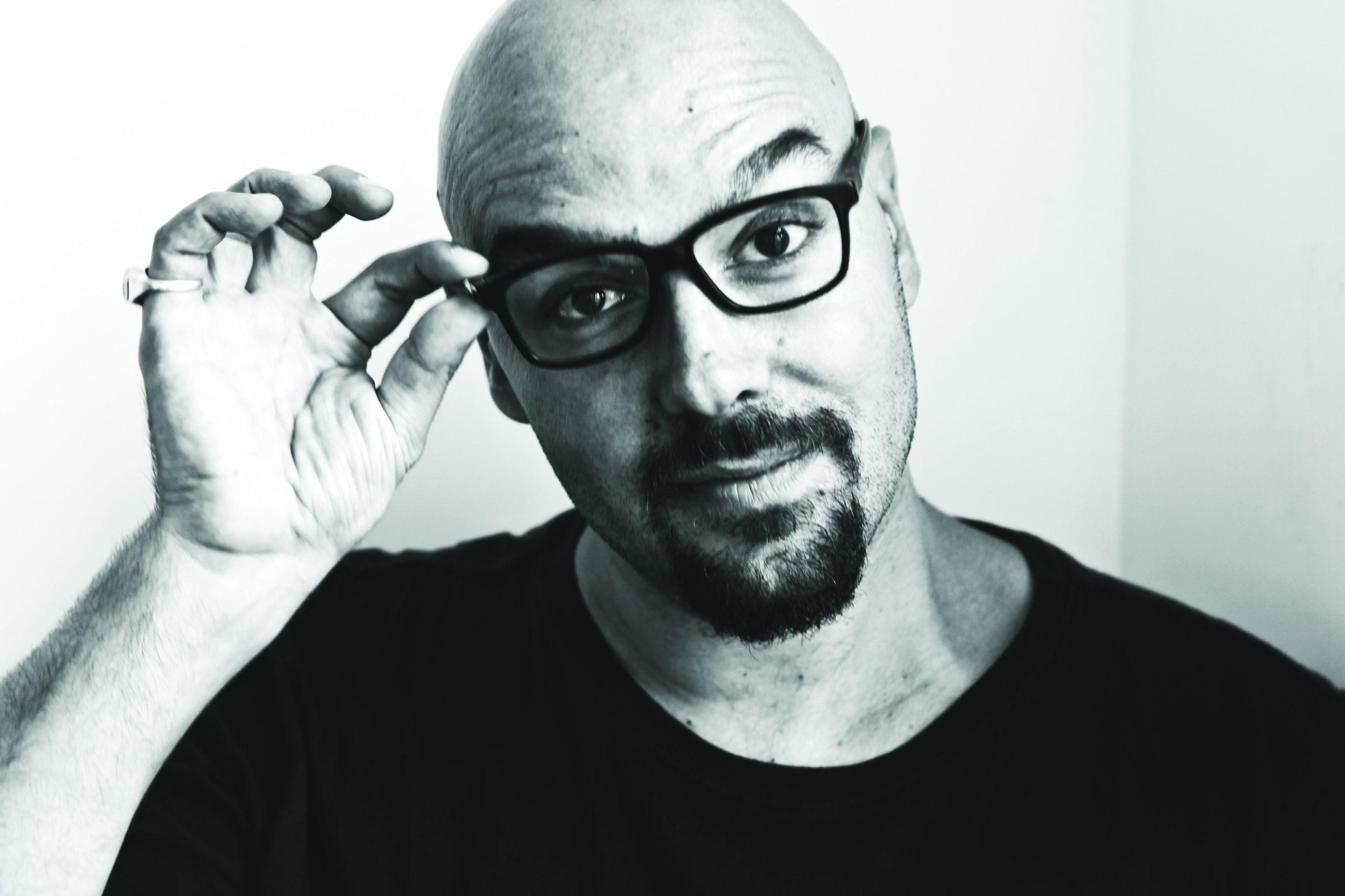 Luca Nicchetto was born in 1976 on the island of Murano, surrounded by the living tradition of glass-making factories. As a student, his intial income came from offering his drawing skills to designers Ingo Maurer and Ross Lovegrove at leading glass company Salviati. There he shaped his signature style, which the Financial Times defined as "fun-meets-classic" design. His success is worldwide – the first mega-company to approach him was Cassina, for which he made La Mise, a comfortable and eye-catching sofa inspired by Vico Magistretti's famous 1973 creation. This was followed by the arrival of Moroso, Fratelli Guzzini, Foscarini and many others. Nicchetto recently launched a timeless series of wooden design objects for the luxury brand De La Espada.
What is your favorite neighborhood in Venice?
Cannaregio because it's off the beaten track of mass tourism. It's where young people hang out, drink and chat on the bridges.
Where do you eat?
For a high-standard meal I choose Fiore: the fish fry is unbeatable. For a traditional trattoria, I go to Paradiso Perduto, where I can also enjoy concerts and events, or to Ai Quattro Ferri, a cosy place where I eat squid ink spaghetti.
Where is the best place to stay?
Cà Zanardi, a 17th-century Venetian palace converted into a bed and breakfast. There are only five rooms, all with original furniture from the period. It's a very inspiring location.
What is a must-have item to live here?
You can't help but wear boots to deal with the high tide.
Where do you go to experience art and design?
Venice has it all: from the Biennale to Palazzo Grassi, Ca' Pesaro and the Peggy Guggenheim Museum. But there are unexpected places too, like Palazzo Mocenigo, which hosts an eclectic collection of flasks and containers for perfumes.
What inspires you in Venice?
Venice cannot adapt to modern urban standards, therefore, I like to think of it as a Manhattan built 500 years ago, which allows me to discover how incredible the imagination of my ancestors was.
Le Stanze del Vetro
No other place in the world has the expertise in glass-making that Le Stanze del Vetro does. Built as a joint initiative between the Fondazione Giorgio Cini and the Swiss foundation Pentagram Stiftung, this is a long-term project committed to showcasing Contemporary artists – recently Hiroshi Sugimoto – as well as historical glass masters like Tomas Buzzi. In August, Le Stanze del Vetro will present the best of Finnish and international designs with support from a loan of over 300 works from the Bischofberger private collection.
www.lestanzedelvetro.it/en
Tel: +39 041522 9138
Isola di San Giorgio Maggiore 30124
Da Fiore
No surprises here; the one-Michelin star Da Fiore claims to be Venice's most-loved eatery. Both tourists and locals crave its seafood, pastas and risottos. It sources its ingredients from the Venetian region, although the combinations of foods and sauces show the personality of chef Mara Martin, who manages the restaurant with her husband and son, and was taught the culinary arts by her grandmother. This is the choice for the tough-to-please. Note: it is important to dress appropriately; no shorts or sleeveless shirts permitted!
www.dafiore.net
Tel: +39 041721308
San Polo 2202, calle del Scaleter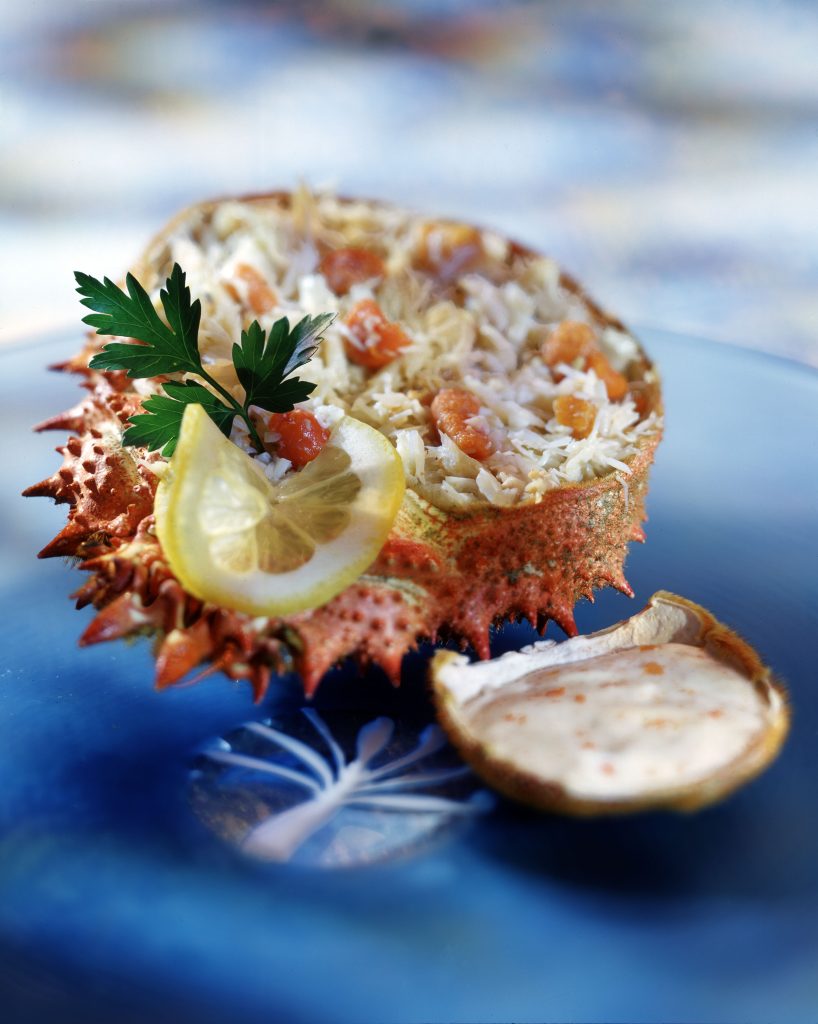 Anice Stellato
Italian for 'starred or starry anise', spices play a key role in this restaurant's menu. Besides the typical cichetti (local snacks), a few dishes gun for a touch of originality – the octopus salad, for example, is dressed with oil flavored with kumquat (Chinese mandarin). Aesthetically speaking, the interior is simple, a common feature of any Italian osteria (tavern) and yet when the weather is pleasant, the outdoor area on the canal makes a striking setting. Make sure you book in time for the sunset to enjoy the real Venetian atmosphere.
www.osterianicestellato.com
Tel: +39 041720744
Cannaregio 3272, fondamenta della Sensa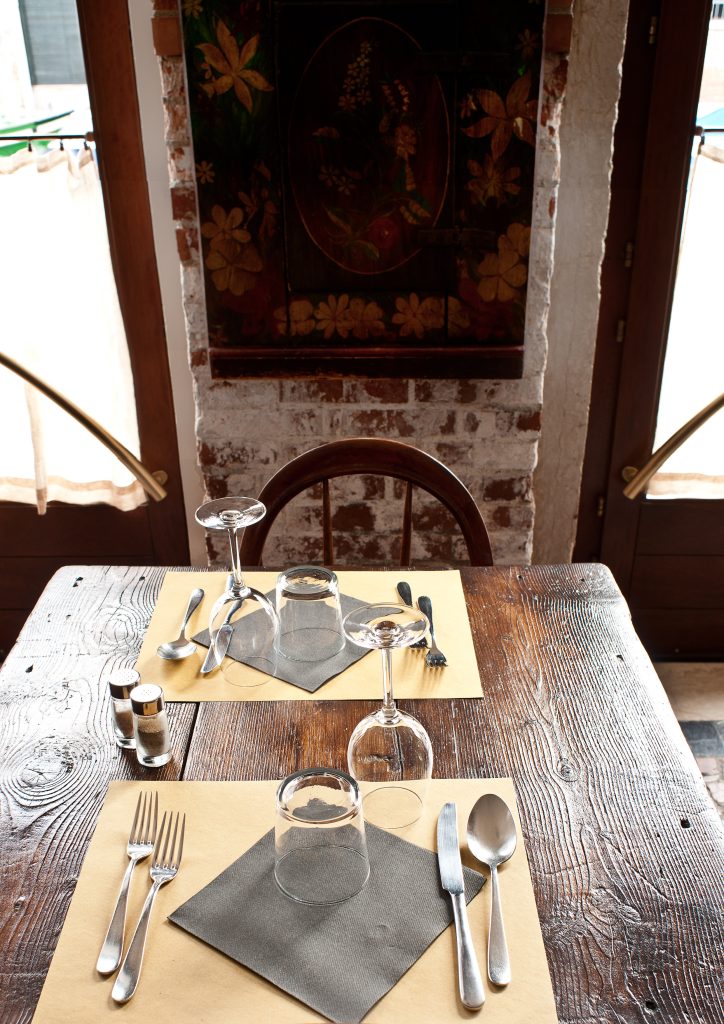 Osteria di Santa Marina
Situated a few blocks away from the Rialto bridge, this elegant restaurant offers a warm welcome both inside and out, in its quiet, private little garden. A wide range of fish can be sampled raw, fried, grilled or au gratin. However, many recommend the first, which is also their specialty. Don't be shy and order the traditional Venetian meals made of white cornmeal mush or crab – you won't be disappointed!
www.osteriadisantamarina.com
Tel: +39 0415285239
Castello, Campo Santa Marina 5911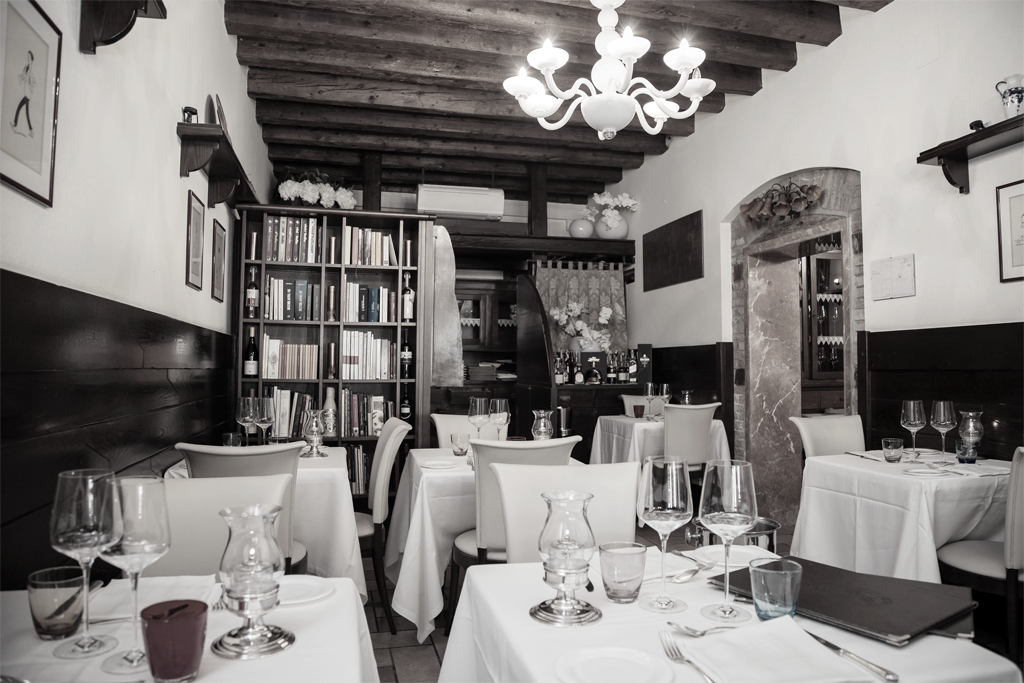 Corte Sconta
Nestled in the heart of Venice near the Arsenale, Corte Sconta welcomes guests with a vine pergola, a typical decoration in a city known worldwide for its excellence in white wine production. The food is simple and delicious – stand-out dishes include clams with ginger or squid ink spaghetti with sea scallop and asparagus. Considering the location, the fair portions and the quality of the food, a reservation may be necessary during the busy days of the Venice Biennale.
www.cortescontavenezia.it
Tel: +39 0415227024
Calle del Pestrin Castello, 3886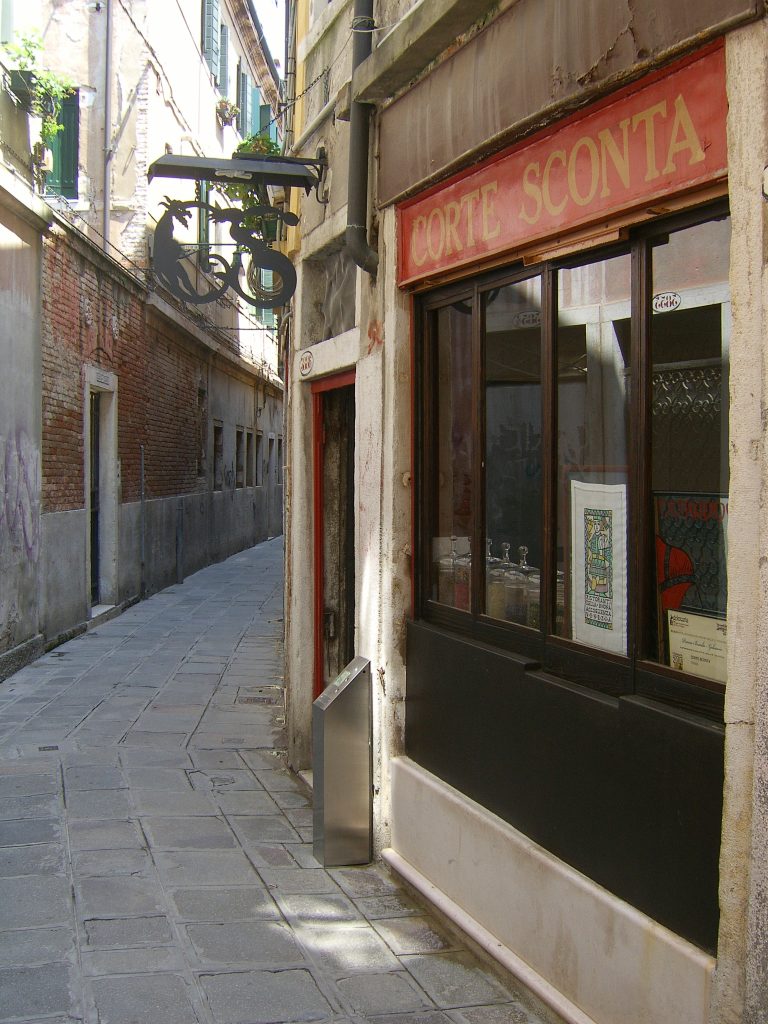 Danieli Hotel
Entering the Danieli Hotel is a trip back in time to the richesse of historical Venice, when the city was called La Serenissima for its wealth and power in the Mediterranean. Arcades, marbles, frescoes and magnificent decor will make your stay a true pleasure, with a location just walking distance from the city's main attractions, including the Biennale itself. If this is not enough, visit the top floor, where the restaurant and bar enjoy one of the most captivating panoramas of the lagoon.
www.danielihotelvenice.com
Tel: +39 0415226480
Castello 4196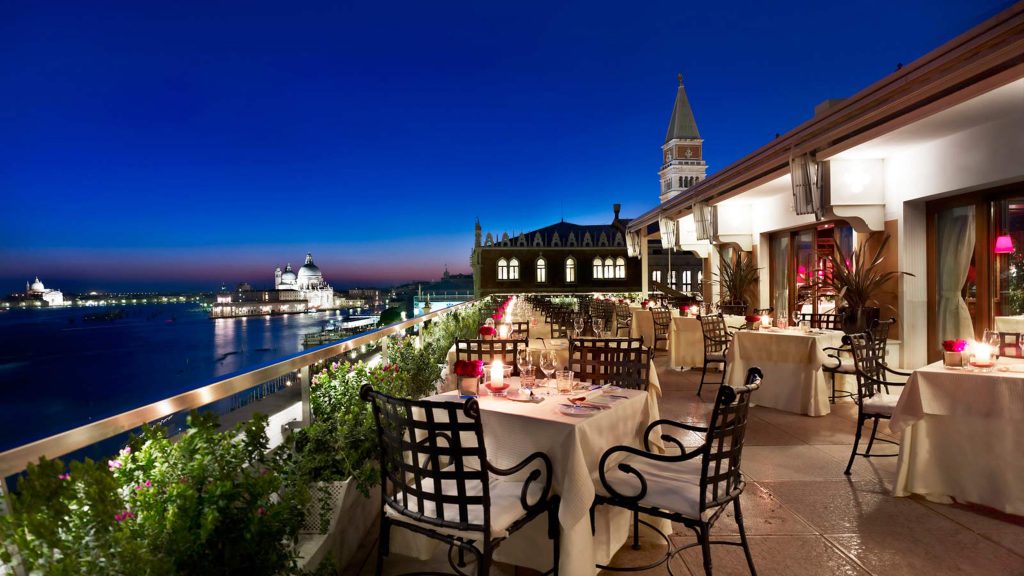 Palazzo Giovanelli
At the crossroads of history and modernity, this hotel sits in a 16th-century palace that has hosted illustrious tenants such as the Doge Marco Foscarini, the Mozart family and the King of Denmark, Frederick Christian IV. Guests are received at the waterside door on the Grand Canal in typical Venetian tradition. The hotel is strategically located between the railway station and the Rialto bridge in the neighborhood next to San Sta, possessing a quiet and elegant atmosphere enhanced by the high quality of service.
www.hotelpalazzogiovanelli.com
Tel: +39 0415256040
Santa Croce, San Stae, 2070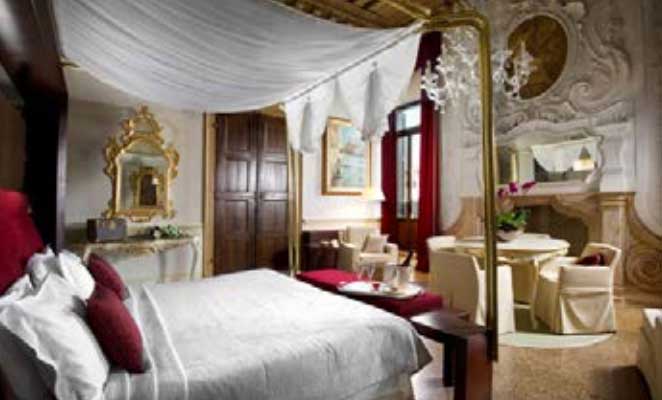 Bauer Palladio Hotel & Spa
This gem is located in a former convent on Giudecca Island and gazes out across the water to the Doge's Palace in St Mark's Square. Having reopened after renovation, the Bauer Palladio Hotel offers a unique spa to recover from the busy days of the Biennale and a relaxing outside area with four gardens seeded with precious flora of the surrounding area. Take a complimentary water boat to the Bauer Urban bar bordering the canal for an unforgettable drink with the most exclusive art crowd in town.
www.palladiohotelspa.com
Tel. +39 0415207022
Giudecca 33, 30133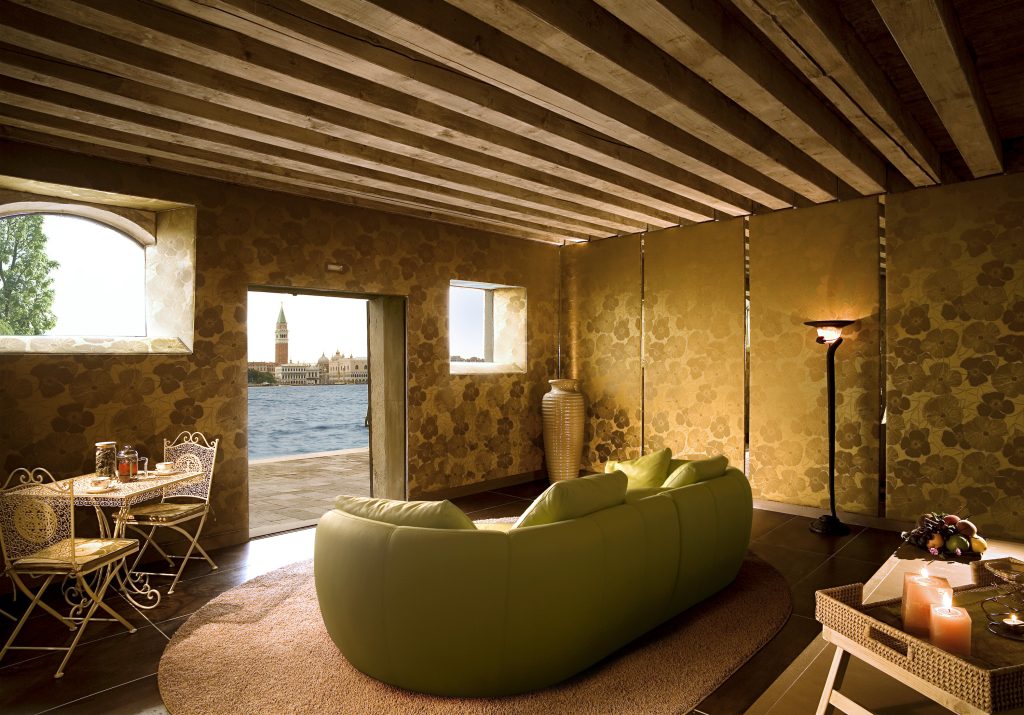 Bed & Breakfast Fujiyama
You probably didn't know that Venice is also a college town – home to students from all over. They tend to meet in Campo Santa Margherita, making this neighborhood the liveliest in Venice. If you want to check out the bars in this area and eat the best cichetti, you can stay at this Bed & Breakfast, featuring a tearoom offering a wide selection of classic and aromatic teas from China and Japan, along with a garden full of wisteria and jasmine.
www.bedandbreakfast-fujiyama.it
Tel: +39 0417241042
Calle Lunga San Barnaba 2727A Dorsoduro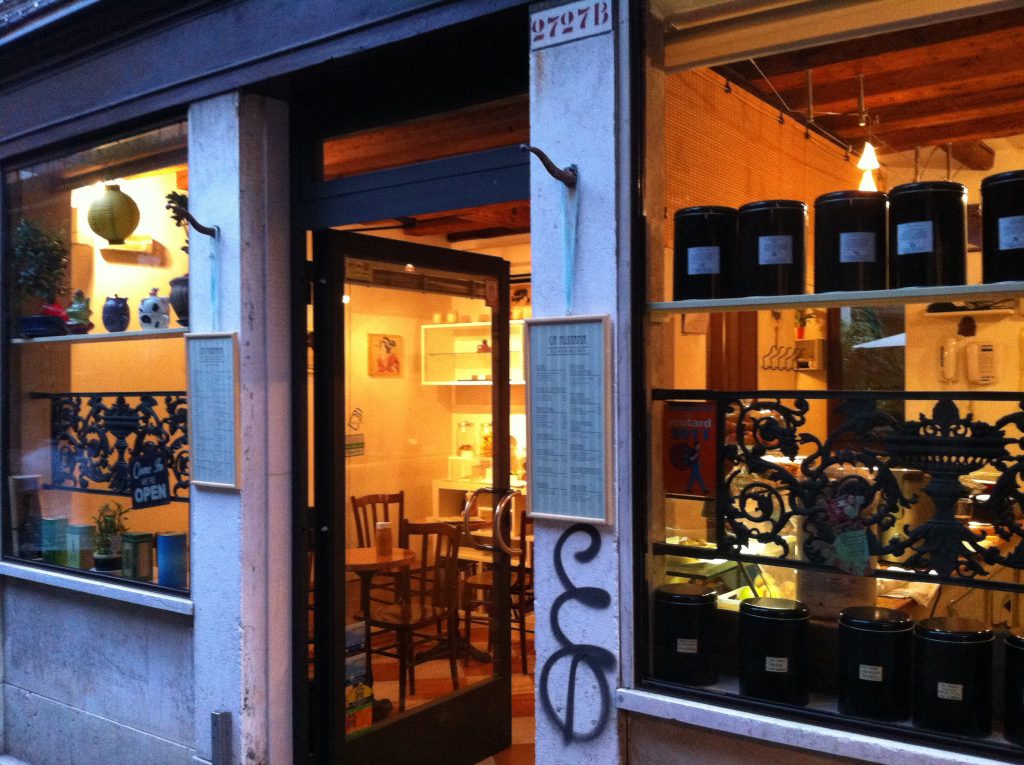 VENICE – ITALY
The travel guide for exploring the
ecstatic beauty of VENICE.