An independent art foundation set up in 2013, Zawyeh Gallery promotes the work of Palestinian artists, both through its original space in Ramallah and, since 2020, also in Dubai's Alserkal Avenue. In conversation with Canvas, gallery founder and director Ziad Anani explains how his team nurtures new talent and what emerging artists need to do to make the grade.
---
What help can emerging artists look for from galleries?
Ziad Anani: One of the main roles of Zawyeh Gallery is to support young and emerging artists and to provide them with a platform on which they can display their work publically. Giving such an opportunity helps them further develop their ideas and work and it definitely encourages their art production. The interaction with an audience is always crucial for the progress of an artist's career.

How do you encourage them to develop their practice?
We offer them the chance to exhibit locally via our Ramallah branch through participation in solo or group exhibitions, and organise at least one show a year that presents new or up-and- coming names alongside more renowned artists. We also set up the Ramallah Art Fair, which ran recently for three months at our Ramallah gallery and featured many works created specifically for the fair by Palestinian artists, some of whom had not exhibited at the gallery before. The fair was designed to provide original Palestinian art at affordable prices, as well as generally encourage local collectors and artists during the difficult conditions of the pandemic. Thirteen of the 26 artists who participated are in the early stages of their careers. We've also taken the risk several times of presenting emerging talent at high-profile events such as Art Dubai. We will be presenting two such artists at this year's fair, Ruba Salameh and Yazan Abu Salameh.

Where do you find new talent?
Over the years we have developed a wide and varied network of Palestinian artists, both in Palestine and abroad. We follow closely the production of art locally and pay special attention to new artists coming onto the scene by following their social media and paying visits to their studios. Our doors are always open to new talent, and we are constantly on the lookout.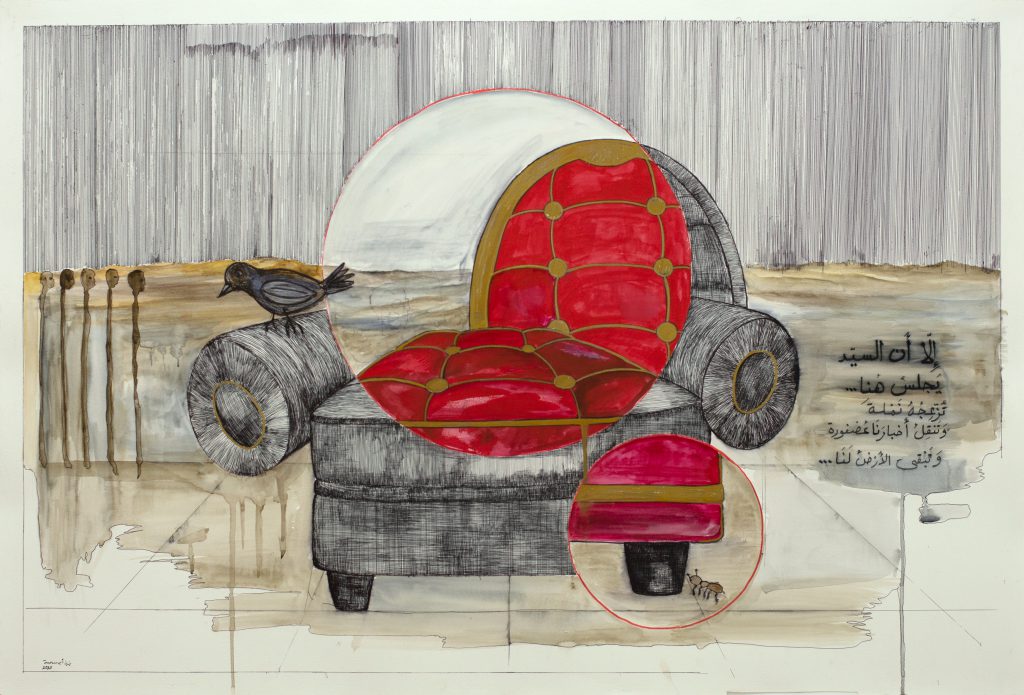 What's the best way of placing new artists alongside more established names?
We normally design special events that aim to break down the barriers between the two. The openings are attended by both, which creates a fantastic atmosphere and one where everyone can mingle and discuss different issues to do with art,
creativity and production. Established artists never complain and emerging artists are always excited to participate in such events.

Should an emerging artist concentrate on producing work that's commercially appealing or stick to what they are drawn to creatively?
It is most important that they develop a unique style that stands out and gets them on the local 'art map'. If artists produce just to sell, then they will enter a different kind of arena, one that is more commercial than artistic. Of course, artists are always happy to sell their artworks, but a successful artist should not compromise his or her artistic production to make a profit, especially at the beginning of their journey.

What three pieces of advice would you offer to a young artist at the start of their career?
First, work at developing a distinct artistic style – and always be sure to focus on issues that interest you. Second, keep a sense of respect and modesty, even when attracting the attention of the media or collectors. If you can remain modest, then you will be able to put more effort into producing art and moving your career on to its next phase. Third, keep experimenting and avoid getting trapped into producing artworks that focus on the same subject or style. There is always room for experimentation and there are always new things to discover.
This interview first appeared in Canvas 97: The Future is Bright