Through photographic and performative work, Sarah Brahim's debut solo show Sometimes we are eternal explores the pain of bereavement and its consequential impact on the human body.
---
Bunched between the shore of a sparklingly clear lake and the picturesque heights of the Swiss pre-Alps, the city of Lugano is the kind of setting you might imagine springing from the imagination of a particularly fanciful romantic painter. Indeed, it is almost sickeningly pretty, its streets clean as the corridors in a private clinic and eerily devoid of human presence. It's a strange but somehow appropriate setting for Saudi-American artist Sarah Brahim's first solo exhibition, Sometimes we are eternal, a show which masks intensely private pain under a convincing camouflage of aesthetic good taste.
We learn from a wall text how, ten years ago, Brahim suffered the loss of her mother. She has thus conceived the body of work in this show as an attempt to make peace with the past decade, in the course of which she has at least partially succeeded in coming to terms with her grief. Despite the exhibition's title, the work in the show contains the most ephemeral of experiences: a bounce into the air, an improvised twirl in a dance routine, a spontaneous howl of anguish.
The floors here at Bally Foundation have been covered with expensive plastic laminate, creating a weirdly anaesthetic atmosphere. Monochrome imagery dominates in the early rooms, lending several photographic exhibits the air of a tasteful high-end fashion shoot. Yet one senses that the artist has chosen black and white not out of any concern for style, but as a means of distancing image from lived reality. You need only observe their content to grasp that this is work born of existential questioning.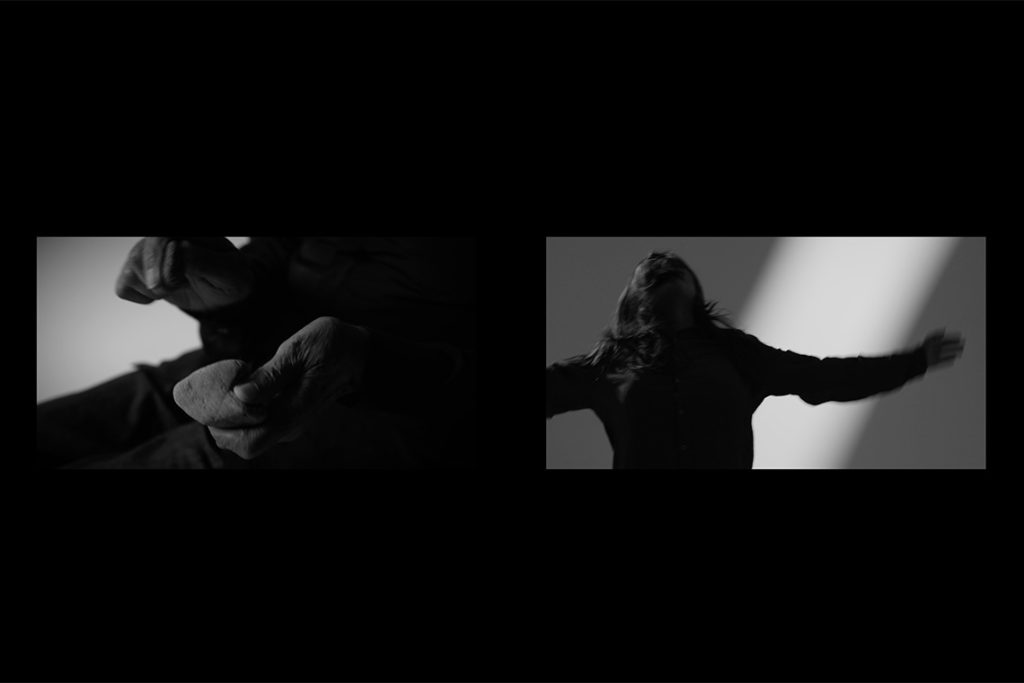 One picture, for instance, sees the artist strolling along a beach – it could be Lake Lugano – her black clothes and hair seemingly becoming one with the dark waves crashing against the shore. Another has her in similar attire, bent over the blackened roots of a dead tree; it's difficult to distinguish where the one entity ends and the other begins. This is not, you sense, an evocation of some hippyish wish to become one with nature; rather, the artist willing herself into nothingness.
Much of the work here invites comparisons to the conceptual performance art of the 1970s – notably that of Marina Abramović, to whom Brahim owes a visible (if far from larcenous) debt and a slight visual resemblance. This is most obvious in the first work we see here, a split-screen video in which a pair of male hands – those of the artist's father, we learn – rub stones together to create a sporadically rhythmic soundtrack.
On the other channel, meanwhile, Brahim beats her breast repeatedly, occasionally crying out: again and again and again she strikes herself, never quite in tune with the click-clack of the stones, but somehow never quite apart from it, either. Whether attempting to make herself disappear, or submitting herself to effortfully (indeed, painfully) repetitive gestures, Brahim appears to be aiming for some kind of catharsis in these works. Perhaps I'm reading too literally, but they seem to be documents of the initial stages of grief.
Just as you've settled into what you imagine as a single, dominating aesthetic, a turn of a corner throws you back into full colour, and an entirely different mode of operation. The show's single best moment comes courtesy of this sudden volte-face: we are confronted with a huge rectangle of solid clay, hung from the ceiling by wires and onto which a video is projected of the artist gradually shaping the object into its mottled form.
It's rare that you see a work that explores its own materiality in such neat and original terms, let alone one that both affirms and intentionally undermines the authorship of its genesis: Brahim, as in the earlier pieces, appears hesitant, if not occasionally exhausted by her labours. It's fascinating to watch an artist visibly question the action of creating a work, within that work itself.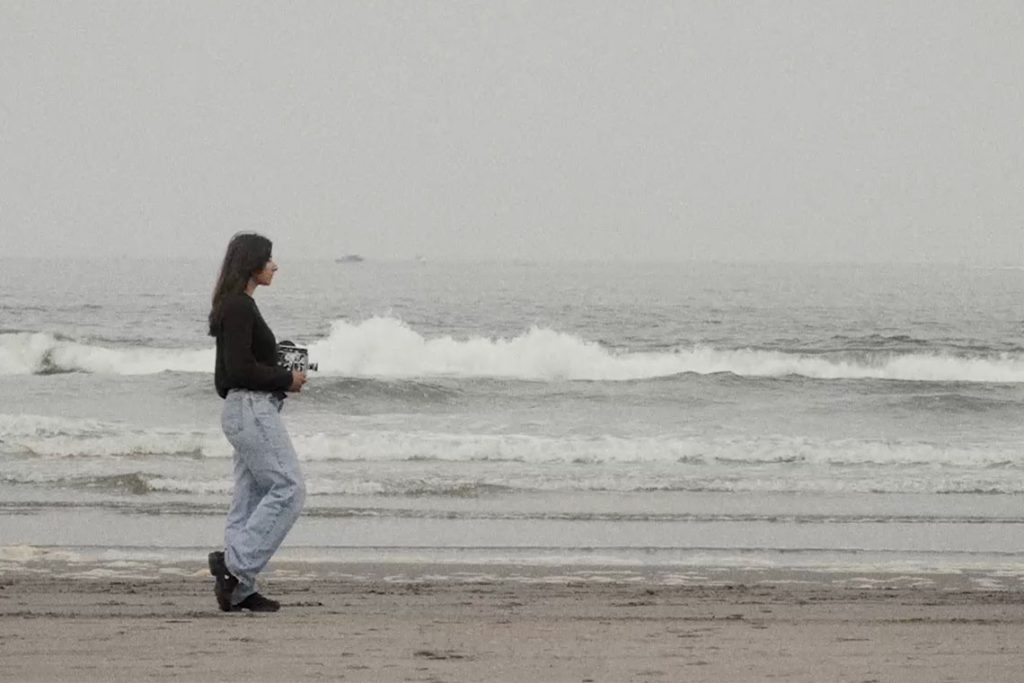 From here on in, however, the show loses its momentum. Once again we see the artist strolling along the shore, but this time in colour, attempting to manipulate a film camera from a fixed perspective. A multi-channel video work, created in collaboration with a pair of Italian performance artists, explores the theme of levitation. Neither work quite communicates what it wants to. A coda of sorts, provided by a further video work flashing through self-referential images to a redemptive soundtrack of music and found sounds, feels like something of an anti-climax.
Yet if, as I do, you read this body of work as a diary of loss, and how its creator has reconciled herself to it, this dissipation of focus might perhaps be viewed as an inevitable by-product of that process. Intensity of feeling is always arresting, provoking the kind of gut-wrenching sensations so brilliantly communicated in the first half of this exhibition. When this fades to acceptance, that clarity inevitably diminishes. It is to Brahim's immense credit that she has dared to bare her soul to all comers: indeed, the sense that you have intruded on someone else's most closely-guarded emotions may be hard to shake.
Sometimes we are eternal runs until 28 April 2024